"Squirrel Girl, Squirrel Girl. She's a human and also a squirrel!"
And that, my friends, is sung to the tune of the Spiderman theme song, and is the very first line of The Unbeatable Squirrel Girl Volume comic book series.
Who is The Unbeatable Squirrel Girl you ask? She's one of Marvel's newest superheroes on the block…Well, actually, she's been around since the 1980's (first appearance in Marvel Superheroes Volume 2 Issue 8), and again in The Great Lakes Avengers in the early 2000's, and most recently in the US Avengers but for some nutty reason, wasn't given her own storyline until 2015.
Getting Into Comics in my 20s
Shortly after that, is when I found my new favourite heroine.
It was actually last summer when asked my boyfriend to introduce me to the world of comic books. Since childhood, he has loved comic books and is a huge fan of Marvel. The first time he took me into a comic book store, I was pretty overwhelmed with the amount of comics out there, and I wasn't sure I would ever understand the comic book world.
For a bit of background information, I never read comics as a child aside from a few Archie comics…Actually, it's pretty funny how childhood things are coming back into style—shoutout to the creators of Riverdale! I had also barely watched any comic book movies or television series…So as you can see, this whole "comic book" thing, was completely out of my comfort zone. I'm more of a read novels, write content, web design, clothes shopping kind of person. But I figured I should give comic books an open mind, if only to show my support as a girlfriend (#browniepoints).
Walking into the comic book store (Gotham Central in the GTA if anyone is wondering), had me a little bit nervous. One, I am a girl. Two, I kinda look out of place. As my boyfriend was scanning the comic bins and walls, I just followed him around a bit sheepishly, until I started looking at comic covers under the "New Releases" section. My boyfriend said that if I wanted to try reading a series, going for one of the newer releases of a series that was fairly new to the scene might be good.

There Really Is A Comic For Everyone
So there I was, scanning through the walls, but not really coming across anything that caught my eye off first glance. I mean, Vampirella may work for some people, but it's really not my cup of tea. Then, somewhere around the P to Z section, I came across the word "SQUIRREL".
Which leads me to another fun fact about me. I really freakin' love Squirrels. I don't really know when I decided that squirrels were my favourite animal (along with cute little dogs), but I do know that they fascinate me. I could watch squirrels running around a garden all day.
And there it was. The Unbeatable Squirrel Girl comic book series, right, smack, in front of my eyes. I immediately grabbed a copy, ran over to my boyfriend and yelled (I do mean yelled) something along the lines of, "OH MY GOD SOMEONE ELSE BESIDES ME LIKES SQUIRRELS AND I THINK THEY WROTE A WHOLE COMIC ON IT". The funny thing is, at this point, I didn't realize that when people read "comics", they actually read entire comic series, and there's more than just one comic per superhero….
After already drawing attention to the elephant in the room (me) for a second time, I didn't give a crap about who judged me for reading about a squirrel related superhero. Actually, my boyfriend had this, "Woooooooow" reaction, and said something in disbelief like, "There really is a comic for everyone".
To be fair, I didn't think there would be a comic for squirrel lovers either…err…. Squirrel fans. I do not make love to squirrels, and I do not encourage it either!
After walking around the store holding the Unbeatable Squirrel Girl in my hands, I was eager to get home and read it. I didn't know what to expect. I was honestly just happy that someone out there managed to write about squirrels and have it sell!
With the help of my boyfriend who taught me how to read comics (because yes, there is an actual method to reading the panels) I was happily off in squirrel land.
Who Is The Unbeatable Squirrel Girl?
The Unbeatable Squirrel Girl, aka Doreen Green, isn't your average college student. Actually, she's quite a zany, self-confident, witty computer science student that that also happens to be one of Marvel's youngest and most admirable characters.
What exactly does Squirrel Girl do?
And as her little meddly goes, Doreen "Finds some nuts, eats some nuts!", and she, "Kicks bad guuuuuuuys' evil butts!". Kinda like your friendly neighbourhood spiderman…except, a lot more squirrely.
When we meet Squirrel Girl in the 2015 series (aka Volume 1) , she is moving out of the Avengers mansion—probably a relief for the mentor Tony Startk aka, Iron Man, whom she always tries to impress—and is moving into her dorm in college with her pet/sidekick, the bow-wearing squirrel, Tippy Toe.
With Tippy Toe at her side, Doreen/Squirrel Girl can take on anything.
Meeting new roommate and first college friend, Nancy Whitehead. Check!
Meeting hunky-hunk, Tomas? Check!
Attending classes…Somewhat!
After all, Squirrel Girl does have to defeat the villains of the Marvel universe. She can't be in two places at once (or…can she?).
And right here is where I'm going to warn you that the following paragraphs talk about the first comic in some detail. So if you're going nuts already, wanting to read Squirrel Girl for yourself, don't read this next bit. If you're someone who is just curious about what she does, or has already read Squirrel Girl, then read on for my take on her very first number 1.
Again, don't Read Any Further If You Don't Want Squirrel Girl Vol 1 Issue 1 Spoilers!!!
Review and Summary of Squirrel Girl Issue 1 Volume 1
Almost instantly after moving into her dorm, we follow Squirrel Girl into her very first battle with "Russian Nobleman Kraven The Hunter", whom Squirrel Girl knows about from reading, Deadpool's Guide to Super Villains, a deck of guide cards which she always keeps on hand. Unfortunately for the baddies of the universe, Kraven rudely captures Tippy Toe, which of course makes Squirrel Girl go NUTS!
Luckily, Squirrel Girl has incredible strength, the ability to call on her other squirrel friends, and she also possesses the claws of death. She is not one to be messed with.
After all, she IS Unbeatable, and for the record, has beaten Modok in her 1980's appearance when Iron Man was in trouble! Throughout her combat with Kraven, we learn of Squirrel Girl's humour, her quirks, and the power of her Squirrel-like teeth that can Chomp through the nets of death (aka the spiderwebs cast by Kraven).
Somewhere in the middle of the fight, Squirrel Girl actually brings up the point that Kraven is out to kill Spiderman, and vise versa, and that is immortal. She sarcastically points out that he is wasting her time trying to kill Tippy Toe and her when there are other, much larger and much more vicious predators out there to kill, like spiders or something! This strange and unconventional diversion actually works to Squirrel Girl's advantage, and makes Kraven reconsider his choice of prey.
Unconventional superhero? Perhaps that's the best way to describe Squirrel Girl! Maybe that's what makes her so unbeatable!
After Kraven leaves her to go fight the bigger, badder predators, Doreen goes back to living the "normal college life", ignites a friendship with her roommate Nancy and Nancy's cat, Mew (who reappears throughout the comics).
Life seems to be normal until one of Tippy's Friends comes to the dorm, and "Chuk Chuk Chit Chucks" on the window…informing Tippy Toe in their special squirrel language, that there is a new evil on it's way!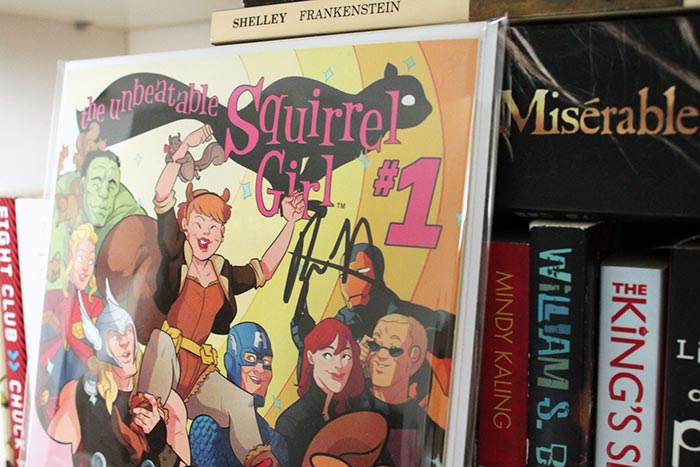 Want More Squirrel Girl Reviews and to hear how I met Squirrel Girl's Writer, Ryan North?
If you've enjoyed learning about how I got into reading Unbeatable Squirrel Girl and want to know more, stay tuned for more posts! I am bringing you reviews of each issue of Squirrel Girl and key characters and issues you need for your collection.
I'll also share the story of how I met Squirrel Girl writer Ryan North (*spoiler alert, he's super nice and his wife is from my hometown*).
Leave a comment below if this has helped you in any way or if you're also nuts about Squirrel Girl!
SaveSave