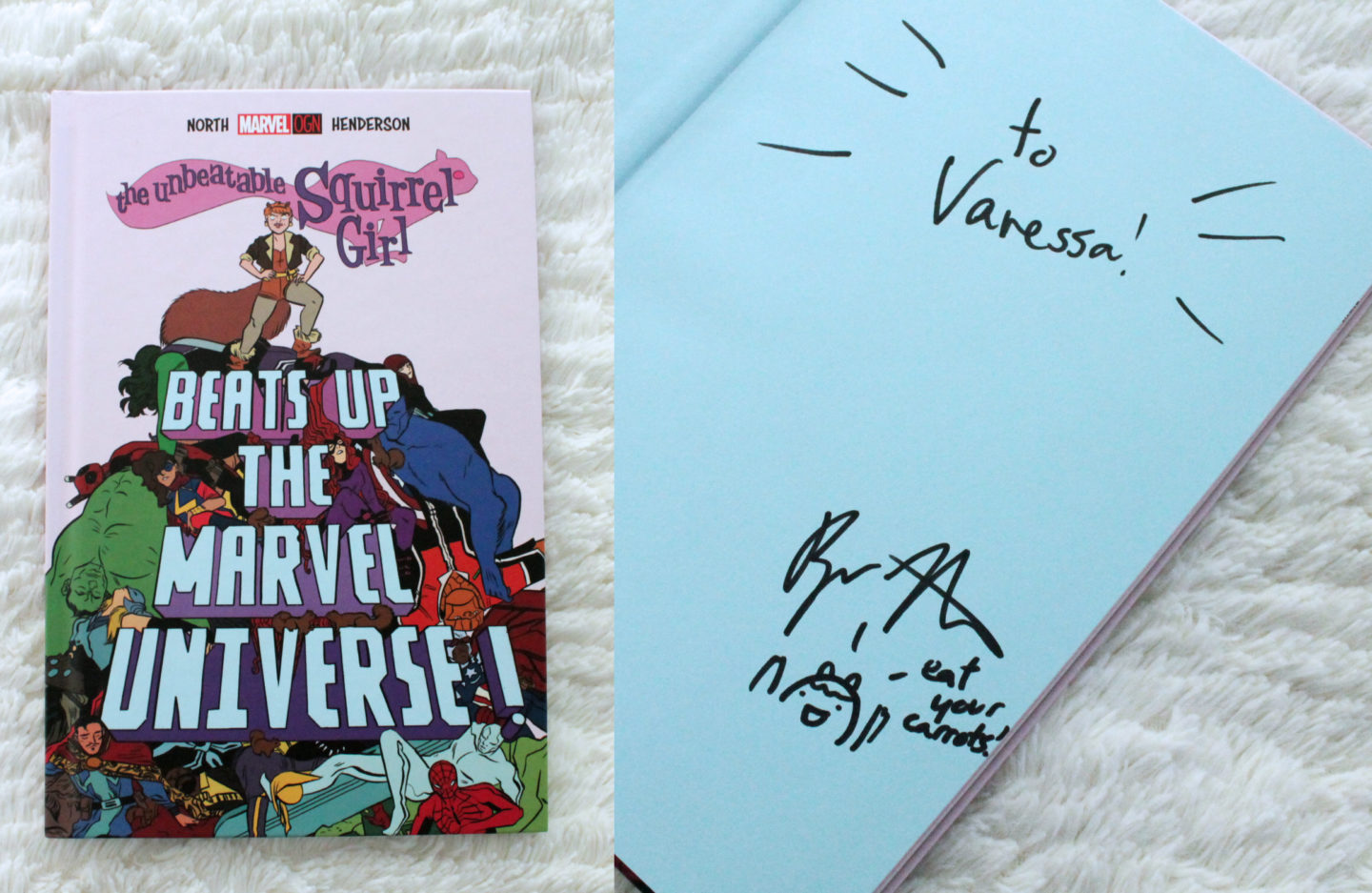 I hope everyone enjoyed the review and recap of The Unbeatable Squirrel Girl Volume 1 comics! If you read the original Squirrel Girl post (which you can find here) you'll know that I'm still pretty new to the world of comic books and that I don't necessarily fit the stereotypes around comic book lovers. But that hasn't stopped me from trying to explore comic books and have comic book experiences. In fact, today I'll be stepping out to Fan Expo Canada for a weekend of fandom, comics and fun.
Kinda crazy and very out of the norm for me? Just a bit. So how did I get to this point?
My First "Comic Event" 
This past May, I went to my first comic-related event–the Toronto Comic Arts Festival (TCAF). Going to TCAF was a spur of the moment decision but it was great to see local comic artists and Canadian creators come together to celebrate comics and creativity. I got to sift through booths, check out new projects and I even met one of my comic heroes, Ryan North. Actually, he may be the reason I even knew that TCAF was happening. That's what happens when you follow these lovely people on Twitter!
For those who may not know, Ryan North is a comic book writer and works on The Unbeatable Squirrel Girl, Dinosaur Comics, and most recently, Jughead in the New Riverdale series. When I began reading Squirrel Girl I was pretty impressed by Ryan's writing in combination with artist Erica Henderson's artwork. The two have an intangible magic in each comic in the Squirrel Girl series which keeps readers coming back issue after issue.
So very excited me, went off to TCAF with a stack of Unbeatable Squirrel Girl comic books in my bag, hoping that maybe he could sign one. Of course, he was all the way up on the third floor which made the anticipation more extreme as I walked up staircases to see him. From a distance, I got semi star struck…or comic star stuck. Was I actually about to meet the person that puts the words together?
You betcha!
As I sheepishly approached the table and my cheeks grew redder (which is all sorts of weird because I'm brown and we typically don't have a blush tone) I think I blurted out something like, "I LOVE SQUIRREL GIRL COMICS!"
Yes, I am just that sublte. Thankfully, Ryan North is really freakin' cool, and so is his wife, Jennifer, who happens to be from my hometown. After bonding over strange hometown petting zoos and reminding Ryan that I was the girl with the Squirrel Eating a Carrot video from said petting zoo.
If you have no idea what I'm talking about, I once tweeted Ryan North, Erica Henderson and The Unbeatable Squirrel Girl a fabulous video of a squirrel eating a carrot the size of itself. Right here:
Have you ever witnessed a squirrel eating a carrot almost the size of itself? Now you have 😁 @unbeatablesg @EricaFails @ryanqnorth pic.twitter.com/ev3U66IXv0

— vanessa (@vanessakingson) May 12, 2017
I think I successfully broke the ice…like a polar bear. Because after, I felt bold enough to ask for not just one comic book signature…but five of my Squirrel Girl comics, my hardcover copy of Squirrel Girl Beats Up the Marvel Universe, plus my boyfriend's Squirrel Girl Venom variant. He personalized the inside of the book to say "eat your carrots" with a little Squirrel Girl beside it, AND he also signed my hip-hop variant cover for Volume 2!
From Ryan North and Squirrel Girl, to Fan Expo Canada
Needless to say, this made me a very happy camper for the rest of that day. So what does this have to do with Fan Expo Canada? I'm glad you ask. Well, Fan Expo Canada is one of the largest fandom and comic book events in the country. I'm not new to the world of fandoms (*ahem former 1D fangirl*) but naturally, I'm a bit curious to see what goes on when the world of media and comics collide.
I'm hoping to see a lot of great art, great comics and other people enjoying this niche. I definitely plan on sitting in for some comic panels to hear what other creatives do in their work. I'm also just excited to experience something that I never would have thought I'd be interested in. Although I won't be going as head-to-toe Squirrel Girl, I do plan on having some "inspired" outfits for the upcoming days.
I'll try to document my experience at Fan Expo Canada as much as possible so I can share the details with other first-timers and girls who are trying to get into the comic book scene. Honestly, I still feel intimidated going to any comic place as a girl, who doesn't necessarily fit the mold, but I'm all about breaking stereotypes. If my experience at Fan Expo Canada gets other people out of their comfort zone and enjoying things, then it's a success for everyone!
Keep your eyes out for the next comic post in the bookshelf series. I'll be sharing my Fan Expo Canada experience and giving you more Squirrel Girl insights.
Let me know if you're going to Fan Expo Canada or which fandoms you are a part of!
SaveSave
SaveSave
SaveSave