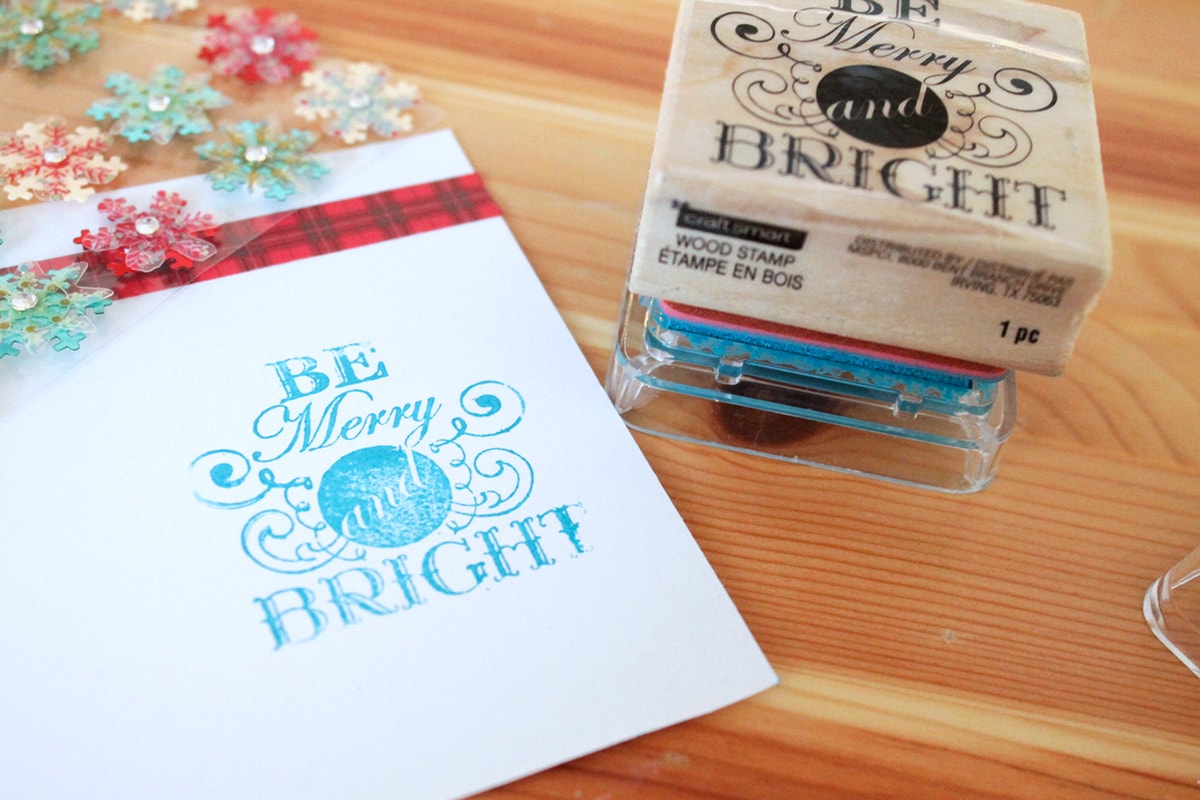 In the age of emails and texts, it's a rarity to hand someone a card.. which is probably why there's a soft spot in my heart for Christmas Cards and Holiday Cards.
Every year, after carefully selecting her Christmas cards, I watch my Mum write out kind wishes in them for family and friends in the lead up (and sometimes into) December. It's one of her Christmas traditions that she will likely never give up, despite the fact that she can email a digital card or send texts. I've often thought that she's just wasting her time on paper that people will read and throw out, but when I see her box of cards over the past 30 years, I see how sentimental cards are to her. And when I look at my own stack of Birthday cards I've collected over the years, I think her traditions may be trickling down to my Christmas mentality.
And because I'm Persistently Living (read more about this mindset here) , I believe that creating my traditions surrounding the holiday season is important for my own development and creating my December habits.
While an email or text will can be made in a matter of seconds and sent immediately without any significant costs related, there's something special about writing physical Christmas Cards.
It's a physical reminder that someone is thinking of you over the holiday season.
And each year as the Christmas cards roll into our home, my Mum not only takes the time to read them and wonder how the person is doing, but she displays them in our rec-room on a ledge that runs the span of the walls. By the end of December and into early January, that room is filled with Christmas Cards from family and friends. But as the letter and card sending generations age, I wonder if the tradition of writing out Christmas Cards will continue…
I mean, I hope one day when I have kids, they won't be asking me "What is THAT?", when I tell them I'm writing out Christmas Cards. I hope that the idea of hand written cards and even DIY Christmas cards carries on. That's what inspires me to take the time each year to write out Christmas cards and holiday cards for friends, family and coworkers.
But the past two years, I've been wanting to step it up and put some more effort into it. I've been creating DIY Christmas Cards and Holiday Cards. Here's why:
DIY's are a great way to enjoy in a holiday activity that is low-cost and gets you in the spirit
DIY cards show that you've taken the time to go beyond picking cards out from the store
You can personalize a DIY for card for each person and put your own spin on the design
So here's how I created my Christmas Cards this year.
Best part? This Christmas Card DIY costs under $25 to make and take less than 20 minutes for a stack of 18 cards and envelopes. I got all my supplies from Michael's (because I freakin love their crafting stuff) but you can definitely get them from a dollar store or Walmart too!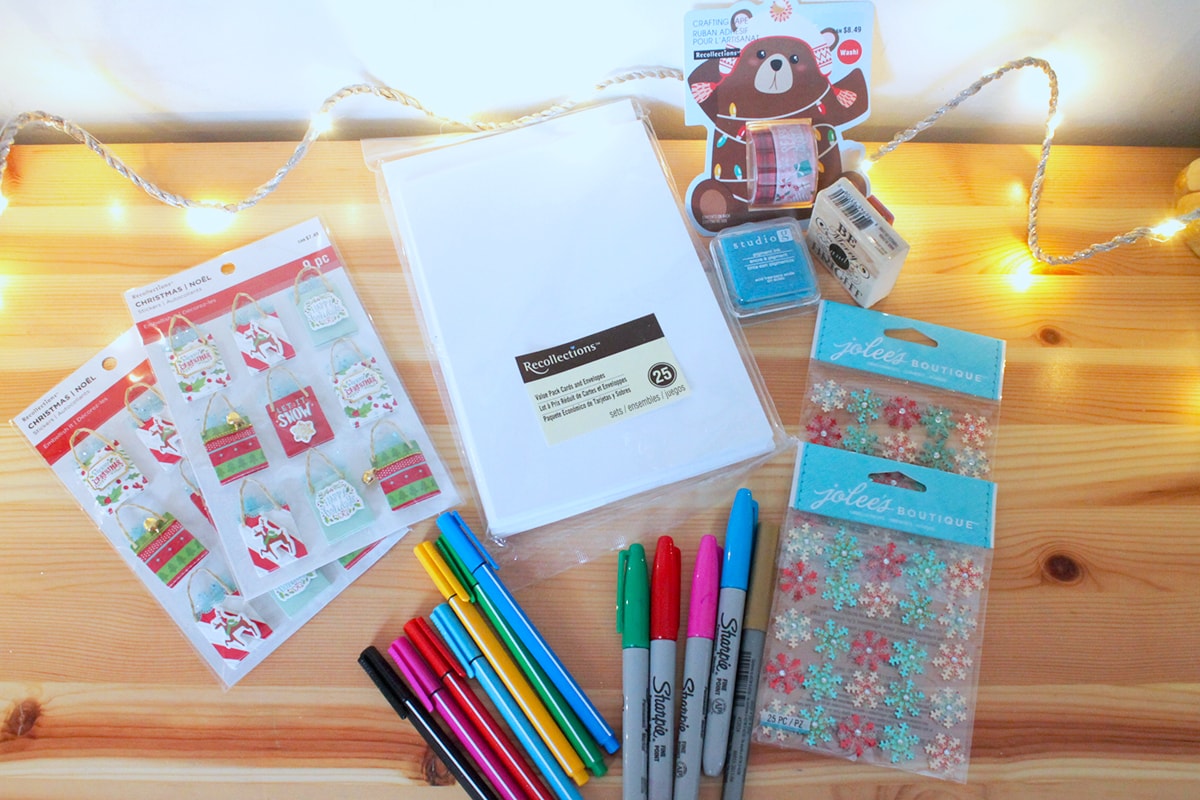 Here's what you'll need:
Stock paper, or a package of card-stock and envelopes ($6.50 CDN). I got mine as a pack of 25 fold-over blank pieces of card-stock with 25 envelopes. And they were on sale! 
Washi Tape ($4.00 CDN). They had a bunch of festive Washi tape to choose from, and my pack had 2 different designs. One is red tartan print and one is a fun "Season's Greetings" present-filled design. 
Pigment Ink Pad ($2.50 CDN). I had this from last year, but you can buy a small pigment ink pad to fill your rubber stamp with ink. I chose blue because it matched my wrapping scheme (I know, I'm lame) but there's a wide variety of colours out there!
Rubber Stamp ($1.00-$10.00 CDN). Choose a festive rubber stamp with a greeting you'd like to stamp on your card. These vary in price and in size, so choose one that fits your budget and the idea you have for your card. I bought mine last year and it says "Be Merry and Bright", which I think is perfect because it's open to any holiday and any festivity someone may be celebrating. 
Festive Stickers ($1.00-$10.00 CDN) I chose my stickers based on the colour scheme of red and blue. I had the idea of going with smaller snowflakes as an accent design and one large gift bag sticker as the anchor piece. I've chosen stickers that have a small raised sticky-pad on the back so that they pop off the card.
Permanent Markers/Pens ($1.00-$10.00 CDN) This is more of an optional item, but permanent markers and pens are perfect for writing out messages or adding little drawings to your DIY Christmas Cards.
Scissors (you likely already have these) 
Do you have everything you need? Great! Let's get started on this quick Christmas Card DIY !
Take your card-stock and fold the paper in half like a classic card, OR cut your cardstock in half and create a one-sided card. If you cut it in half, you'll get twice the amount of cards which is great if you're handing out some in person and can forego the envelope! 
Take your Washi tape and create a crossed-ribbon design (sorry, that's the best way I can think to explain it). Basically, tape a horizontal a line Washi tape about an inch from the top of the card, that runs from one side to the other. Then do the same with a vertical line, intersecting your first Washi tape line. Cut off any excess tape that hangs over the edge. If you have no idea what I'm saying here, just refer to these photos…
Add a small sticker to the corner where your Washi tape lines overlap. I've used my small snowflake stickers. 
Next, get your stamp inked and plan out where you'd like it to go on your card. I put mine on the right side which left a blank spot on the left where I can write my messages. Make sure you get plenty of ink on the stamp because you only get one shot to stamp it down. Once it's inked up, stamp it down and let it dry for a few seconds 
Finish decorating the card with your remaining stickers. I've added my remaining small snowflakes across the vertical Washi tape line, ending with my large gift bag sticker at the end of the Washi tape line. 
Write your message in the blank space you've left on the card. You can also add in designs and drawings with your markers and pens
If you are planning on using your envelopes, put a line of Washi tape horizontally across the front. Underneath, write the To and From, and use your markers and pens to decorate around. 
And there you have it, a quick easy-peasy Christmas Card DIY
Let me know what you think about DIY Christmas Cards. Do you prefer to make your Christmas Cards, to purchase them, or do you like to email out your holiday wishes. I'm curious to hear what other traditions are and what you guys think of the snail-mail tradition.
Scroll down to leave a comment and get a discussion going!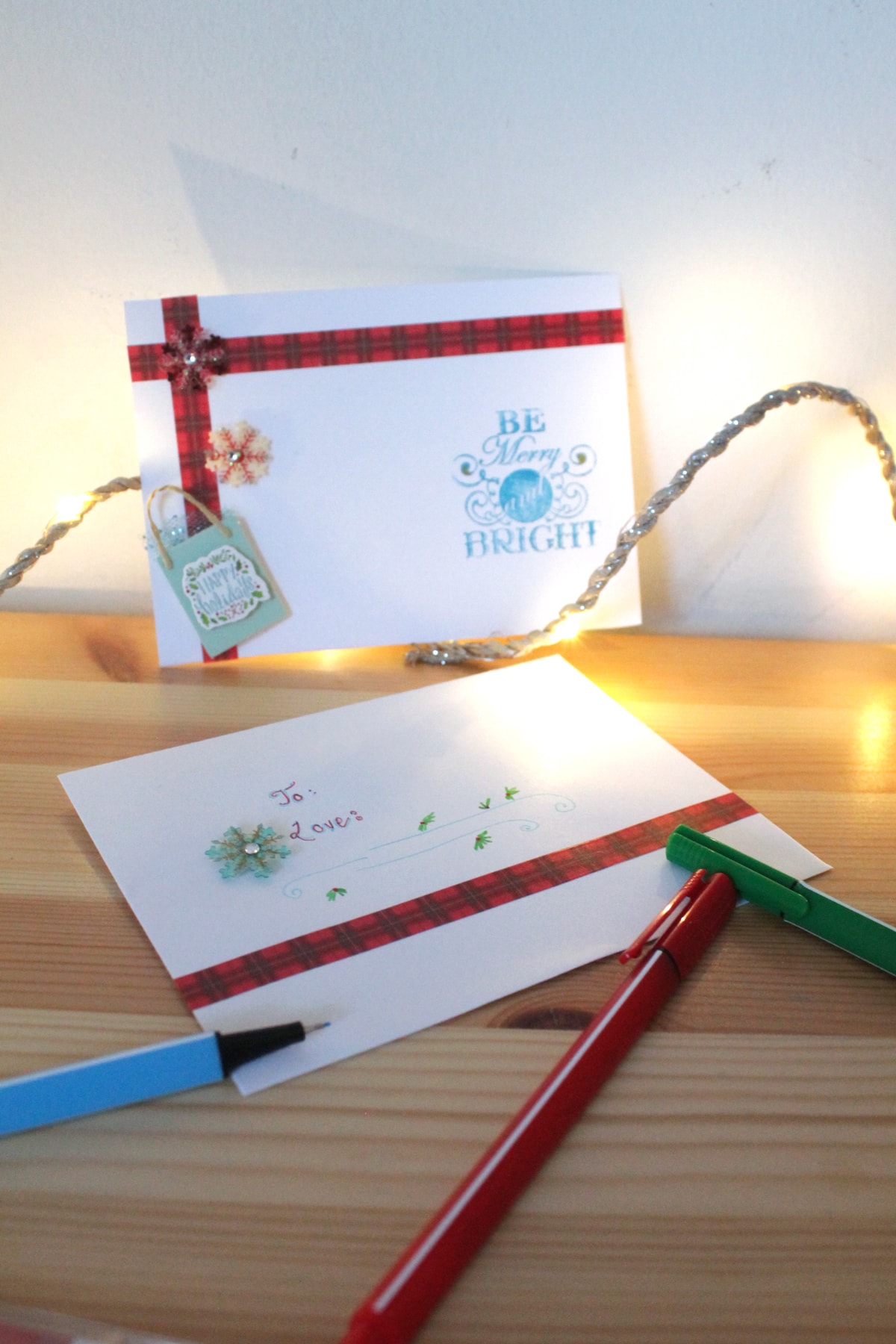 SaveSave
SaveSave