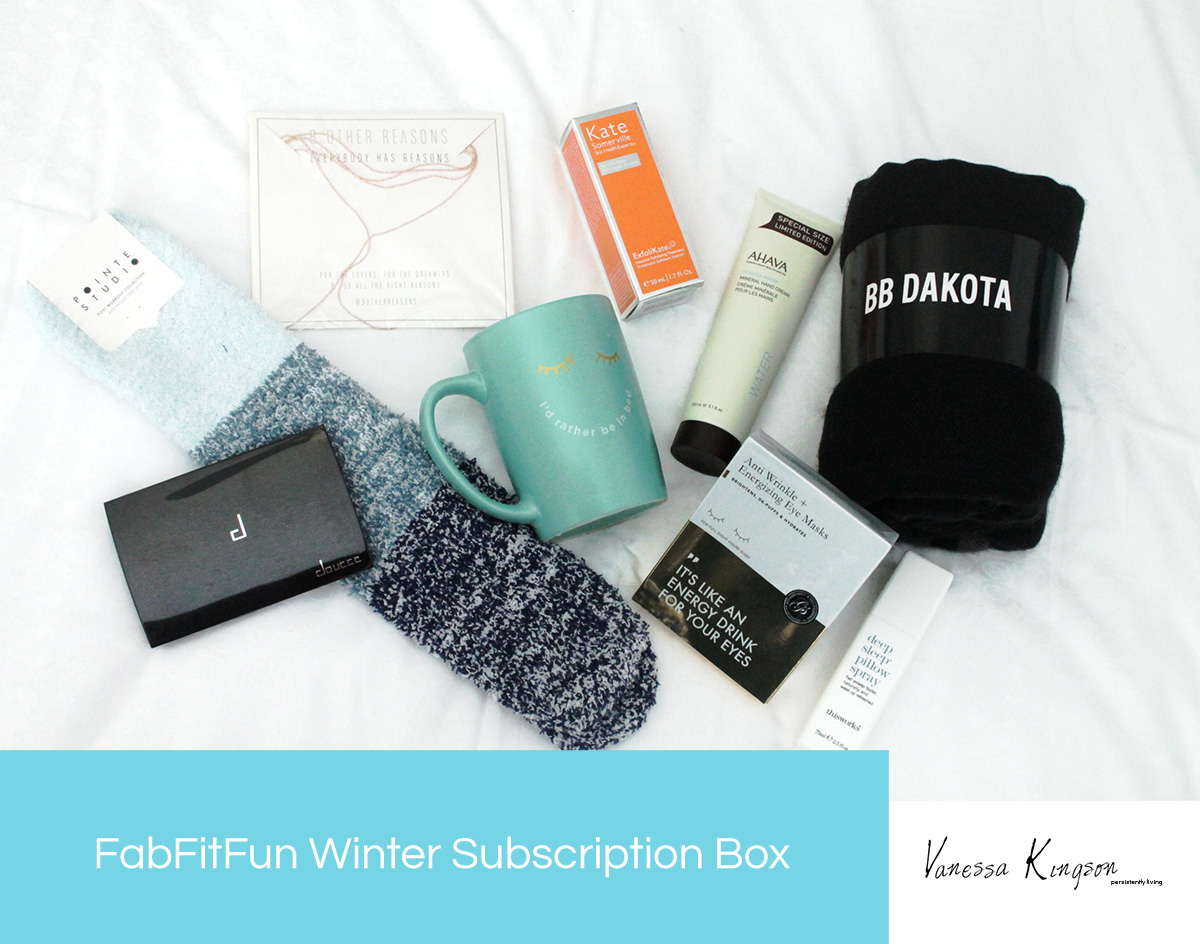 Winter is still in Canada, which makes me feel a little less late on getting this Winter Subscription Box review up here! I've been subscribed to Fab Fit Fun for a little under half a year now (and I've been a Fab Fit Fun affiliate* for some of these months) and I absolutely love getting these quarterly subscription boxes.
In a nutshell, you pay around $60-70 CDN (which includes shipping) for one subscription box, FILLED with seasonal goodies. The whole reason I started getting the boxes was because it's products that are specifically for me to enjoy (read that as: #treatyoself ) and it shows up right on my doorstep. It sounds like a lot for a box of things, but when you add up the retail value of what's inside, you're looking at anywhere from a $200-$400 dollar range. But if I'm setting aside a little bit of money to gift myself some cool products, then the real benefit is self-love and the ability to try things that I likely haven't heard of or wouldn't afford otherwise.
So what was in the FabFitFun Winter 2017 Box?
The box always starts with a FabFitFun newsletter that gives a rundown of the products in the box and a few other things related to the company, like the foundations they support. If you're curious, the Winter box was in support of the American Heart Association. Heart health and your general wellbeing are important no matter what age you are, so it's great to see awareness in this box.
And Ayesha Curry being on the cover of this newsletter was definitely, a bonus. Who doesn't think the Curry's are the cutest lil' sports family?!
Which leads me to one of my FAVOURITE items ever.
Homemade by Ayesha Curry Tea Mug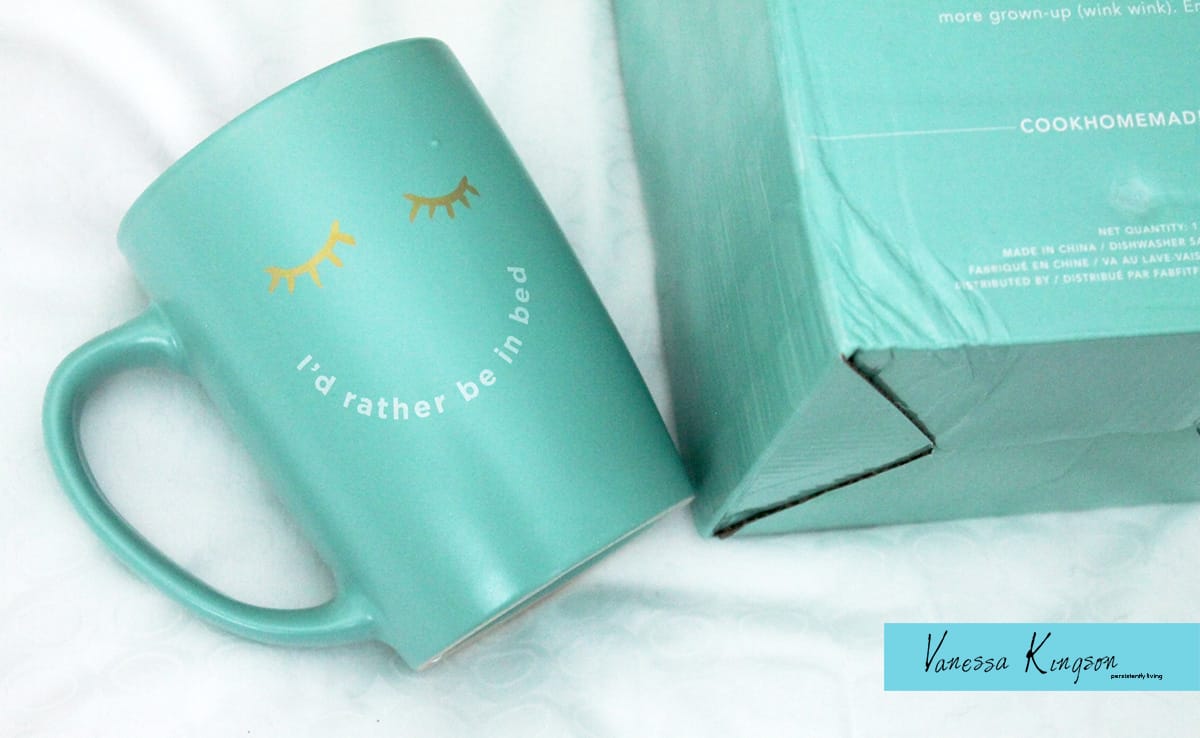 If you follow Ayesha Curry on social media, you'll know that she has a company called Homemade by Ayesha Curry. The idea behind her food-ingredient-delivery company is to celebrate food and togetherness. I'm a fan of food and togetherness, and I'm a new Homemade fan! While I won't be buying the ingredient packages anytime soon (because I'm Canadian), I love the mugs she has designed for the brand. There was a selection of 3 mugs, one that says "Love You a Latte", another that says "Coming In Hot", and the one I have which is my favourite of the three, "I'd Rather Be In Bed".
What's great about the mug is that it keeps beverages warm for longer than most teamugs. The only downside is the quality of the paint. Although I love the colour of the paint and the font, there is a paint glob on the front near the eyelash design that isn't going anywhere!
This Homemade mug is definitely a top contender in my daily teamug rotation.
Doucce Freematic Eyeshadow Pro Palette in Nude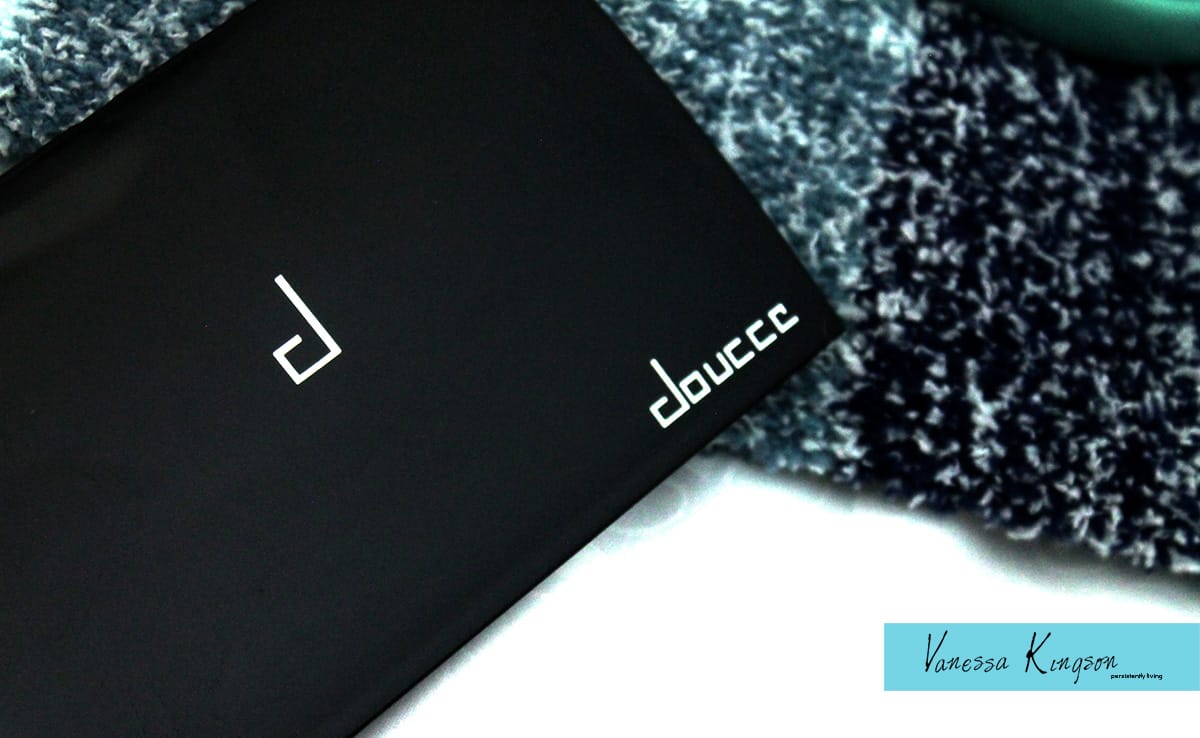 How many eyeshadow palettes done one really need? In my opinion, all you need is a good nude palette. This probably explains why I own the Urban Decay Naked 2 palette already, but it's getting old…and this one from Doucce came at a good time!
The palette comes with a highlight shade, and 8 eyeshadow shades—four in matte finishes and four in shimmer. I love matte finishes for everything—because I find that tiny glitter specs go everywhere—and these eyeshadows are no exception. They are fairly pigmented and in my experience, they stay on for a full day. Best of all, the Doucce website says that their products are NOT tested on animals, so I can happily add this into my makeup bag
Sidenote: I'm not Vegetarian or Vegan, I just think that beauty products and skin care products don't need furry little friends to test them. It's just not necessary for items that aren't essential
AHAVA Deadsea Mineral Hand Cream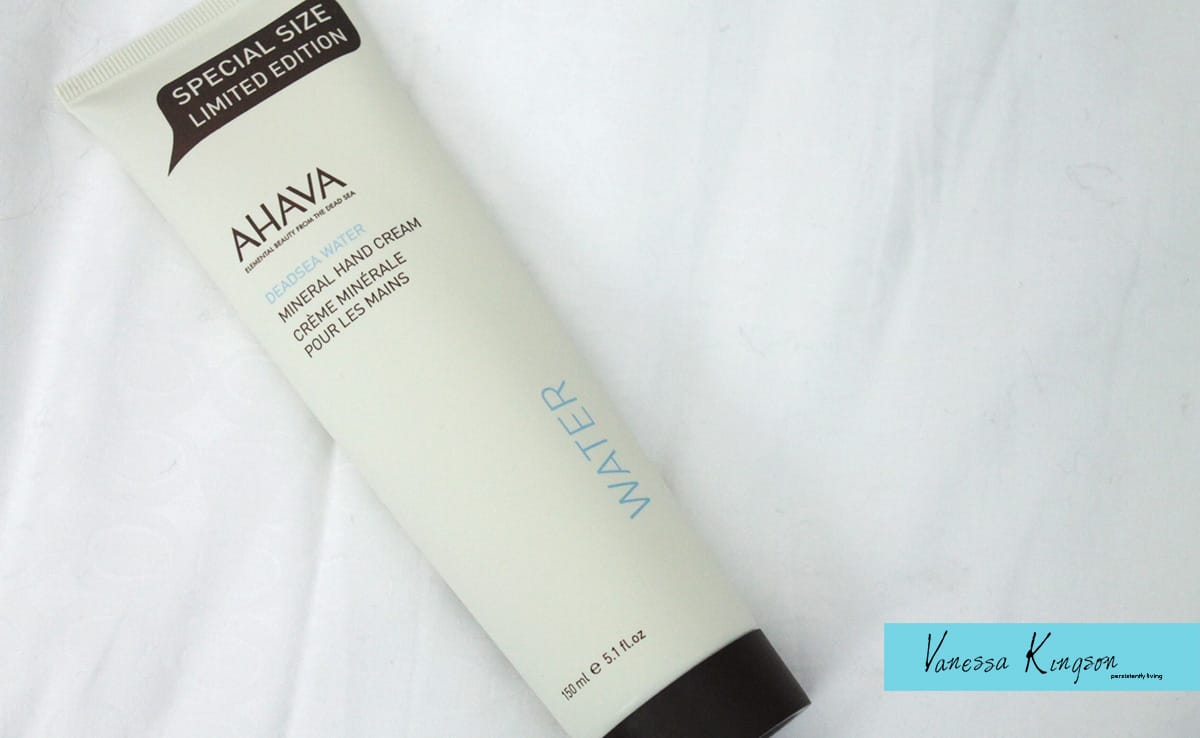 The AHAVA mineral hand cream is a lifesaver for the Winter weather. Admittedly, I pretty much only use The Body Shop creams and L'Occitane creams for my hands because they are the most moisturizing, but I was curious with this one. The cream has a somewhat thick consistency, and sinks into the skin easily with a bit of rubbing, but I just can't get past the smell. It reminds me a bit of a funeral home mixed with an old house (if that's what the dead sea smells like, then jokes on me). Thankfully, the smell goes away in half an hour or so, but it's not my top choice in moisturizer.
On the plus side, it's Cruelty Free and Paraben free—good for everyone and everything!
Pointe Studio Aloe Infuzed Cozy Socks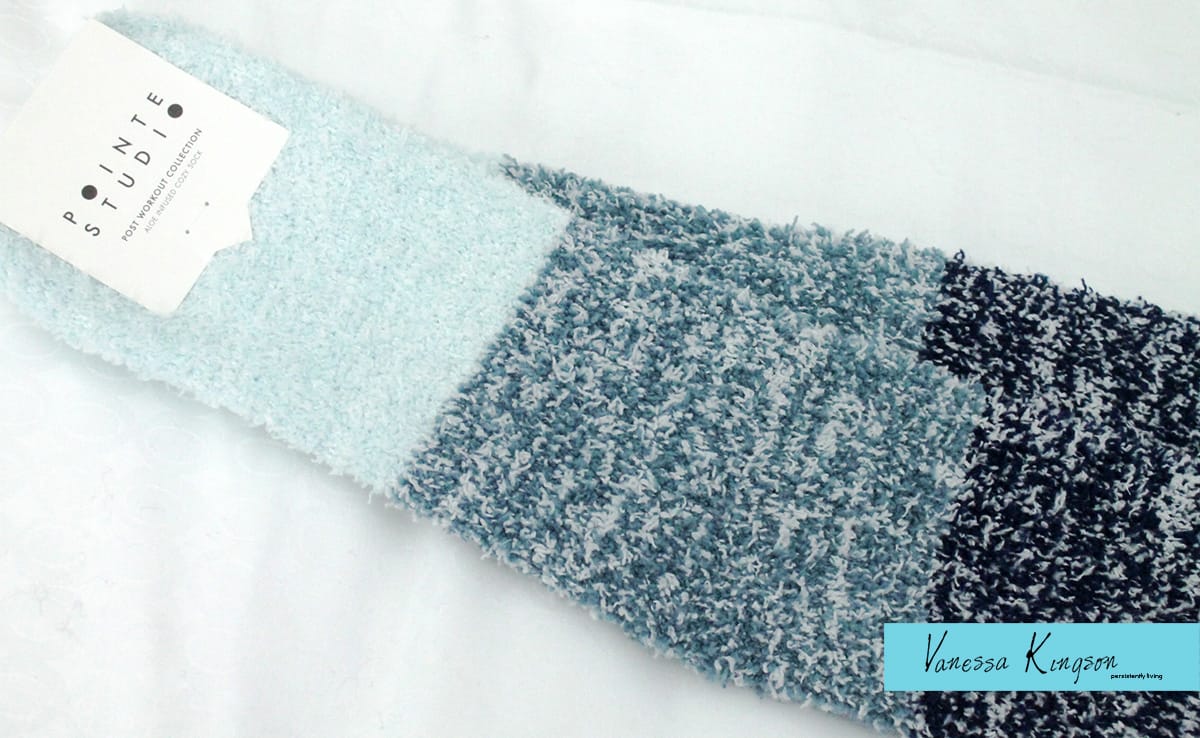 Fuzzy socks in the Winter are a staple in Canada. When it's -40C outside and you need to keep your feet warm, fuzzy socks are a must. So these socks are definitely meant to be worn post-workout, but you'd have to be insane to want to throw on a pair of thick socks after sweating buckets. I prefer to wear these socks at my desk or while I'm lounging.
They are super soft, comfy and warm, but they're only predicted to last 25-30 washes. I'm not sure what the lifespan of socks should be, but I feel like it should be more than that. Does anyone know how long socks should last?!
This Works Deep Sleep Pillow Spray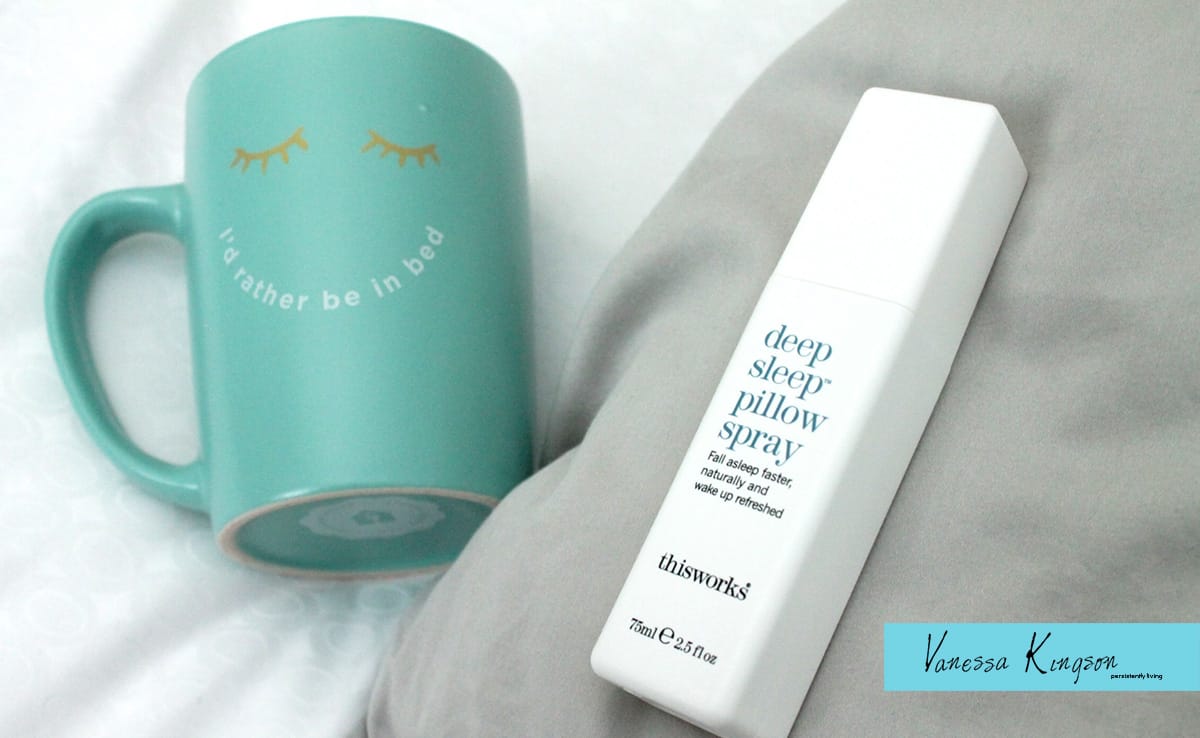 In my trek of Persistently Living, I'm always keen on products that can help me live better. Sleep is one of the areas in my life that I just never can get under control. Through most of my teenage years, I suffered from Insomnia. While this has improved significantly in my 20's, I still have nights where I have trouble relaxing and falling asleep/ staying asleep.
I was doing a bit of research on the Deep Sleep Pillow Spray and found out that it is not only 100% natural and NOT tested on animals, but it's shown to reduce sleep anxiety and improve the quality of sleep.
I'm a fan of sleep, despite how odd my sleeping habits are (maybe that's a whole post in itself) but I've been using this spray for a little while and have found it calming. I'm guessing it's the Patchouli Oil (you know, that oil that's in all the Lush Bath products) and the Lavender Oil that make it so relaxing for bedtime.
Pro tip: Be sure to spray it a bit before you go to sleep so the spray has time to sink into your sheets.
FabFitFun Products I Haven't Used Yet: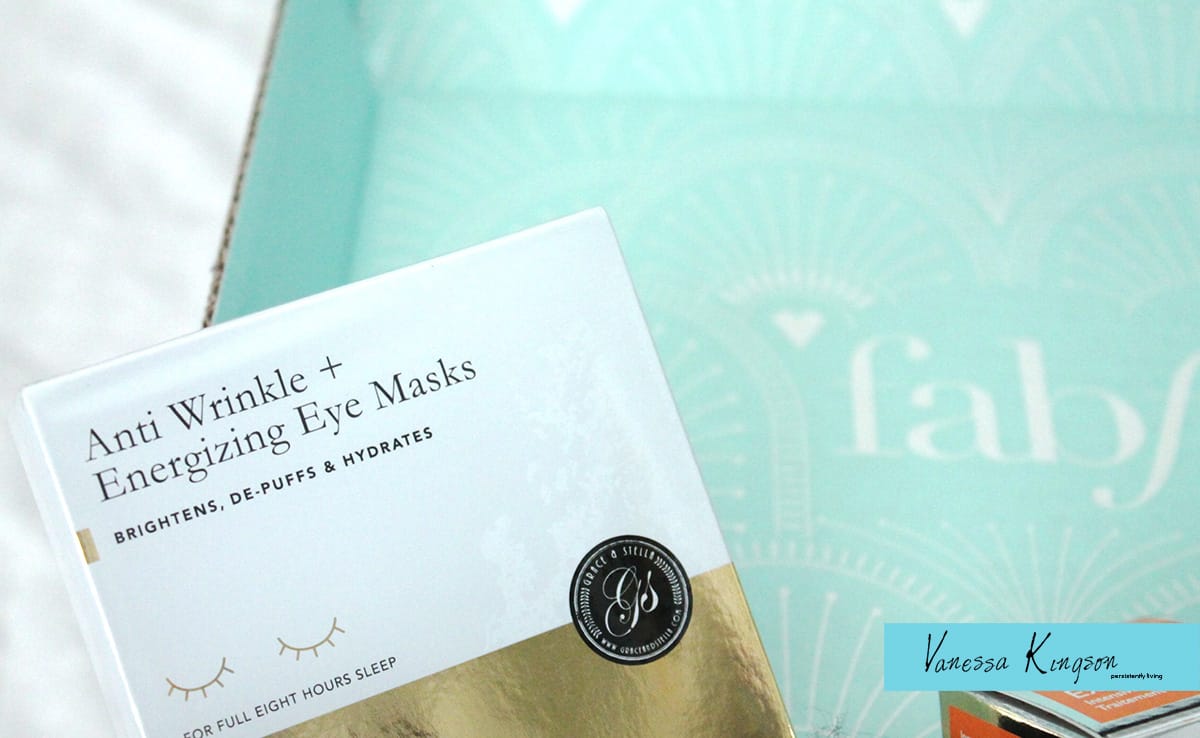 Kate Sommerville Exfolikate Intensive Exfoliating Treatment  AND  Grace & Stella Anti-Wrinkle Energizing Eye Masks
The Kate Sommerville Exfolikate and the Grace & Stella Eye Masks are two products that got me soooo excited when I opened this box. But I like to read skincare labels before I slap products on my face. I have normal to sensitive, dry skin, which makes me hesitant to use products that say "If you have sensitive skin, use for less than a minute", and "Don't use on scratched skin". These sayings freak me out because I feel like the products are far too strong for anyone's skin, yet alone skin that is already sensitive.
Because it's Winter and my skin is already irritated from the dryness and my stress levels, I didn't want to mess around with these and have an awful reaction. I hope to test these out in the Spring and see if they're any good!
Products I Don't Think I'll Be Using/ I'm Undecided About
BB Dakota Poncho in Charcoal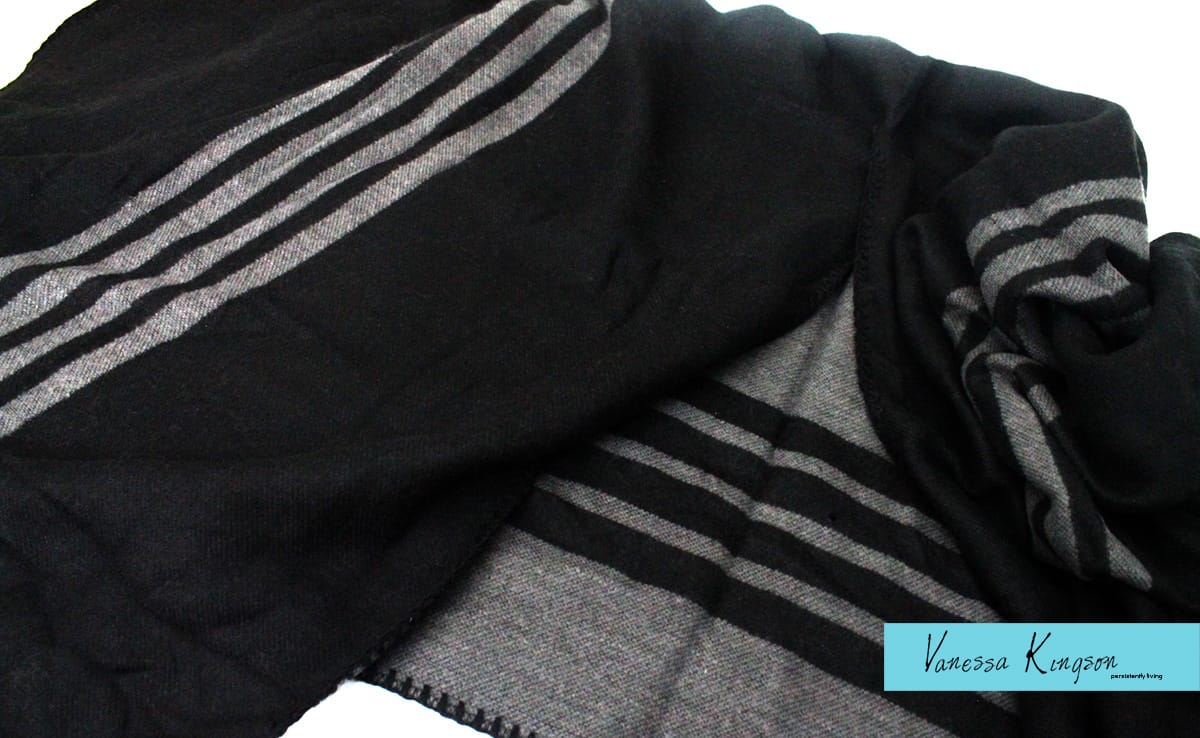 I really wanted to love this poncho…really badly. I love the concept of ponchos because they're easy to throw on and can be cinched in with a belt. They're also a great transitional piece in between seasons and for the days you need to dress in layers.
While the design of the poncho is quite simple—mine is a solid charcoal colour with light grey stripes near the edges—it sheds. Like crazy. I don't know what it is with the clothing accessories in the past two Fab Fit Fun boxes, but shedding in any material irks me. And this being an acrylic, woolish material, made the little fuzzies impossible to pick up.
I'm attempting to de-fuzz this poncho before I wear it, but that's a process in itself. So I haven't been able to enjoy it (yet!) Based on looks alone, this is a great accessory to have, but I just can't deal with the shedding.
8 Other Reasons Nine Lives Choker in Rose Gold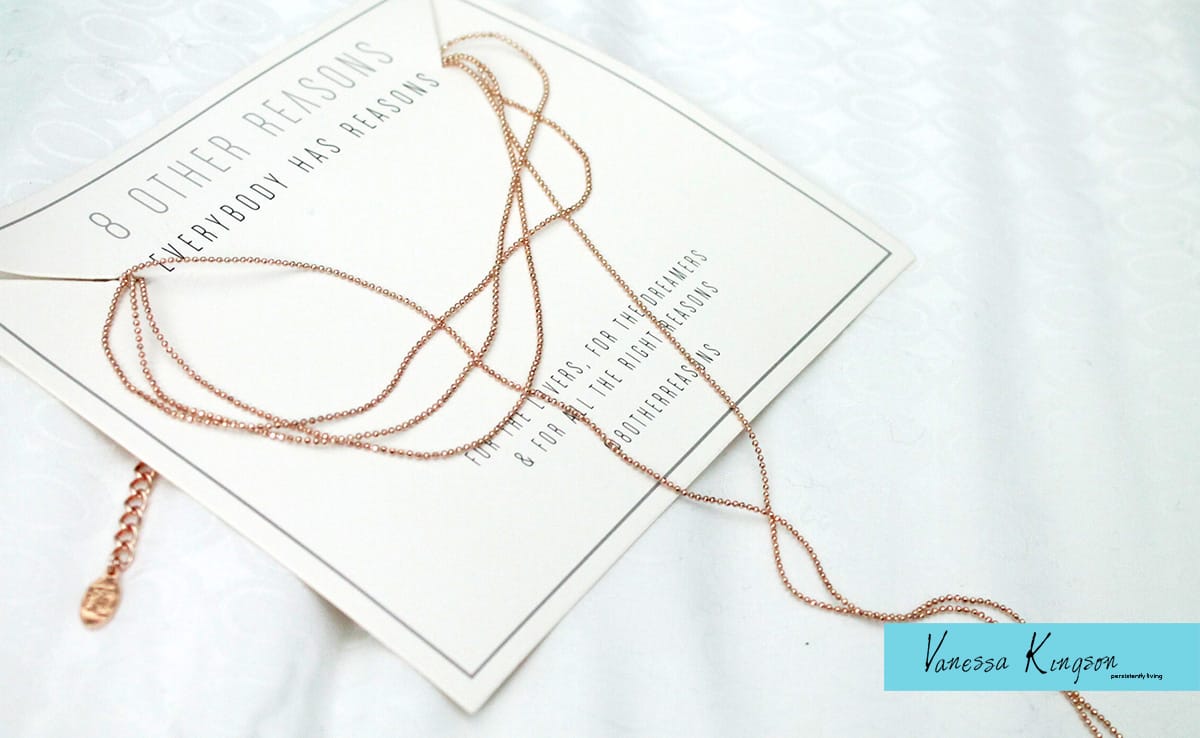 I feel like chokers are a trend that should have been left in the 90's. I know that fashion comes back around, but I'm still feeling that plastic creepiness on my neck from those expandable, black chokers from childhood. While this choker is greatly improved from those looks and is much more of a delicate, drapey-layered choker, I just don't think I'll be wearing it much.
Get YOUR FabFitFun Box 
If you want to get your own FabFitFun Box to indulge in some self-love, be sure to order your box filled with lifestyle, fashion and wellness goodies. And make sure you give your wallet a bit of a break too. Here's how:
Click on this link and use the code WINTER10 to score $10 off your FabFitFun subscription! When you get a subscription, you'll be paying either 4 times a year for a quarterly subscription box, or pay up front for the whole year, and save yourself a bit of money.
Happy rest-of-Winter everyone!
*Please note, this post does contain an affiliate link. If you do purchase through this link, I may be given monetary compensation as a FabFitFun partner. I wouldn't be an affiliate of this program however, if I didn't fully believe in the product!*