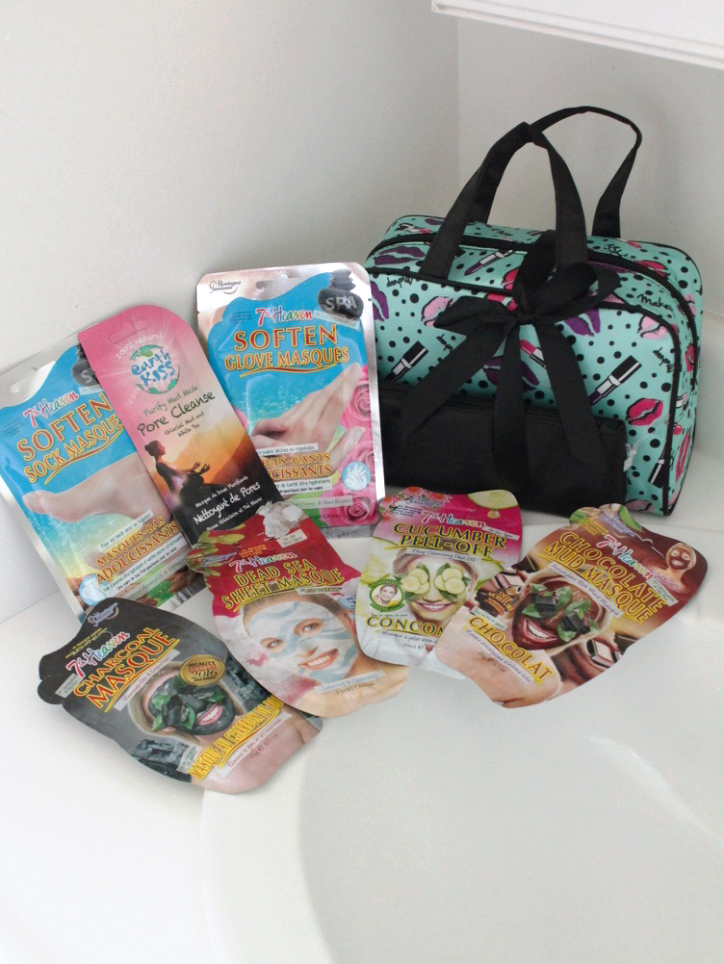 On May 30th, I joined in on a beauty chat hosted by Canadian Beauty Bloggers in collaboration with Farleyco Marketing–a Canadian Health and Beauty company that carries brands from around the world. Admitedly, I joined the CBB x Farleyco Twitter chat kind of late, but I did manage to get in a few bits of conversation with other Canadian Beauty Bloggers, and Retweeted some of the giveaway tweets, including one for a 7th Heaven and Earth Kiss Giveaway Package
I usually don't win giveaways, and I wasn't participating with the intention to win. I really just wanted to dip my toes into the Canadian Beauty Blogger community. Needless to say, I  really wasn't expecting to win the 7th Heaven and Earth Kiss giveaway , so when I was announced as a winner, I was excited!
7th Heaven and Earth Kiss (formally known under the Montagne Jeunesse brand) specialize in creating natural beauty products that have minimal impact on the earth. Both these brands are still dedicated to creating beauty without harming the beauty in our world, and that makes me a happy trier and buyer. Majority of the products are made in the UK, but thanks to Farleyco Marketing, they are now available in Canada.
I was informed that the package would be shipped to me soon, and it came to my doorstep a few days later. I was so excited to see all the products that I barely made it in the door before I was undoing the tape on the box. In the package I received four different 7th Heaven Face Masques, two 7th Heaven Spa Masques, one Earth Kiss Mask (an all natural line from the 7th Heaven family), and a really fun Cosmetic Bag.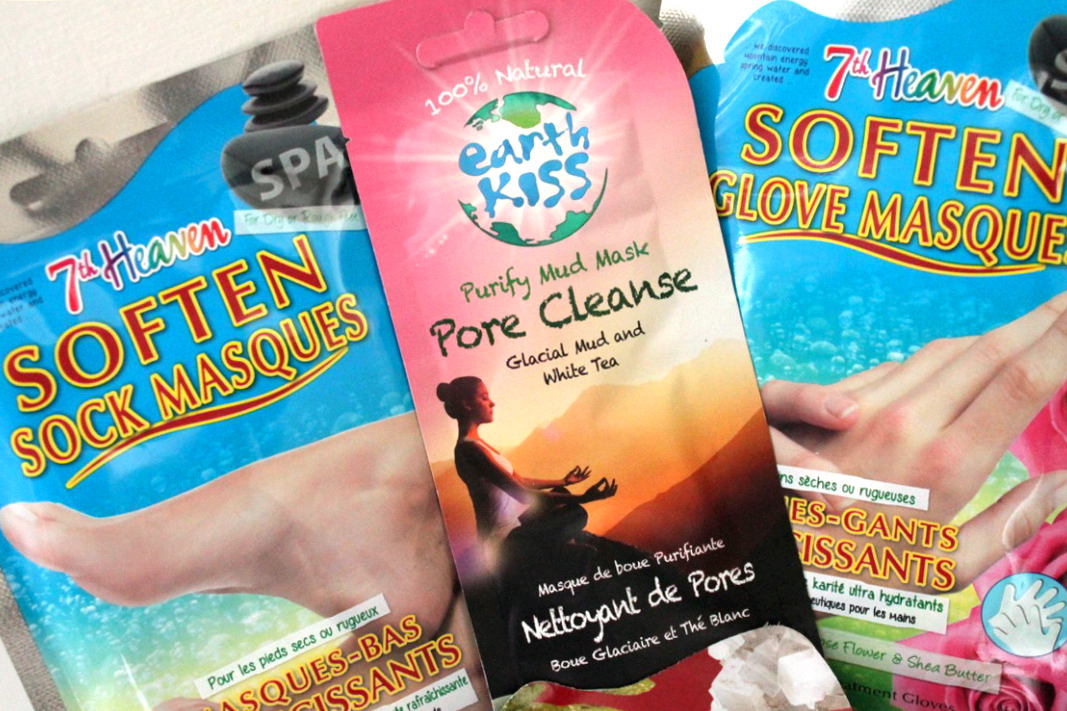 From the array of products in the package, I've tried out the Earth Kiss Mask and the 7th Heaven Soften Glove Masques. Although I would love to have tried out all the masques, it's recommended not to overdo it and use more than one per week. While I haven't included a review of any 7th heaven masques, I do remember using them a few years ago and really loving the effects on my skin. I have nothing but good things to say about the Chocolate Mud Masque and the Dead Sea Mud Mask from 7th Heaven. Both left my skin feeling clean and smooth, and the Chocolate masque had the bonus perk of smelling ah-ma-zing.
Earth Kiss Purify Mud Mask Pore Cleanse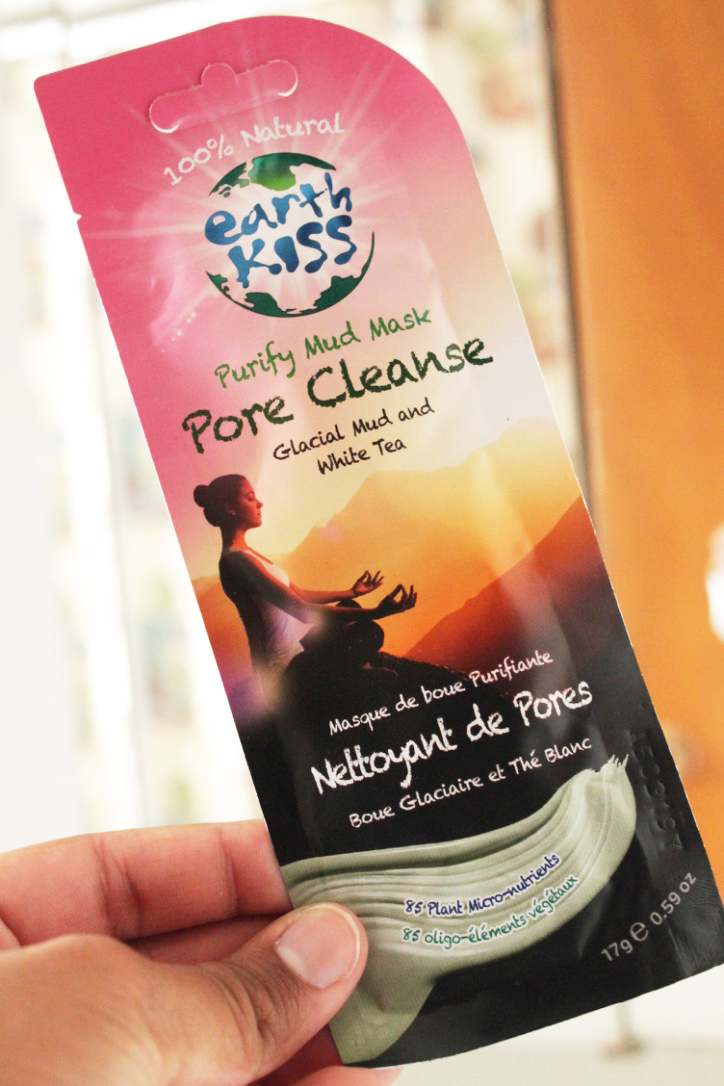 I was drawn to the Purify Mud Mask Pore Cleanse by Earth Kiss partially because of the packaging, but also because I've been meaning to try a face mask that could get into my pores and get rid of the impurities lurking in my skin. I am prone to little whiteheads on my nose and chin, and have some blackheads between my brows and just on my cheeks near my nose. I've also been stressed out for the path month or so adjusting to work changes and overall life changes, adding to those pesky pop up blemishes. I also am in the transition into my  "summer skin" which is what I refer to as the added pimples and breakouts on my face and neck thanks to the heat. Ontario is experiencing heat waves, which is great if you love the heat and sun, but is downright irritating when it comes to staying hydrated and maintaining a clear complexion.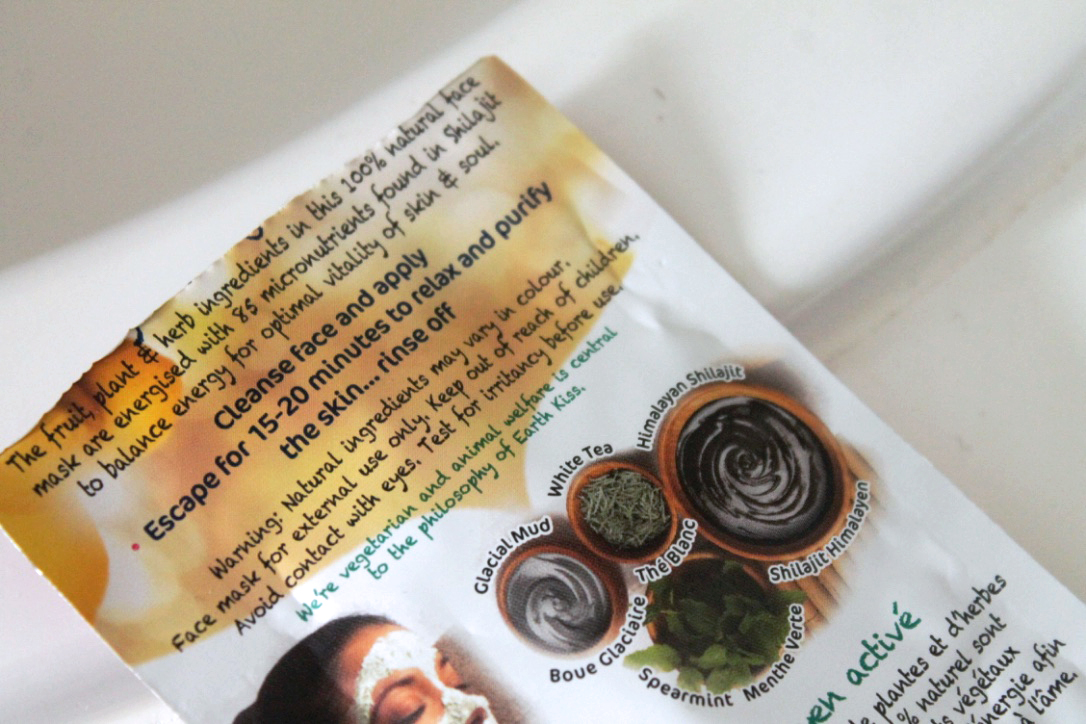 The packaging for the product shows a woman meditating in the sunlight which is clever. People who meditate cleanse their mind, which also helps to keep stress levels low and skin clear! The back of the package also comes with instructions and ingredient information. I love companies that include pictures of ingredients or talk about their ingredients on the package. I'm not a scientist, so when companies throw on words and complicated formulas, I pretty much assume that what I'm putting on my skin isn't harmful. In the Purify Mud Mask Pore Cleanse, there are 4 ingredients listed: White Tea, Glacial Mud, Spearmint and Himalayan Shilajit. If you're wondering what exactly "Himalayan Shilajit" is, you're not alone! Basically, Shilajit has ionic minerals that help to balance out skin. It's also known to increase energy while decreasing stress and anxiety–and for those of you who've read my Mental Health Series, you know that I'm down to try anything that will help with stress and anxiety.
The packaging makes it clear that Earth Kiss is 100% natural and vegetarian, as "animal welfare is central to the philosophy of Earth Kiss". Although I'm not a vegetarian, I do like using vegetarian or vegan beauty products over ones that test on animals because I personally believe that human beauty should not come at the cost of harming animals. The Purify Mud Mask meets Cruelty Free Standards, Vegetarian Standards, and PETA guidelines in addition to The Green Dot initiatives.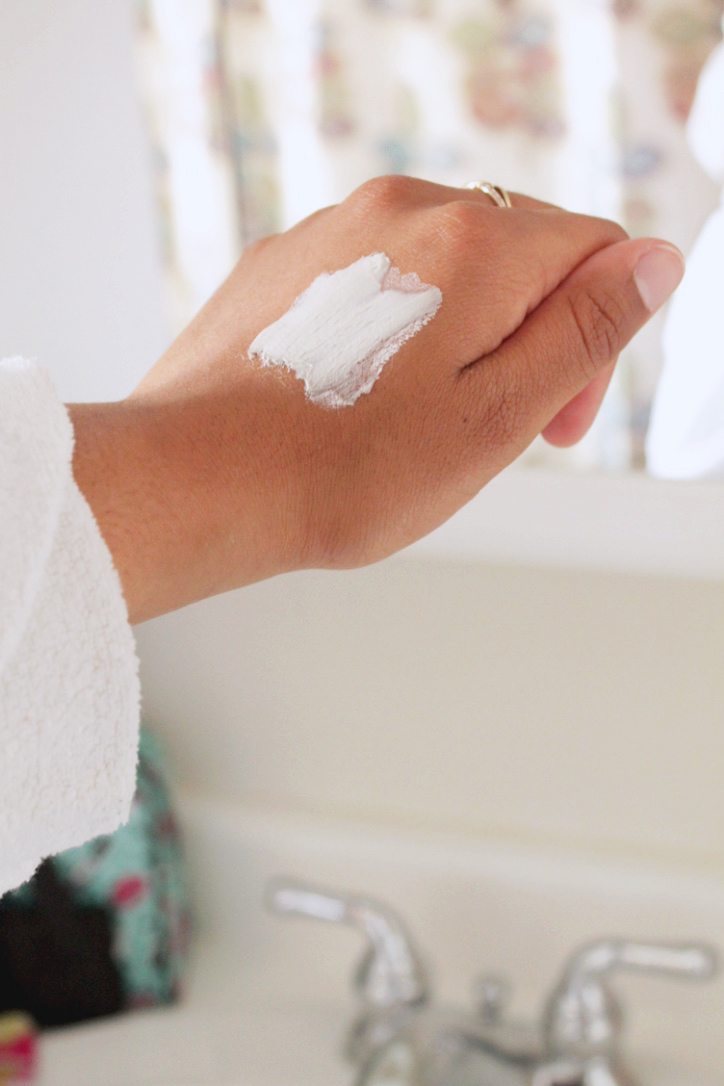 As the package said, I cleansed my face and then put on the mud evenly (or as evenly as I could) across my face, avoiding my eyes. I also tried a little on my hand just to see the texture and how smooth the mask is. If you've ever wrestled with a mud mask because it doesn't go on smoothly, you'll be glad to know that this glides on like a dream. If it is your first time trying any of the Earth Kiss or 7th Heaven masks, you may want to test out the product on your forearm first to see if you have any allergic reaction (it also says this on the back of the package, so make sure you read the fine print!).
Immediately when I put the mask on, I noticed the spearmint scent mixed with white tea. As a fan of all things mint and tea, and all things mint-tea, I couldn't get enough of the smell. The mask is described by the Earth Kiss website as having a cooling sensation, so don't be alarmed if you have a little cool tingly feeling every now and again when the mask is on! I left mine on for about 15 minutes, which is when it  mostly hardened.
I took one of my face cloths, some warm water, and gently wiped the mud off my face. After face masks, I always have that ridiculous urge to pet my face for the next few minutes…which I totally did! I was extremely impressed with how soft my skin looks. Even my Mum asked me what I used on my face because she said it looked clean and glowy. I also noticed that some of my whiteheads and blackheads came out! Although they're not fully gone (not that I was expecting them to be) I think my skin overall looks and feels amazing.
Soften Glove Masques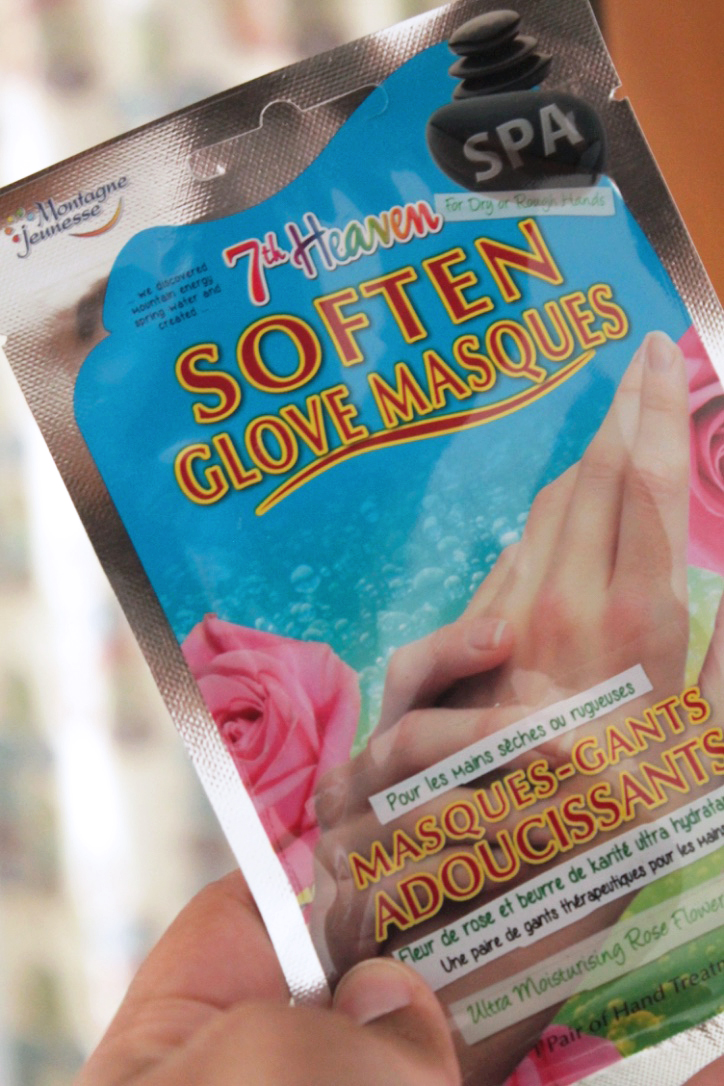 Next up was the Soften Glove Masques by 7th Heaven. I have never tried a hand mask or any of those moisturizing gloves on the market. I don't really have a reason why, but it's not something that crosses my mind when I'm searching through beauty isles. So when I saw these gloves, I was pretty curious to find out how they work, and more importantly, what they feel like to wear.
For some reason I was expecting a pair of little pop on mittens (like the ones we all wear in the Winter) to come out of the package. I was a little bit confused when I saw two thin plastic gloves, kind of like the ones in hair dye kits but made of stronger material with a little bit of material on the inside. Then came the fun(ny) part. I opened up the left glove and was immediately  laughing. I don't know why, but I wasn't expecting a liquidy/moisturizing subtance although these gloves are meant to use a liquid moisturizing method to make your hands soft. It's probably not funny for people who have done these glove masques before, but I was kind of consumed by the squishyness going on.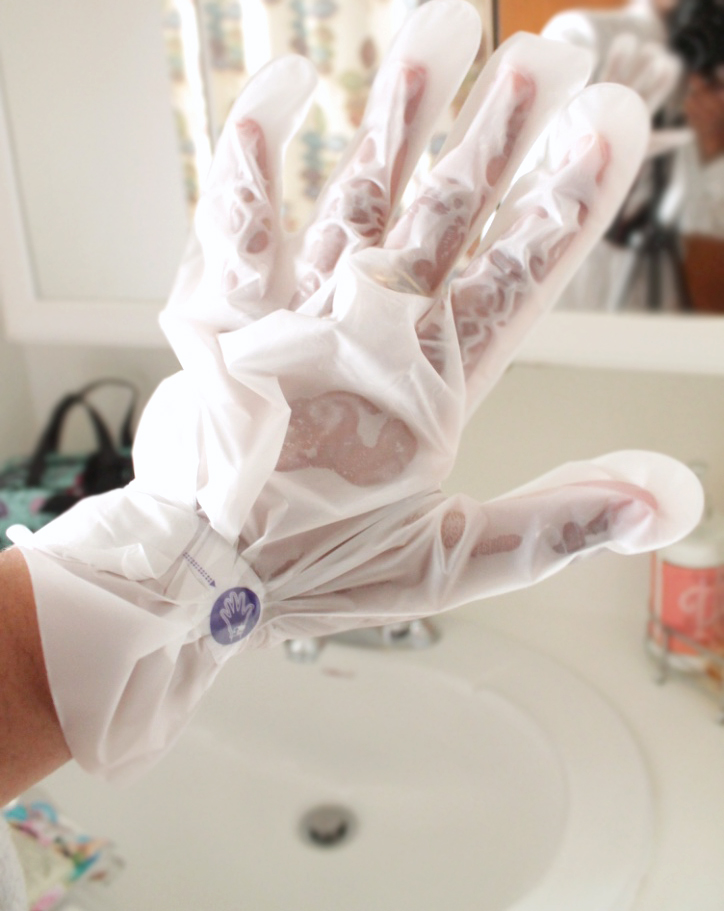 So I had my left hand in one glove and realized that there was also a little purple pull tab. Basically the tab has a sticky bit that you can pull and attach to the base of the glove near your wrist so that you can literally wear them like a pair of gloves without them falling off. I managed to secure the glove on my left hand, but not so much on my right hand, because my left hand couldn't get a good grip on the right hand pull tab. Maybe that's a design flaw. Maybe it's just my lack of coordination. But I managed to partially get the glove secured–not secure enough to do the YMCA, but secure enough to sit on my couch and relax for the next 20 minutes.

During those 20 minutes of wearing the gloves, I pretended I was Michael Jackson, made some squishy noises, and realized that if anyone walked into house, I'd look like a complete weirdo. But those 20 minutes created miracles for my hands. Usually, my hands are dry year-round. They tend to be scaly and crack during the winter, and in the summer they regain some of their human features. When I took off the gloves and massaged the remaining product into my hands, I was loving the scent (which is a mix between Rose and Shea) and I loved how soft it made my hands.
Feeling Fresh and Rejuvenated
After using both the Earth Kiss Face Masque and the 7th Heaven Soften Glove Masques, I spent my night feeling fresh and rejuvenated. I'll admit, it took me a little while to adjust to how soft my skin felt, but I can't wait to try the rest of the 7th Heaven masques! I currently have them stored in the cosmetic bag (which is super cute and convenient) and I'm waiting for another day next week to use them.
If you're looking for face masques, foot masques or softening gloves, check out the Farleyco website and take a look through the 7th Heaven and Earth Kiss products. 7th Heaven and Earth Kiss products are also available in Rexall PharmaPlus, London Drugs stores, Pharmasave, Lawtons Drugs and many other drugstores across Canada.
Happy Relaxing!