Last week I had the pleasure of attending an Arbonne Sip and Paint Night. For readers who may not have heard of Arbonne before, it is a company that specializes in skincare, body care, and makeup using ingredients that are botanical and pure. With using what nature has to offer with a bit of science, Arbonne has created a vast range of products that boost your makeup routine and overall lifestyle.
My long-time model friend (she's an exemplary friend and she used to model) Liz Watt, is an Arbonne Independent Consultant. Along with other Arbonne representatives, Liz hosted a Sip and Paint Night where attendees, like myself, got to apply Arbonne Makeup and experience Arbonne products first-hand.
The night started off with snacks and drinks, which included some of Arbonne's lifestyle and nutrition products. I personally enjoyed drinking the Citrus Fizz Sticks, which are little packets of powered mixed with water. The Fizz Sticks are great for giving an extra kick of energy throughout the day, and also contains Vitamin B. If you want to read more about the health facts on the Fizz Sticks, click here, and read on!
After getting fizzy and settling in at our makeup-filled tables, we each got to put our names in a prize draw for the end of the night. Little did I know, I'd be the lucky winner of the raffle, and get to take home the Arbonne Makeup Primer–which coincidentally, is exactly how the night started.
A little bit of makeup primer, makes your face feel as soft as a baby's bum (or something to that extent). I don't know what magic goes into the primer, but it goes on flawlessly and truly does help to prime your face for makeup. The next step was adding some CC cream (which stands for Colour Control or Colour Correcting depending on the company), concealer, and eye makeup primer. Everyone at my table loved the CC cream, and it was easy to know why. The CC cream doesn't feel like it's clogging your pores, nor does look like you've caked your face with makeup. I'd definitely recommend the CC cream, which comes in four shades that adjust to your skin tone.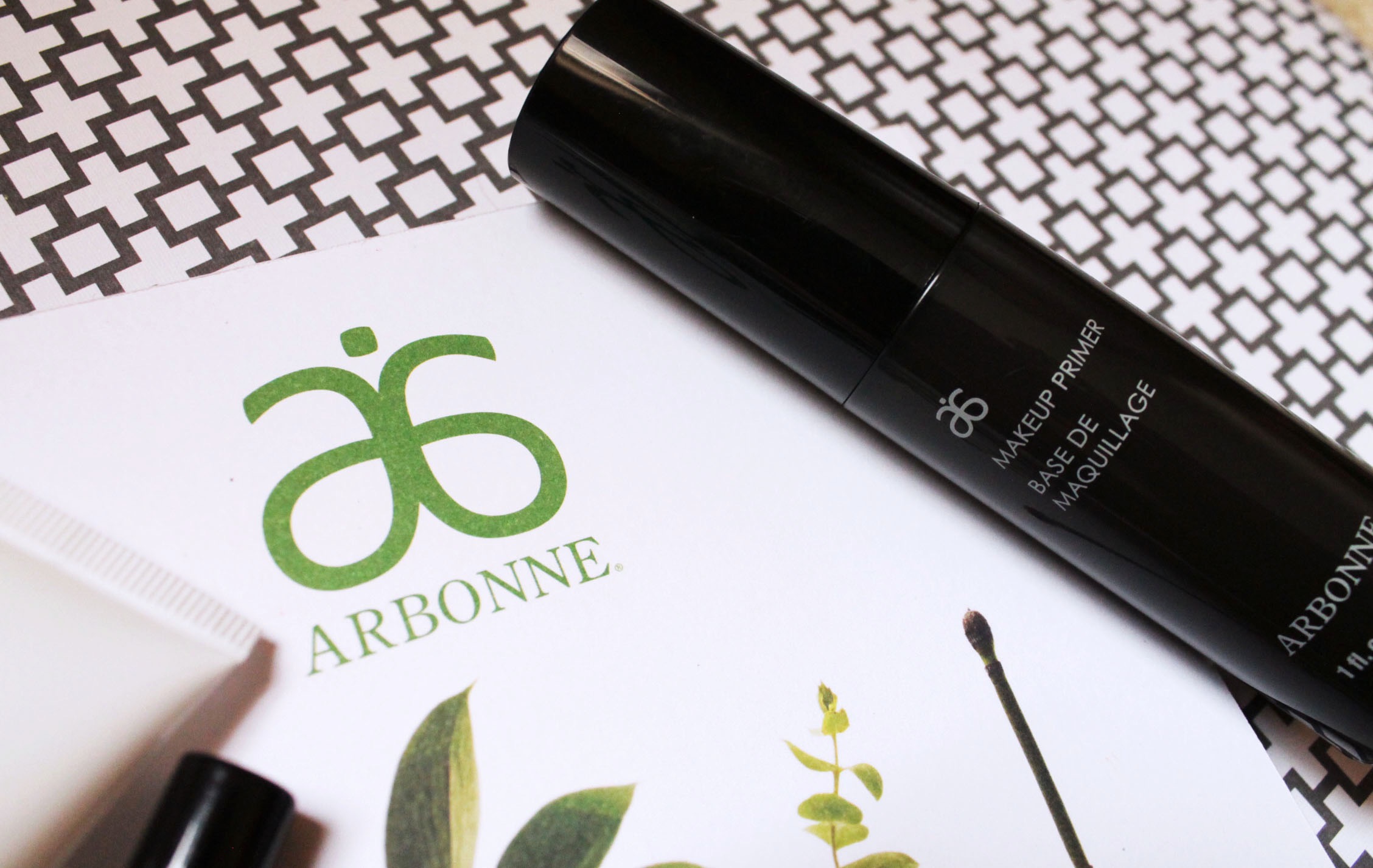 After getting our  "canvases" ready, we had a lot of fun experimenting with different eyeshadow colours. I went for a very neutral look using earthy tones, using the shades Clove and Dawn. I love using a mix of matte and shimmer shades, so using one of each in my makeup look felt true to how I would actually wear the products on a daily basis.  There are so many colour options and finishes to pick from, that it really was beneficial to play around with the eyeshadows and swatch them before deciding. What I don't use on a daily basis (and think I maybe should) is eye liner. I am one  of those people who is always in a rush by the time it comes to doing makeup, and I skip over eye liner in fear that I will overdo the line or over wing it. What I loved about the Arbonne eye liner was that it went on easily and was fairly controlled in how it applied. I didn't fear smudging the line or not filling in a certain area enough. The finishing touch on the eye was the mascara. Usually, I need to curl my eyelashes before I put mascara on, and the Arbonne mascara was no exception. After giving them a slight curl, I applied the mascara, which I think gives a really nice coating thanks to the many bristles on the brush. I don't know if I can completely switch over to this mascara, because I am really in love with some of my usual go-to's, but I think it could be a contender for many people.
After a bit of contouring and blushing, we made it to the final step. The lips!
Lipsticks and lip-glosses have been one of my favourite things since a my pre-teen years. I remember always wanting the latest roll-on lipgloss, or the squeezy tubes of lipgloss from Victoria's Secret…long before I knew that Victoria's Secret sold way more than just lipgloss. Choosing a Lipstick or a Lipgloss is always fun moment, knowing it will complete your look. Because I went with a fairly neutral eye, and I have a darker tanned skin tone, I decided to go bold with the lip colour. I chose the shade, Delilah, which is a dark purple with a sheen–certainly not for the makeup shy. The lipstick applies so smoothly and doesn't dry out your lips. The colour is also long lasting, as I realized (after eating some McDonalds later that night) that I still had the colour on. I would highly recommend getting a lipstick in a shade that works for you because they are soft and longlasting. There are quite a few to pick from, so don't worry if dark purple isn't your thing!
With a complete makeup look, a few new tips and tricks on application, and a little goodie bag (of Ultra Moisturizing Hand Cream, the It's a Long Story Mascara) and my Makeup Primer prize, I was feeling myself a little extra that night…or maybe it was all the Fizz Sticks.
I'd like to thank Liz and the Arbonne company for setting up such a fun night and for helping a lot of ladies feel like gems! I had a great time socializing and trying out new products.
If you're looking for some new makeup to add to your collection, or if you're searching for ways to go more natural in your products, check out all that Arbonne has to offer. Shop Liz's section on the Arbonne site, or get in touch with her to find out more.
Liz's email: e_watt03@hotmail.com
Liz's number: 0311315539