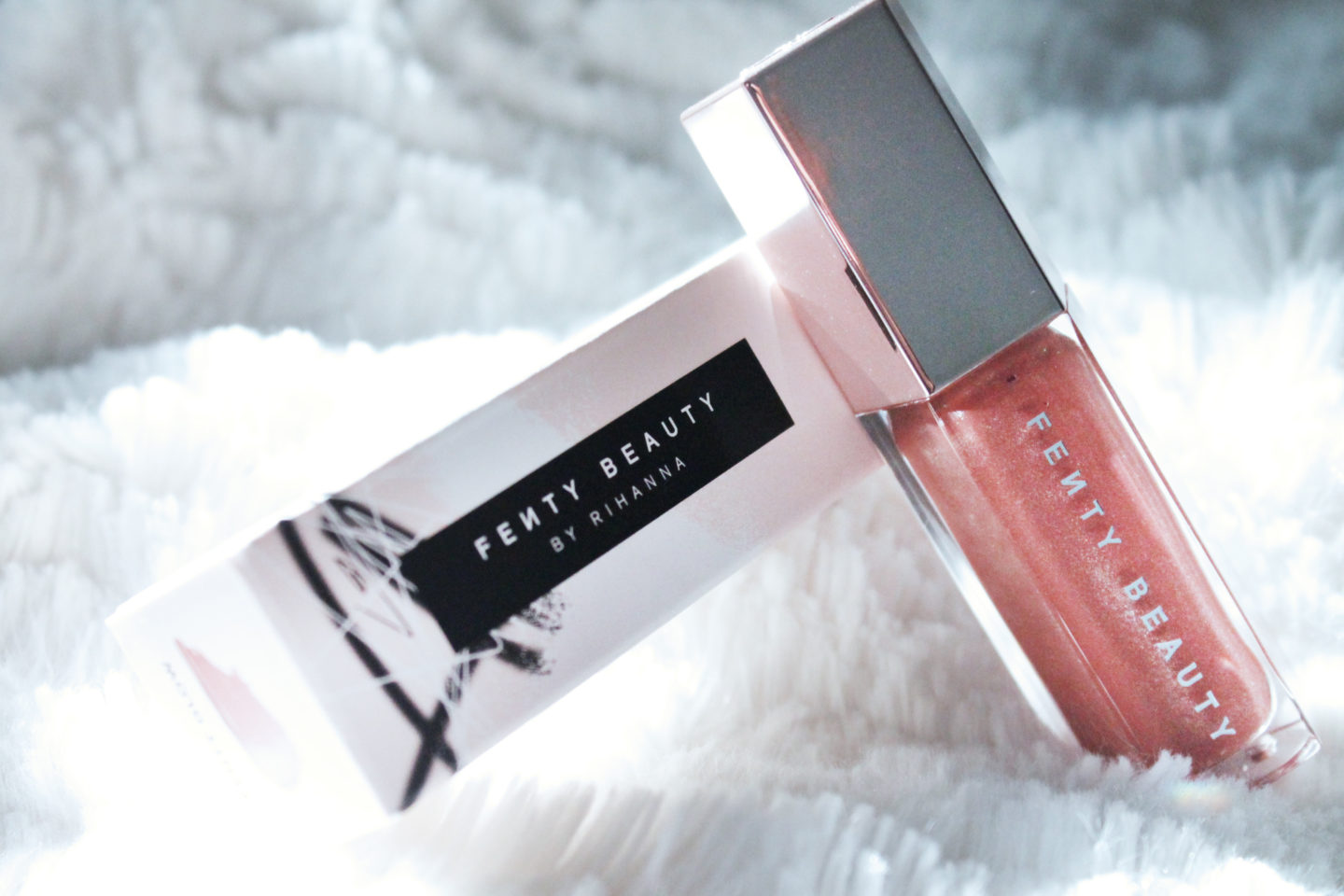 Listen up beauty loves: If you think Kylie Cosmetics makeup is good, then Rihanna's Fenty Beauty going to blow your mind (even Kylie's PR people are jealous). Fenty Beauty is one of the latest makeup launches making headlines this Fall season. 
RiRi fans and makeup fans alike have been waiting a few months for the launch of Fenty Beauty. The brand, which uses Rihanna's last name, was "created for everyone: women of all shades, personalities, attitudes, cultures, and races", as Rihanna states on the line's official website. While everyone patiently awaited the drop of Fenty Beauty, I don't think anyone was expecting the makeup to be as inclusive and carefully crafted as it is.
In case you've missed all the Tweets, Snaps, Instas and FB Posts about Fenty Beauty, the fans and beauty gurus of the world are praising Rihanna for creating one of the most diverse makeup ranges available in stores and online. The collection so far is made up of face products and one lip product. The face products include foundation, primer, concealers and contour, highlighter, blotting paper and brushes. Although it sounds pretty standard to have these products in a beauty range, what's different with Fenty Beauty is that there is such an incredible selection of foundations—40 shades in all with warm, neutral and cool undertones.
The best part? It's not just for fair skinned people. As we all were hoping, Rihanna's beauty line has included a variety of shades that will match darker skin tones—the skin tones that are the most neglected by beauty brands. If you check out the Fenty Beauty website, you'll see the diversity of models included to represent the foundation shades, starting with a model who has a pale complexion, and ending with the darkest shade on a model with deep chocolate skin. Each shade in between these two are represented by a mix of women and who represent a variety of races, skin colours, and identities.
The concealers and contours, called matchstix, also come in a variety of shades. On the website, shoppers can choose their shade for concealing, contouring and highlighting. When I stopped into my local Sephora, I was a little bit disappointed that they didn't have all the shades in the foundations and the matchstix, but it being a smaller Sephora, perhaps it wasn't in the budget to keep stock in every shade. On the plus side, the Sephora website and the Fenty Beauty Website have all the shades available to purchase, and from what I've heard, both return policies are reasonable. Although I'm impressed by the shades and want to try out these face products eventually, I don't wear foundation, contour, or concealer on a regular basis, so I figured that I could skip these from now.
In store, I was also eyeballing the KillaWatt highlighters. There are four duos and two that are standalones. One of the standalones is a yellowish-gold while the other is a pearlescent shade. I only saw the golden one in store, and I managed to swatch it. Let me tell you, that highlight is bright as hell! Amazing for anyone who really wants a golden glow. The duos are different from these and come in shades of bronze and pink. These are toned down in comparison to the yellow-gold highlighter, but they still catch the light and give a tint of colour. As much as I wanted to buy a highlighter, I realized that I'm not really all about the "glow" when it comes to my everyday makeup.
So that left me with the one thing that I knew I could wear and love—the Fenty Beauty Gloss Bomb. When I heard the initial buzz about the Gloss Bomb being a universally flattering shade, I questioned just how universal it could be. How could a lip gloss that looks great on fair skin look just as flattering on darker skin?
I honestly have no idea how, but the Gloss Bomb looks, well…BOMB on everyone I've seen it on!
Fenty Beauty Gloss Bomb (AKA The Lip Gloss that RiRi hopes "will help girls get kissed more")
The packaging for the Gloss Bomb is a pale pink—or Millenial Pink as everyone's calling it—with a bit of graffiti work in black, white and grey on the front, just near the top of the box. It reminds me a bit of Basquiat and the Basquiat launch from Urban Decay earlier this year!  The branding, Fenty Beauty is written in the middle on a black rectangle, with the wording, "Gloss Bomb Universal Lip Luminizer", on the bottom of the front. The Gloss Bomb container holds 9ML of lip gloss in a fairly chunky pentagonal prism (…Woah, my grade 5 math is finally coming in handy). The wand has a somewhat reflective silver grip that follows the pentagonal prism outline and connects to a doe foot applicator. I really like the doe-foot applicator because it allows me to get the product on smoothly and cover my lips, but I have read some complaints that the applicator is too wide for some people. I think there's an easy way around this problem by just angling the doe foot applicator on a higher angle, or by purchasing disposable doe-foot applicators.
What You NEED To Know about Gloss Bomb 
The lip gloss itself is a pinkish-brownish shade with very small specs of sparkles. I'm typically not a fan of lip glosses with sparkles in the gloss, but these specs are so tiny that they just provide a bit of a shimmer that enhances the shine of the gloss. Since I've been wearing it, I haven't had the issue of stringiness or stickiness that sometimes happens when you talk and it actually says on without clumping up. In comparison to other lip glosses I've tried (like the Buxom lip glosses or even the Sephora ones) Gloss Bomb doesn't run everywhere, melt off or feel slimy. What's also enjoyable about the lip gloss is that it smells faintly like Fuzzy Peaches. As a girl who loves her candy and lip products, I get a bit excited to put Gloss Bomb on because I know it'll smell fantastic and make my lips look fab.
Something I still don't understand, is how the shade suits every complexion. Maybe it's the formulation of colour, its opacity, or the magic of beauty and science together, but I think everyone wearing the Gloss Bomb like the bomb (sorry, I had to)! Who would've guessed that one lip gloss could solve everyone's dilemma of choosing the right colour for their skin.
The only recommendation I have for applying the lip gloss is to gently wipe the brush on the inside of the container to take off some of the excess gloss. Unlike the Victoria Secret lip glosses (remember those 90's girls?) and unlike drugstore lip glosses, the Gloss Bomb has staying power and makes your lips look full without the burning sensation that comes from using a lot lip glosses with lip plumping formulas. Now, the Gloss Bomb doesn't suggest it will plump your lips per say, but the gloss moisturizes and helps to make the lips appear fuller.
Finally, what I'm most impressed about with Fenty Beauty, is that they the brand has made claims that it is cruelty free! In my attempt to switch my makeup over to cruelty free brands over time, I am so glad that this can remain in my makeup bag!
What's Next From Fenty Beauty?
With the success of the Fenty Beauty launch, I'm not surprised to see that they have a follow up, Fenty Beauty Galaxy Collection as part of the Holiday 2017 launches. The news, which just made media today, has confirmed that the Fenty Beauty Galaxy Collection will hit Sephora stores and her website on October 13th.
That's right, just a few weeks away! The Galaxy Collection has completely different packaging from this beauty launch, going for an oil-spill, jewel tone, sparkly vibe as seen on Fenty Beauty Instagram photos. From what it looks like, there will be an eyeshadow palette and plenty more lipstick or lipgloss colours to choose from, inspired by jewel tones.
So will you be picking up the Fenty Beauty Galaxy Collection when it launches? Or will you be purchasing the basics from the first Fenty Beauty Launch? Let me know down in the comments if you have any favourites or things you are looking forward to purchasing!
*I did not receive this product to review…I simply really wanted to try it out so I purchased it at Sephora*
SaveSaveSaveSave
SaveSaveSaveSave