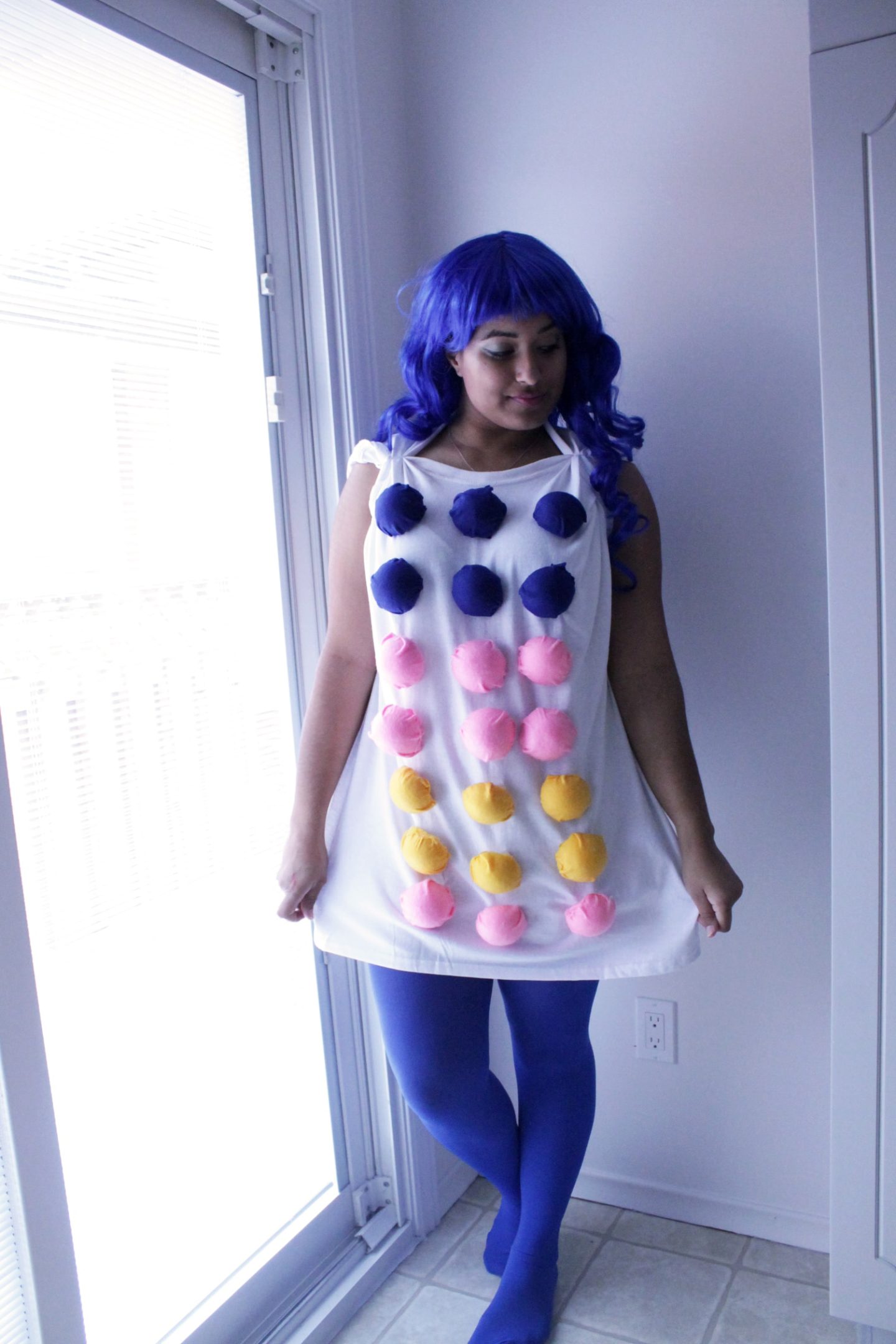 I don't really love Halloween, but I do love a good DIY and I really love Katy Perry. This year, I'm also seeing Katy Perry in concert on the Witness tour in promotion with her album, Wintess. Coincidentally, she had to reschedule the Toronto shows, and now my concert date falls the day after Halloween. So I thought in the spirit of DIY costumes and because this is my one chance in life to dress up as Katy Perry and have it be socially acceptable, I'd recreate one of my favourite Katy Perry looks. Although I'm a bit nervous to wear it in public, in the spirit of Persistently Living, I thought, "Why not? Just do it and have fun!". If you have no idea what I mean by Persistently Living, please check out my blog that explains the idea—I swear, it's a game changing concept!
This costume is taking it all the way back to the California Gurls single release and the California Dreams tour. I so desperately wanted to go to this tour, but I didn't get tickets for it. I was then supposed to see the Prismatic World tour, but that didn't work out either! So now that I finally get to see Katy Perry on tour, I thought I'd bring back a classic Katy Perry look from the California Gurls music video and California Dreams costumes.
I hate to disappoint, but this DIY won't be for the cupcake bra look, nor will it be for the bra that shoots whip cream, and it definitely won't be the look where she's just covered in clouds. Not only would I feel super uncomfortable wearing all of these, but I think the candy costumes with the candy are the ones that I love the most from the California Gurls music video.
What Does The Candy Button Dress Look Like?
The look I'll be showing you is a modified Candy Button dress from California Gurls. For reference, here's what the original looks like: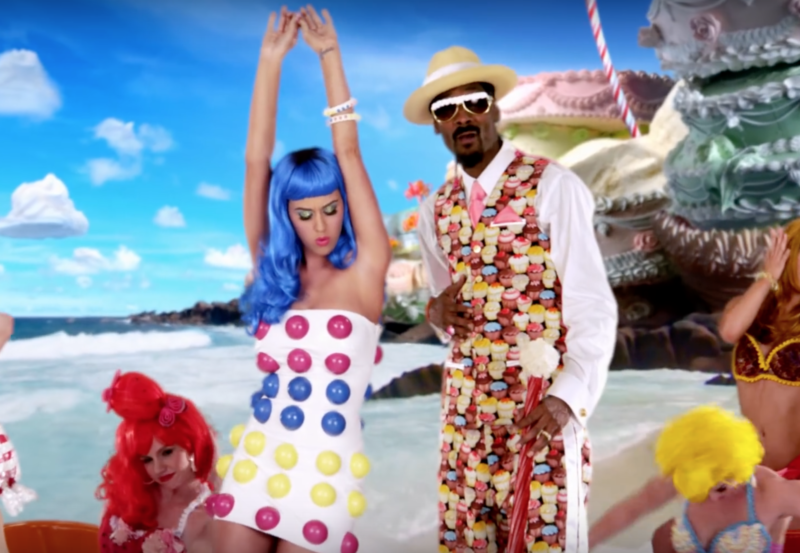 So I needed to modify this for a few reasons. One: I hate wearing super short dresses because I am far too clumsy to keep the goods from popping out. And two: it's going to be cold the day I need to wear this. Unfortunately in Canada, you can't rely on mother nature to keep the warm weather when you need it! The Candy Button Dress DIY is super easy to make and costs less than $20 to make (minus the wig). All the materials I purchased are from a local dollar store, but you can get them from any craft store as well!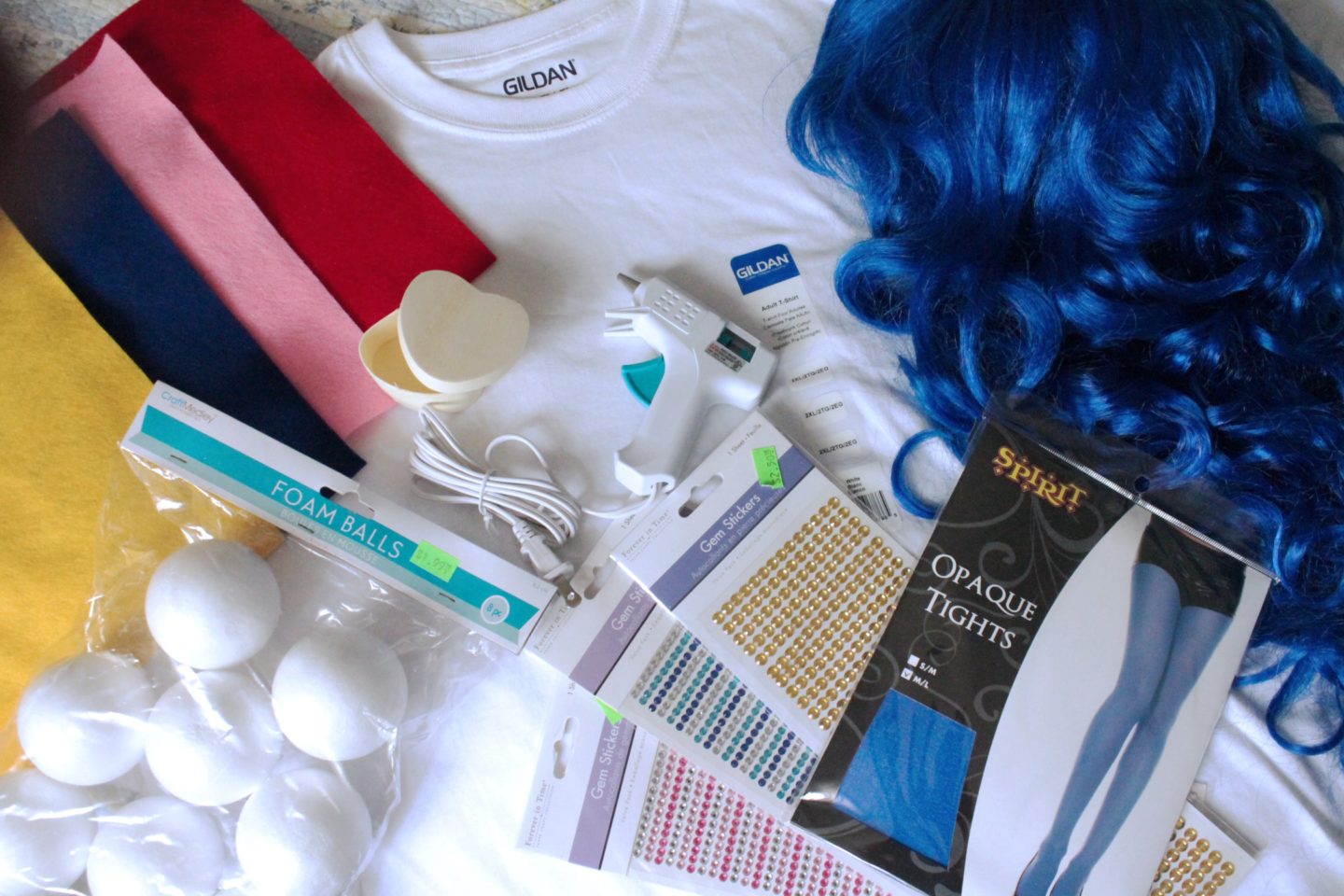 Here's what you'll need for the Candy Button DIY Dress:
12 small or medium Styrofoam balls
An oversized white T-shirt or a white dress. I chose an oversized white T-Shirt because it's much cheaper than buying a dress and it's a bit thicker than a dress would be
Felt Sheets—3 in pink, 3 in blue, and 3 in white. If you can't find pink (sometimes they don't carry pink felt sheets) get 3 in red
Glue Gun and sticks
Scissors
A sharp knife
(Optional) A ruler
(Optional) Chalk or a pencil
(Optional) Double sided tape, Velcro tape, or snap buttons
(Optional) Opaque Blue tights
(Optional) A small heart box
(Optional) A bright blue wig
(Optional) Stick on gems
(Optional) White Ribbon
Here's how you'll make your Candy Button DIY Dress:
Cut all the Styrofoam balls in half using a sharp knife—these will be your Candy Buttons. The Styrofoam balls I purchased have a thin line running through the centre of the ball, which gave me guideline for cutting. My recommendation is to make a clean, forceful cut. This eliminates little Styrofoam bits from falls everywhere. Be warned, this can also get pretty messy! Be sure to have a vacuum cleaner nearby. 
Next, take your felt sheets and trace out rectangles using chalk or a pencil. Each square should be approximately 3 ½" x 5" (measure it out if you need to). Now, depending on the size of your felt sheets, you may have scraps leftover. If you do, save these in case you need to cover more later (you'll see what I mean in Step 7) 
When you have all the rectangles cut, put a Styrofoam half on top of each. The rectangle should be large enough to cover the convex surface of the Styrofoam ball. Remove your cut rectangle to the side of your Styrofoam ball.
Now, you'll need to plug in your glue gun. Keep in mind, these get pretty hot!
Once your glue gun is warmed up, the next step is gluing the above base of the Styrofoam ball. The "base" is the flat surface, but the part you'll be gluing is the circular edge.
As soon as possible, you'll want to stick the piece of felt on top of the Styrofoam. It's best to lay it right overtop the curve, then clasp your hands around it and move them down, smoothing out the felt until you reach the edge that you glued. Be sure to clasp your hands tightly around the part you glued, ensuring that your felt sticks to it. You should have excess felt that exceeds the perimeter of the ball. IMPORTANT: for the Candy Button dress pattern, you need 6 blue buttons, 6 yellow buttons, and 9 pink buttons. There are two rows in each colour with 3 buttons, but there is an extra pink row at the bottom with just 3 buttons. 
Next, you'll want to flip the Styrofoam ball over so that the curved, felted part is either on your hands or sitting on a surface. You'll want to cover the flipside with the overflowing edges of felt. Use the glue gun and glue the felt down to the back of the ball. Depending on how much excess felt you have, you may need to cut and glue some smaller pieces to help cover the back. I definitely didn't have enough felt to go around to the back for some, so I had to glue in little patches of felt. Keep repeating steps 5 to 7 until all the buttons are finished. In total you should have 21 buttons
Once all the buttons are done, you'll need to grab the white T-Shirt or white dress and mark out the spots where the buttons will go. Make sure that you have 7 rows of 3 buttons and that the single row of pink is at the bottom.
Next, you need to stick on the buttons. You can do this either by using a glue gun to glue them on, or by using a different type of adhesive. I chose to use Secret Snap Buttons that my Mum had in her sewing kit. Basically they're sticky strips with the button snaps that you find on jackets. One side of the strip goes on one surface, the other side goes onto the surface you want to attach the button to. You can also do something similar with Velcro strips. These will stick  well to the fabrics.
Once you have all the buttons on, you'll want to slip on your T-Shirt or dress. If you're like me and purchased an oversized T-Shirt, you'll want a piece of white ribbon to help roll up and tie the sleeves to make it look a little bit more flattering.
Candy Button DIY Optional Items
And there you have the Candy Button DIY dress! But if you want to make it more like a full Katy Perry look, there are also a few optional things you can do with your Candy Button DIY dress:
I've added a blue wig to look more like Katy Perry does in the California Gurls music video, but you don't have to! I purchased mine from a Halloween pop-up store, but it does add to the overall cost of the outfit.
I also purchased opaque blue tights that match the wig because it will be far too cold to go bare legged to the concert! She doesn't have these in the video, but not all of us are on a beach in California!
In some performances and in the latter half of the music video, Katy Perry has a small heart that is put into the wig and sticks up, or she wears a heart headband. You can use a small heart shaped box to make your own headband with felt, or you can stick it underneath your hair (or the wig hair). I skipped this step because I didn't want to ruin the wig!
Lastly, you can add some stick on gems to add a bit of glitz and glam to the buttons. I found mine at the dollar store! The gems have an adhesive backing, so they're ready to stick to any fabric. I found some in colours that match the dress.
Katy Perry Candy Button Dress Makeup Ideas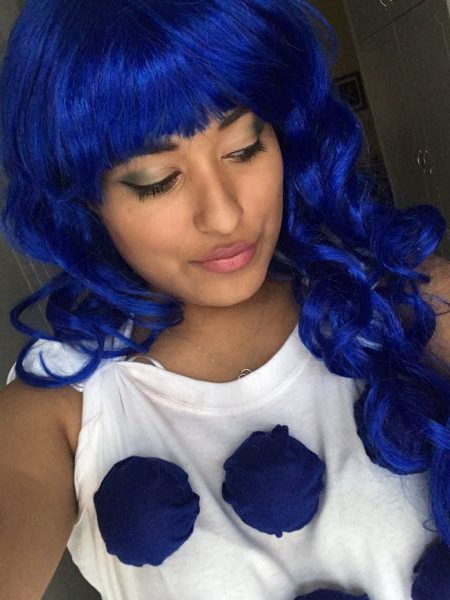 Once you have the accessories on, the final step is getting your Katy Perry makeup on! Again, this is more of an optional step, but it does complete the Candy Button Dress look. When I think of Katy Perry, I think of cat-eye eyeliner, large eyelashes, and a lot of glitter and colour.
I chose to use my Urban Decay Naked 2 Palette and an H&M blue eyeshadow on my eyes. I used a fairly neutral shimmery eyeshadow as the base, and then I blended the blue from the outer part of my eyelid towards the centre. For the day of the Katy Perry concert, I a may go a bit bolder with the blue and glitter for fun, but for the sake of this DIY, I toned it down.
Next, I drew on a thick cat eye with my eyeliner. I used a liquid eyeliner from Sephora brand, but I would recommend using Kat Von D Tattoo Eyeliner for a bolder look. I also lined the bottom of my lashes with a kohl pencil and blended into the lower lashline. To finish your eyes, make sure you get your lashes to be full and curly! Again, for this DIY I just used my regular, every day mascara, but for a dramatic look that looks more like the California Gurls music video, I'd recommend popping in a set of fake eyelashes.
For my cheeks, I used The Body Shop's self-adjusting blush and lip stain. I drew this on a little bit heavier than I do for everyday use, for a more theatrical look. I also made my eyebrows a little bit darker with my eyebrow pomade from Ardell because Katy Perry usually has quite striking brows in music videos.
Last but not least, I popped on a bit of pink lipstick, and my Katy Perry Candy Button Dress DIY look was complete! Let me know if you are a fan of Katy Perry and if you'll be using my Candy Button Dress DIY for your costume! It's a really easy last minute Halloween costume to make if you have an hour to spare, and if you want a costume that isn't really that common. Although I won't be using mine for Halloween, I am so excited to wear it to the Katy Perry Witness tour!
If you enjoyed this DIY, let me know too! I'm planning on doing a lot more DIY's on the blog, not exactly costume related, but moreso for everyday life.
SaveSave
SaveSave
SaveSave
SaveSave