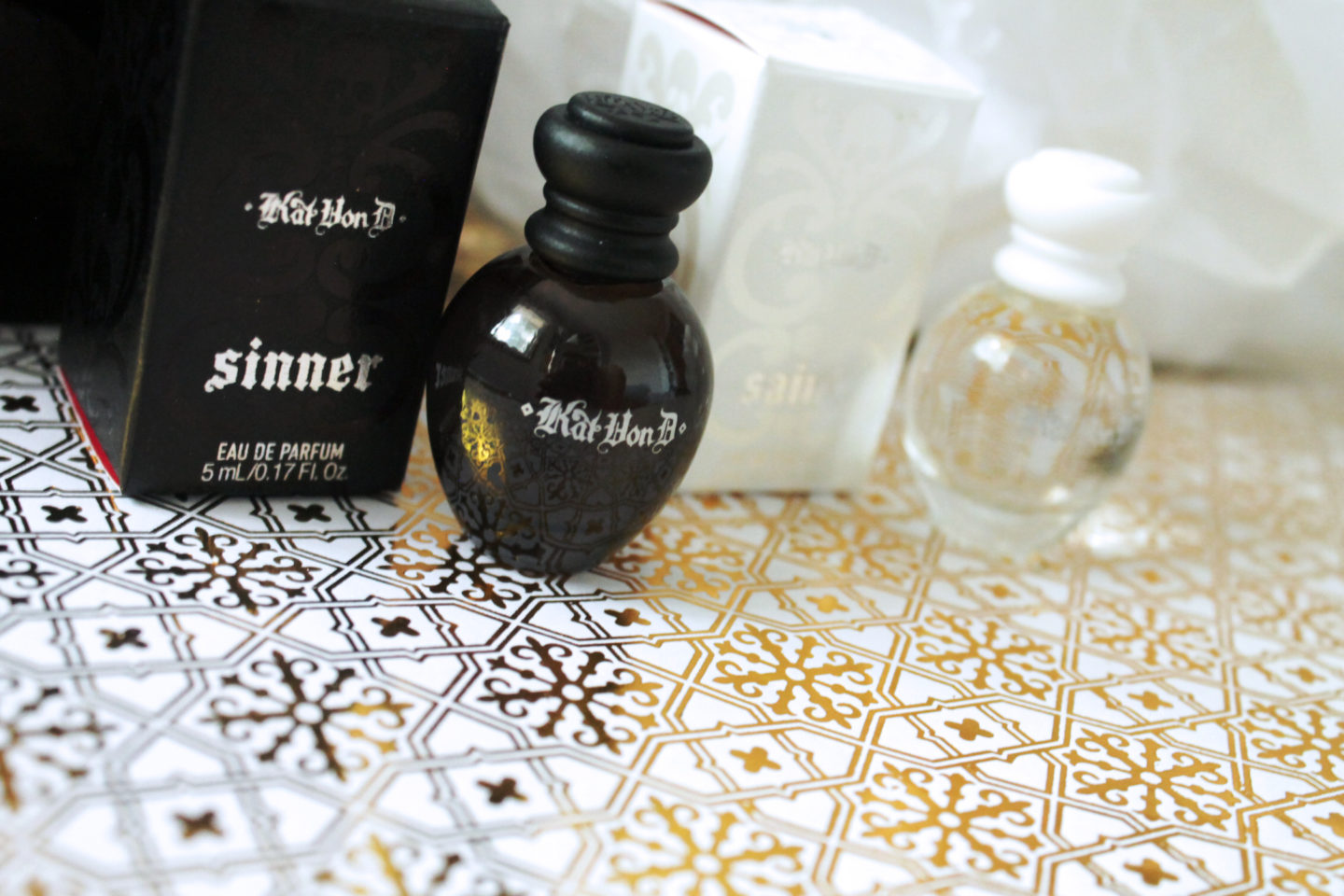 Remember last month when I got a Voxbox from Influenster? Well, I was lucky to receive another one from Influenster with brand spakin' new products. Kinda…Because it's actually a relaunch of two fan favourite products, Saint and Sinner perfumes.
The products in this Voxbox are from Kat Von D Beauty. Kat Von D first came into the public eye on the TLC show, LA Ink. When the show came to an end (which I was kinda sad about) it opened new opportunities for Kat in the beauty world. The Voxbox included two perfumes from Kat Von D Beauty that were actually part of the KVD Beauty collection a while ago. The two perfumes, Saint and Sinner, have been off the shelves for the past 8 years but are now once again available for Beauty and Perfume lovers out there. And the good news is that these perfumes are still manufactured to be Vegan friendly, much like the Kat Von D Makeup products!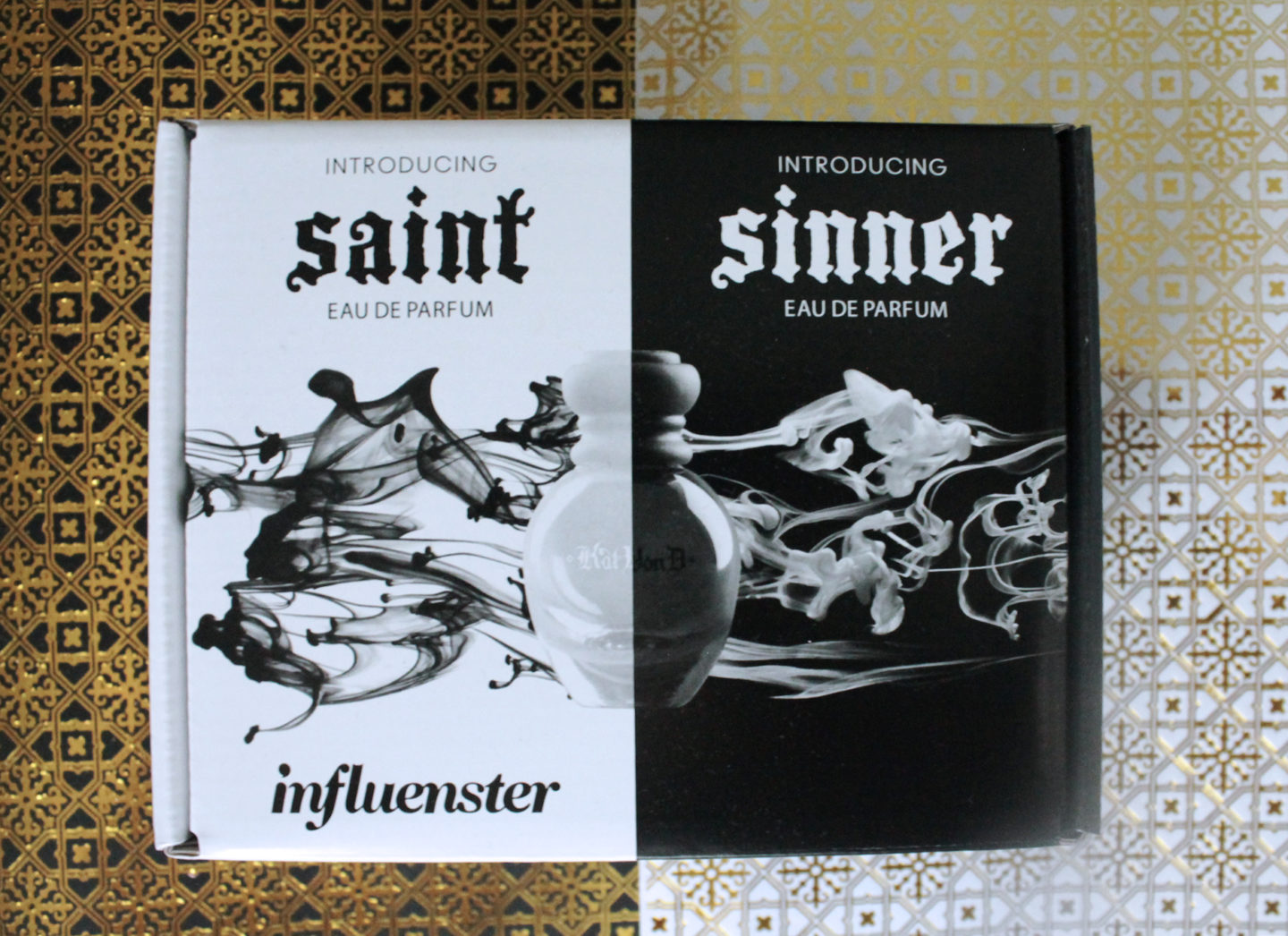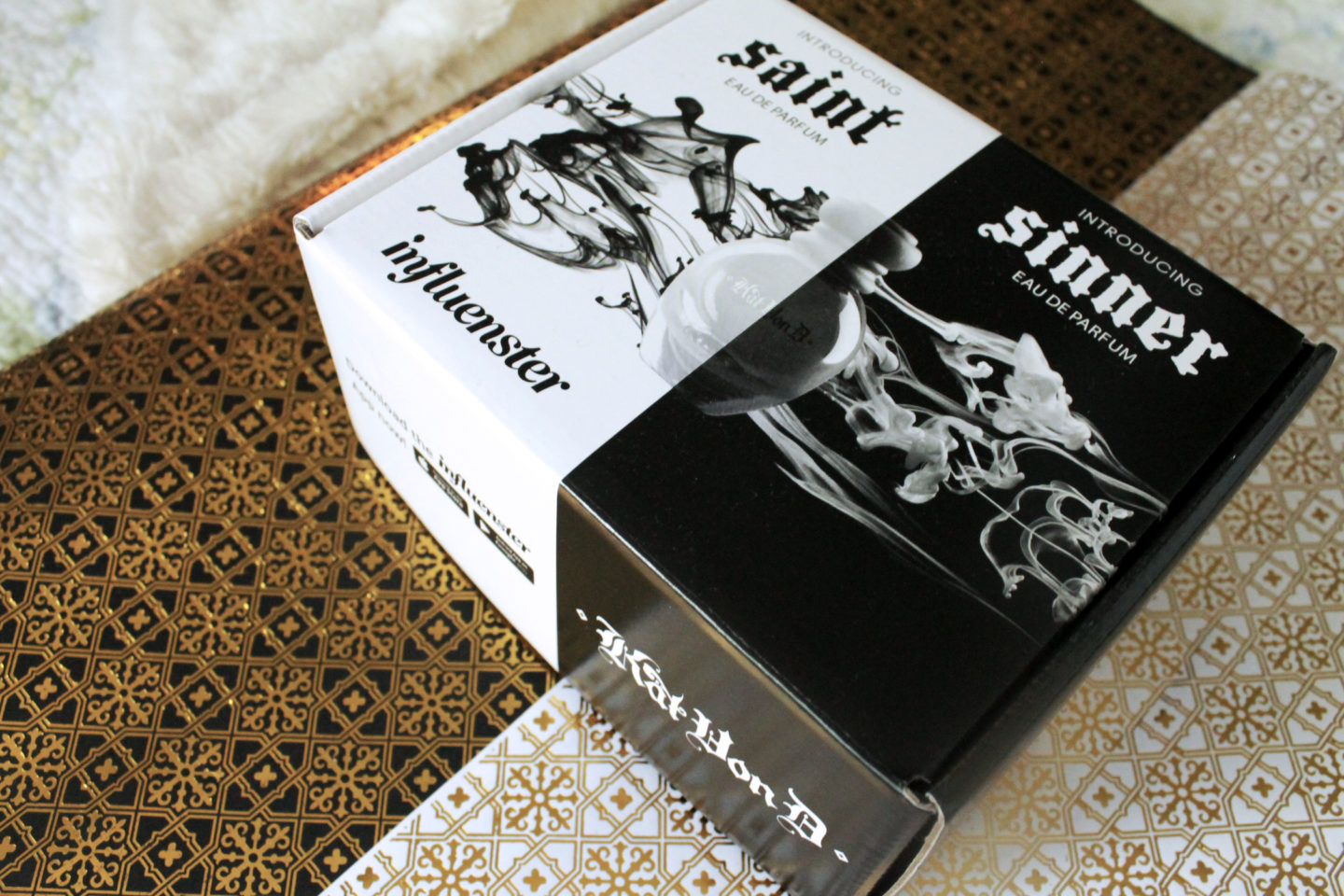 Saint and Sinner Perfume Concept
So Saint and Sinner have the same design concept but are executed in contrasting colours—black and white—to represent the contrast between the two words.The marketing materials for these new fragrances also follow the contrasting idea, with the quote, "There are two sides in all of us".
The white box and clear container is for the Saint bottle. It represents a softer, sweeter side (Dreamy, Romantic and Alluring as the brochure included describes it). The Sinner bottle is in black with a translucent black container, and is meant to be darker, edgy and attention grabbing (Dark, Sultry and Empowering as it's described in the brochure).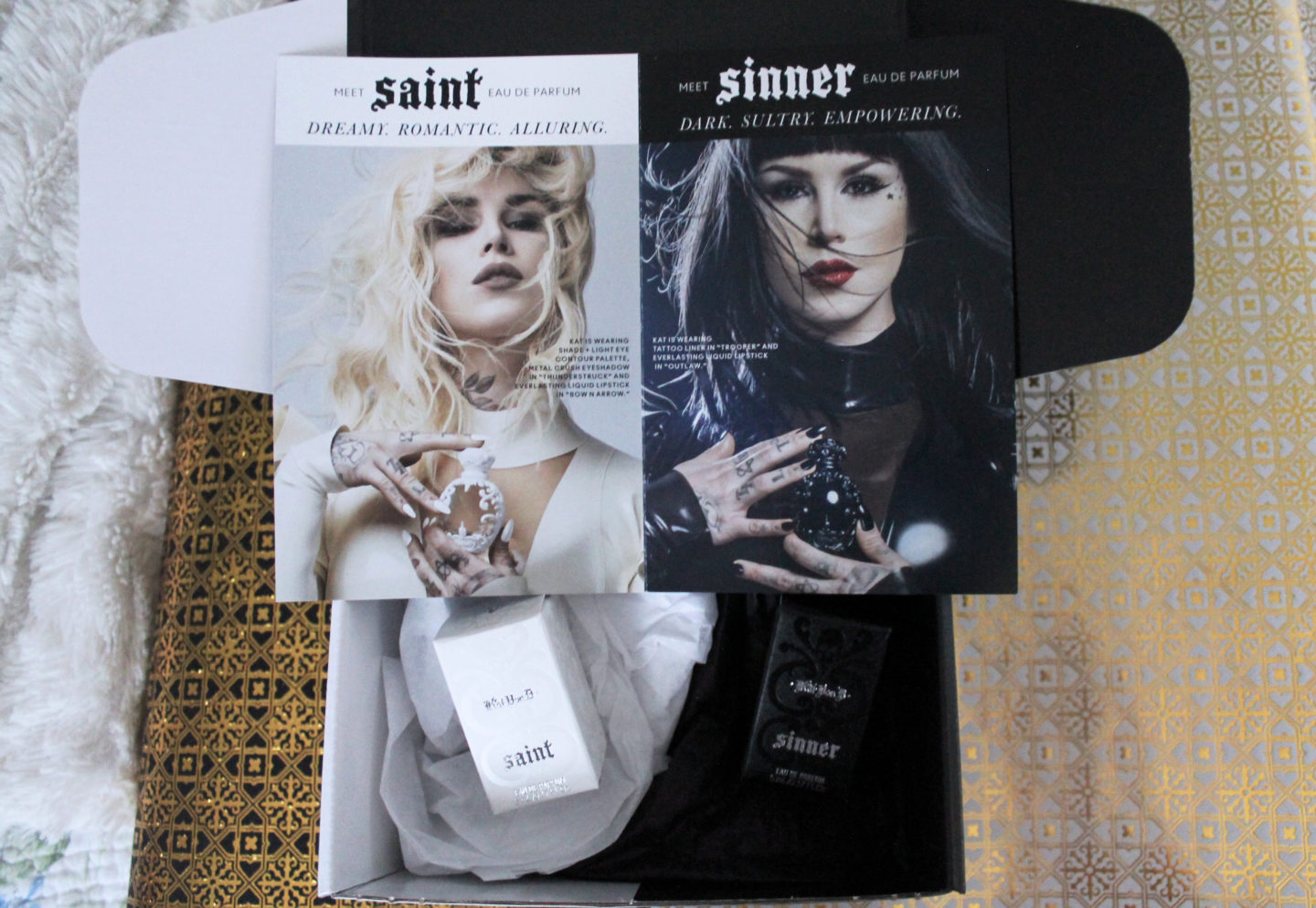 The tester versions included in the Voxbox, contain small 5mL perfume bottles. These are not nearly as detailed as the full size ones that are available to purchase on the Kat Von D Beauty website or in Sephora stores. The full sized bottles have intricate almost damask like design that adds texture and are much more appealing.
The one thing I really don't like about these trial bottles is that there is no spray nozzle (or atomizers as they're technically called). Aesthetically speaking, I understand why they wouldn't include one, and for the size it would be nearly impossible to fit it in. But I don't know if Influenster and Kat Von D realize just HOW difficult it is to get out perfume without spilling it everywhere. As a naturally clumsy person, having a small bottle with a small lid and a lot of perfume inside is just a recipe for disaster.
To get the perfume out of the Saint and Sinner bottles, I like to place my fingertip over the top of the bottle and tilt it out. Downside—my finger smells like perfume, but I don't run the risk of accidentally spilling an entire bottle down my arm. Life choices my friends, make good ones!
Understanding Perfume Notes in Saint and Sinner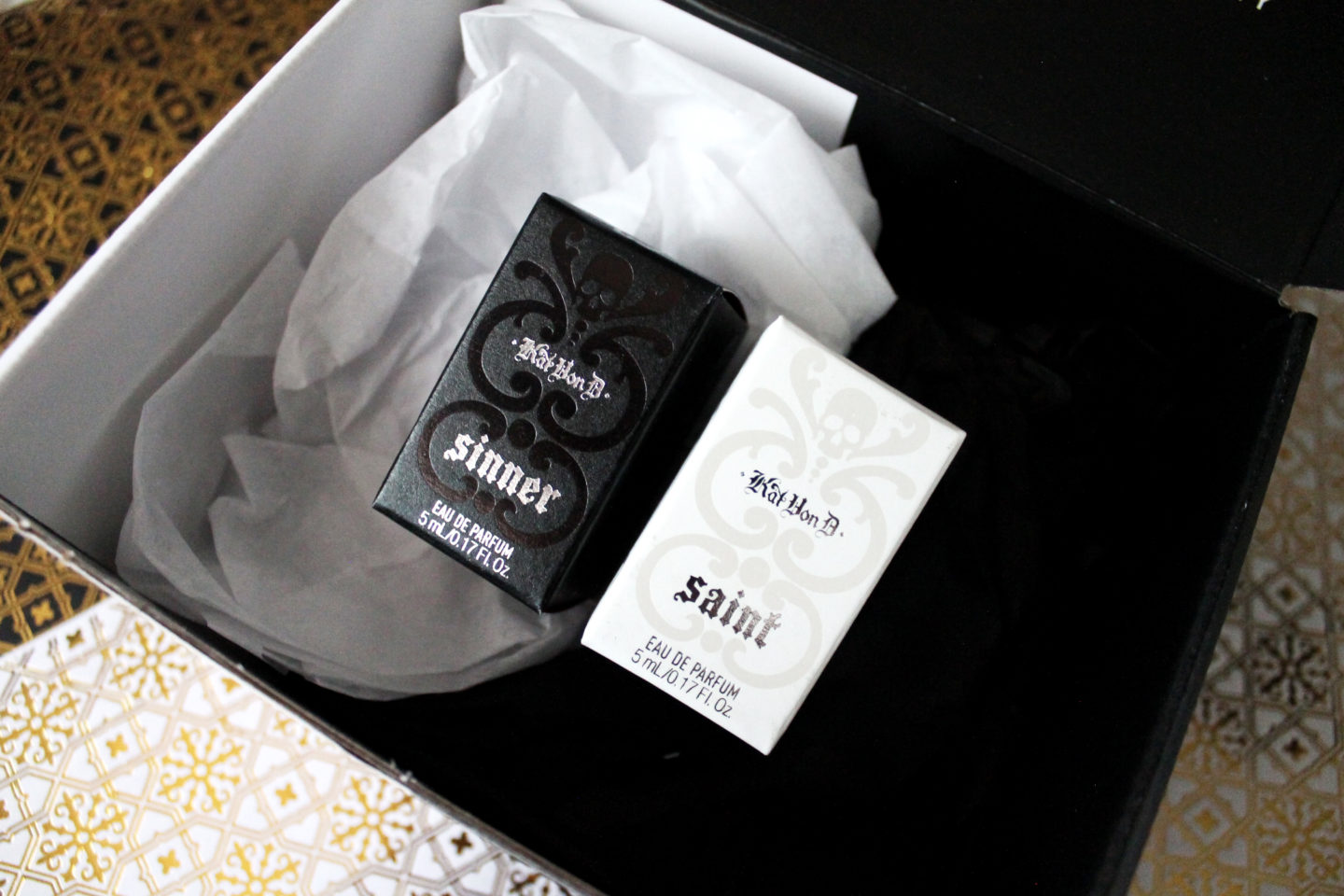 As mentioned, the Saint perfume is meant to be soft and sweet. According to the KVD website, the perfume has Jasmine and Tiare flower as the top notes, mandarin, caramel and Mirabelle plum as the mid notes, and vanilla, sandalwood and creamy musk as the base. If you have no idea what top notes, mid notes and base notes are, don't worry, you're not alone! I had to search this up a few years back when I was figuring out how to describe fragrances.
Basically, the top notes are the strongest when you put on the perfume but fade away quickly (science involved here) and is why people are drawn to a fragrance when they first test it. But once the top notes fade away, the fragrance stands on the power of mid notes and base notes.
Sinner is a slightly stronger scent because it's meant to be darker and more powerful. On the KVD website, the Sinner perfume is described as having Cinnamon as a top note, vanilla and white florals as the mid notes, and vetiver, patchouli and wood as the base notes.
Testing Out Saint Perfume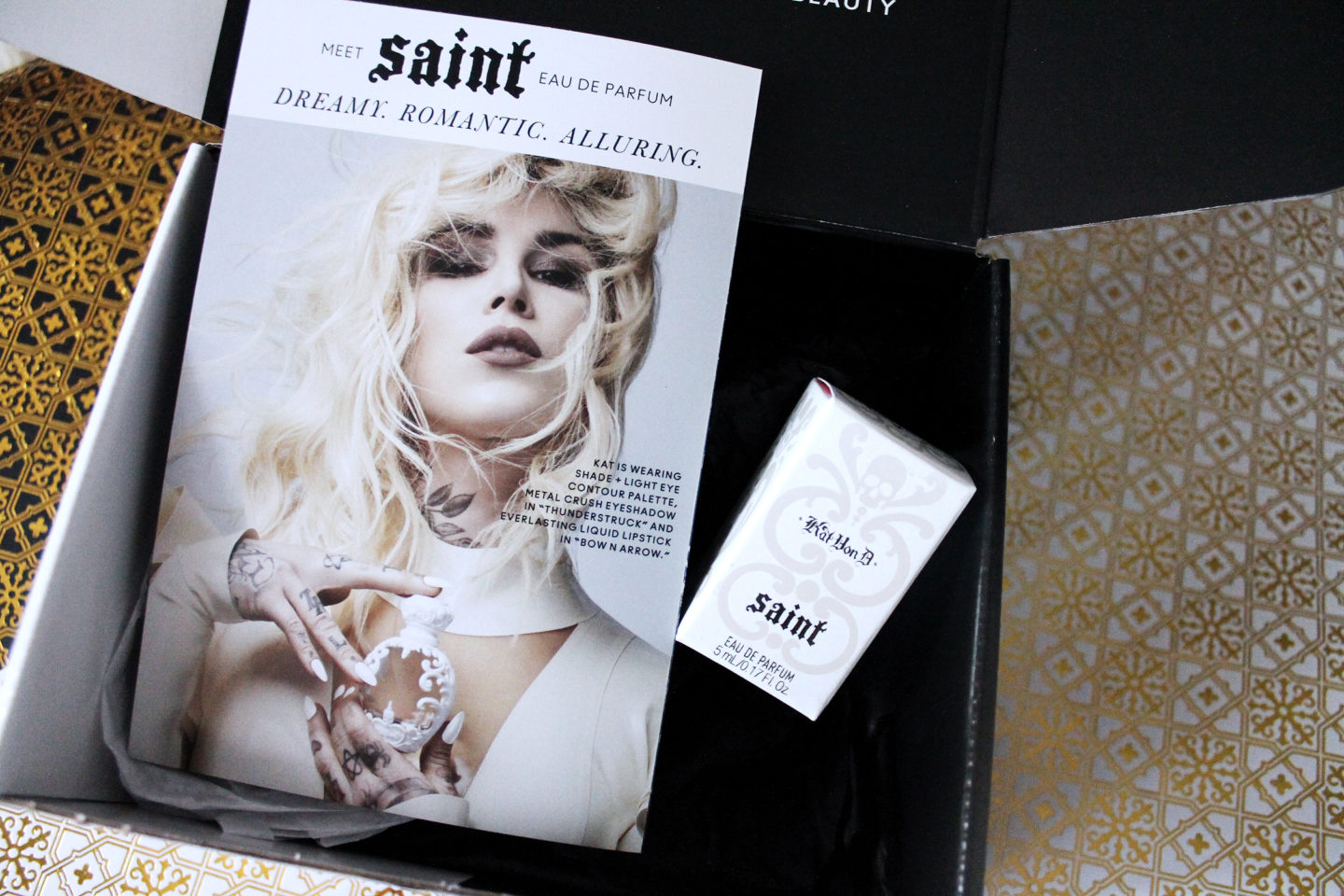 Upon first sniff I immediately smelled the vanilla and floral tones. Dabbing on a bit of the perfume on my wrist gives away more of the citrus scent. After wearing the perfume for a half an hour or so, the final scent is something between a sweet floral and a citrus, leaning more towards the citrus side, with a definite musk scent. The only problem…is that the scent becomes so discreet after this time frame that you can barely smell it anymore. While it does remind me of a sweet summer day, I don't think the citrus scent works for me nor do I like the powdery after-scent which is there from the musk in the fragrance.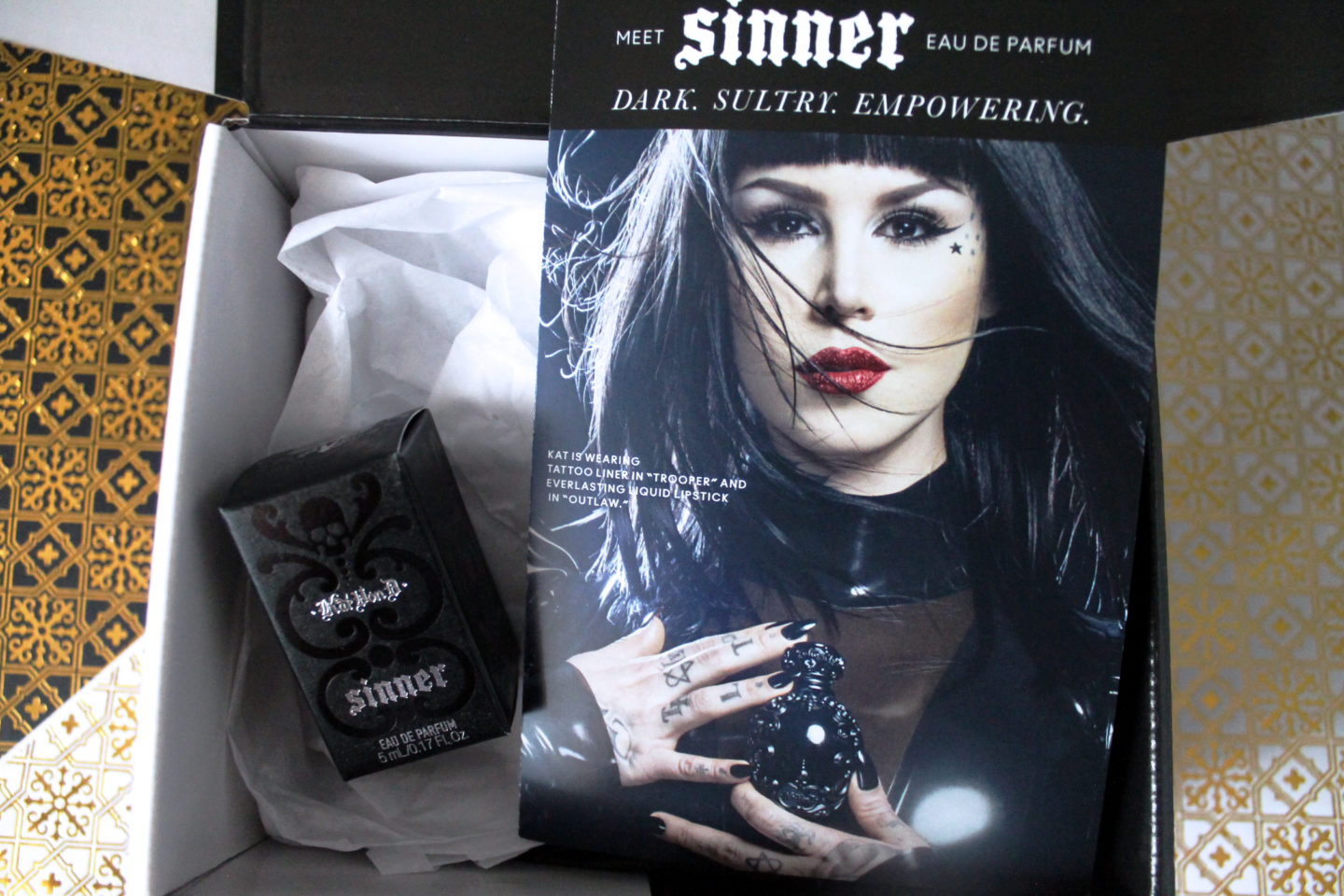 Testing out Sinner Perfume
Upon first sniff, I immediately smelled the cinnamon and more woodsy tones. I don't necessarily love the initial scent despite how much I like cinnamon as a scent on its own. After dabbing a bit of perfume on my wrist, I could still smell a hint of cinnamon, but it veers towards a woodsy earth scent because of the mid and base notes. As time goes on, the scent of wood overtakes all of the other notes and I feel like it becomes a much more autumn/winter scent. The scent doesn't have a lingering after-scent like the Saint perfume and is much sharper. My main problem with the scent is that the wood and vanilla remind me more of a men's fragrance—something that my dad would wear. While I like my dad's colognes on him, I don't enjoy the scent on myself #sorrynotsorry
Combining Saint and Sinner
I don't really know if they were meant to be paired together, but I thought I would try it. I like some of the individual elements of both perfumes but don't like either on their own. I thought combining Saint and Sinner would produce a scent that is more to my liking. Sadly, this didn't produce better results. It combined more of the musk and wood with only a few floral moments.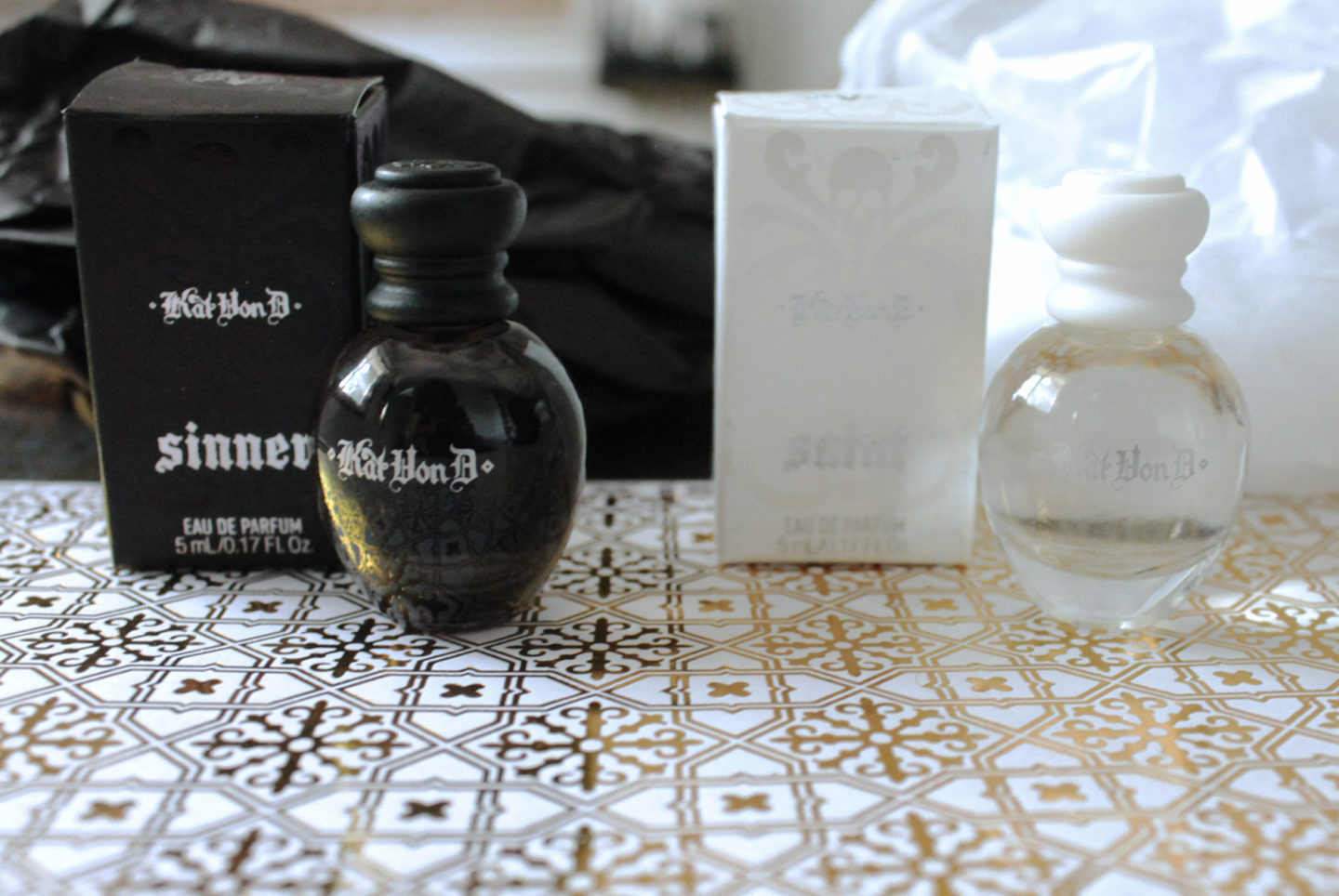 Overall Opinion of Saint and Sinner
I personally don't understand the hype and demand for the Saint and Sinner perfumes to come back. The perfume names completely reflect the scents in their tones and how they make me feel, but I don't really love either of them. Honestly, I love the packaging and the marketing more than I enjoy the actual product. But I'm glad that those who love these scents now can purchase them from Kat Von D Beauty online and from Sephora. I really want to see the full-size bottles to admire the details that Kat put into the design, but I personally won't be purchasing them!
Let me know if you're a #saint or #sinner and if you'll be purchasing these. Do you have a different scent you love? Let me know!
*Products reviewed in this post are complimentary from Influenster and were given for testing purposes. To learn more about Influenster, please visit their website.
SaveSave
SaveSave