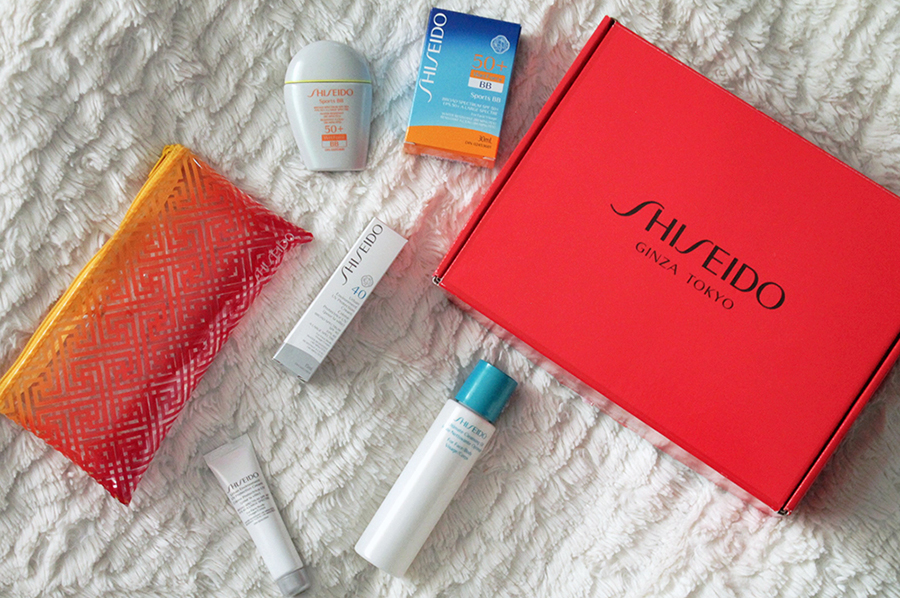 I was one of the lucky Influensters to receive a Voxbox this month. If you haven't heard of Voxboxes or Influenster, you can get all the detailed info on the Influenster website. But basically when you sign up with Influenster, you can review lifestyle and beauty products and then answer questions to see if you are a good fit for products they would like to send out. If you are chosen, you get a Voxbox which has a few complimentary items to test out and review. Everything below was given to me for free, and all I had to do was write a review.
June's Skincare Voxbox: Shiseido Save Your Skin Kit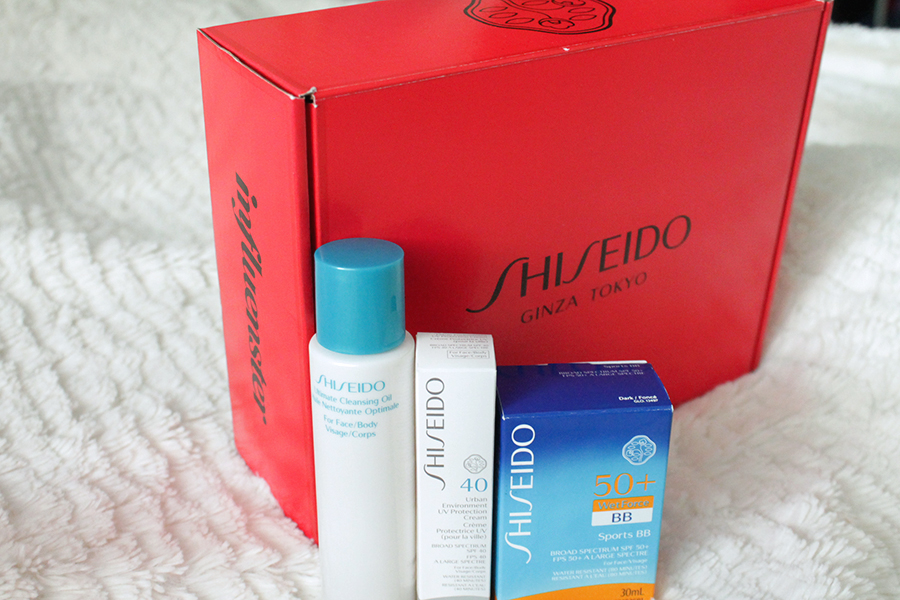 June's skincare Voxbox featured Shiseido Skincare products. Shiseido is a high end skincare, makeup and fragrance brand. Before I get into my review of the products, I want to say that Shiseido does test their products on animals in the event that an ingredient is deemed too harmful for the safety of society. This kind of breaks my heart. If you read my review on the Animal-Cruelty Free 7th Heaven and Earth Kiss beauty products, you'll know that I'm in the process of transitioning my entire makeup bag into one that is cruelty free. I don't believe little animals need to be harmed for the testing of makeup and beauty products, especially when makeup is not necessary for humans to survive. With that said, while I did enjoy testing these products and while they do work well on my skin, I don't think I can go out and buy them knowing that the company can resort to some animal testing if they think it's necessary. It's kind of a grey area in my makeup crusade right now but because the Shiseido products were sent for me to test, I thought I'd give them a go.
Shiseido Wet Force Sports BB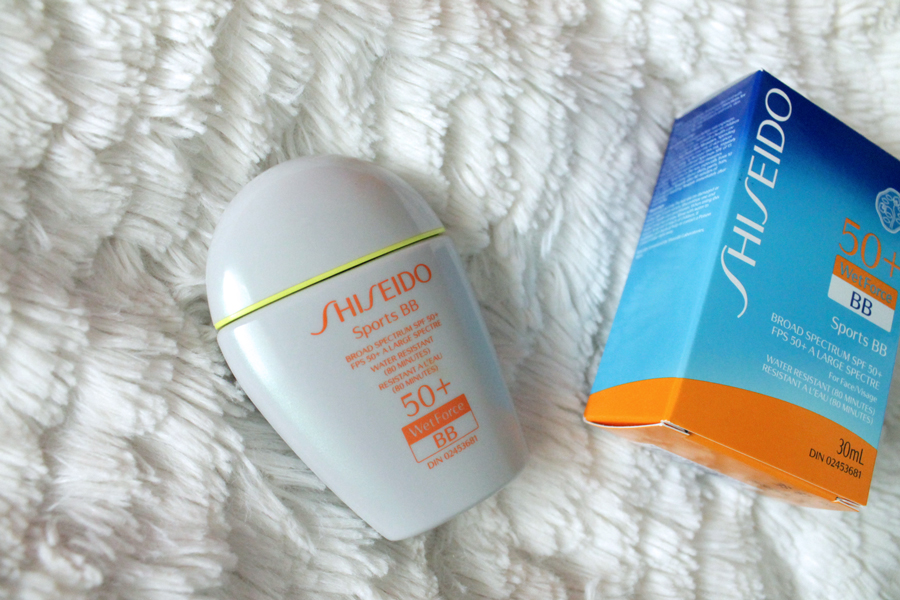 The Shiseido Wet Force Sports BB is a beauty balm/blemish balm, that combines skin care and makeup into one. The Wet Force Sports BB is a cream with an SPF protection rating of 50 and is water resistant for up to 80 minutes. And as most BB's, it does have an added tint of colour to be the foundation of your makeup look. What I really love about the product is that it combines sun protection with makeup. It makes it an all-in-one step when it comes to getting ready during the summer (or even in the winter). The Shiseido Wet Force BB comes in three different tints, light, medium and dark. From what I understand, the product will somewhat adjust to your skintone and you can decide how much or how little you want to put on as your base.
When I put the BB on, I loved how well it covered my skin. I typically don't suffer from breakouts but I do have little problematic spots that like to pop up when mother nature is due. The Wet Force BB does smooth over blemishes and gives you a finished look, which is all you can really hope for from a BB. The only thing I'm still unsure about is the tint colour. I feel like it may be a little too cool and ashy for my complexion. Perhaps if there were a few more shades thrown into the mix, I would be able to find one that works with my skintone. I think I fall somewhere in the neutral side, leaning to slightly warm undertones with my skin. The colour felt a little too blue and cool for me.
Aside from that, I think its great that you can go out and play sports or go into the water with BB on. I am not really one to wear makeup if I'm exercising, playing sports or going into water, but some people like to. To each their own.
Verdict: If you like to have sun protection for your face when playing sports, going in water or just sweating profusely AND still need that touch of makeup,  you should get the Shiseido Wet Force BB.
Shiseido Urban Environment UV Protection Cream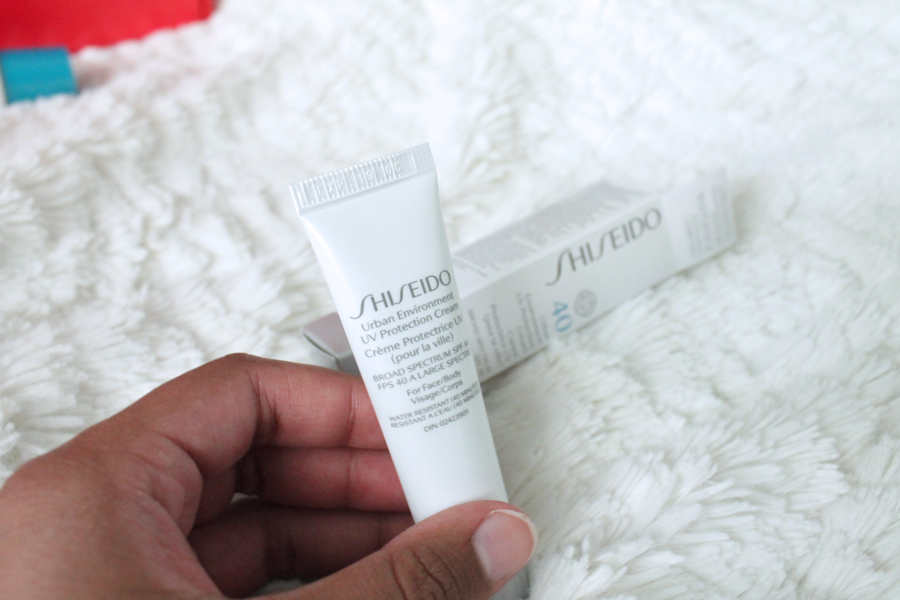 If you want to skip the makeup coverage but also want face protection, try out the Shiseido Urban Environment UV Protection Cream. I like this product more than I like the Wet Force BB because I don't necessarily want to wear BB on my face everyday. But what I do need everyday, is sun protection. With an SPF of 40, the Urban Environment Protection Cream is perfect to put on my face in the mornings as I head out for work.
The cream doesn't smell like sunscreen which I think is the best part. I hate going around smelling like I did when I was a kid covered head to toe in sunscreen. Unless I'm going to a beach and want that sunscreen smell for nostalgia, I prefer those that are unscented. The only downside to the product is that your skin looks a bit white for a few minutes after putting it on. I'd recommend waiting a few minutes for the cream to settle into your skin. The formula also feels quite light which is great for anyone with oily skin that can get weighed down too easily with generic sunscreen formulas.
Verdict: Use the Urban Environmet UV Protection Cream every day! 
Shiseido Ultimate Cleansing Oil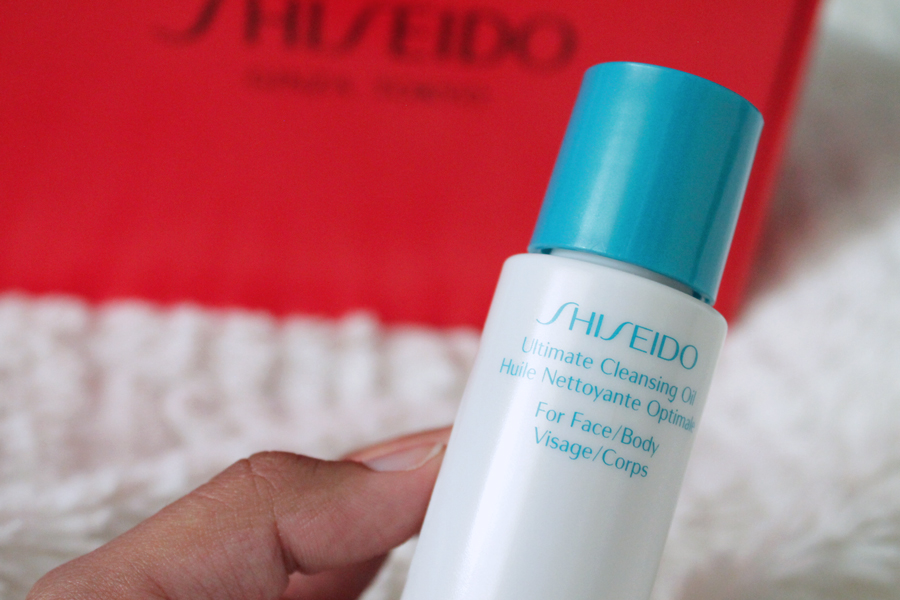 This is the first time I've used a cleansing oil. I'm very accustomed to using cream washes from The Body Shop or other drugstore brands. So when I unscrewed the bottle I was a little bit confused on what to do. There's a tiny hole at the top of the bottle and I wasn't sure if I was supposed to put the product on a cotton ball and then put it on my face, or just shake some of the oil into my hands and then lather my face with it.
The other thing that confused me is that the bottle didn't say how much to use. Perhaps some more instructions on the bottle would help the clueless out!
I decided to shake some of the oil into my hands, and then covered my entire face and upper neck with it. Once the oil was on, I wasn't sure how long I was supposed to work it into my skin. I left it on for about 10 seconds, and then rinsed it off. Who knows if this is the right way to do it?!
I was also really confused when rinsing it off because there's white traces of liquid that suddenly appear. I assume it's what the product does when wet. It reminded me of those last few minutes of creamy face washes when you have the tiniest trace of the product left on your skin before the final rinse off.
Overall the Ultimate Cleansing oil  did make my face feel cleans and soft. It didn't leave me skin feeling oily or weighed down by products.
Verdict: If you understand how to use cleansing oils, then go for this! If you have no idea how cleansing oils work, don't ask me! (I wish I was joking but I still have zero idea how to properly use a cleansing oil)
The Little Details
The Voxbox also came with a small, transparent, ombre-patterned makeup case. I think I'll be using the case for carrying around the Cleansing Oil, and a few cotton pads and bobby pins. I think it's awesome that they added in that little treat for reviewers!

Would I Use The Shiseido Save Your Skin Kit Again?
There are certain elements of each product that I enjoy. I think that if the company was more firm about animal testing policies, I would be swayed to try out a full-size Urban Environment UV Protection Cream and a full-sized Ultimate Cleansing Oil (once I figure out how much to put on and how it's really supposed to be applied). I would recommend the Wetforce BB and the UV Protection Cream to those looking for summer skincare protection that doesn't feel heavy and that stays on all day. I would also recommend trying out the Cleansing Oil if you find that your current cleanser doesn't give you a deep clean.
Once again, I would like to thank Influenster for sending the Shisiedo products for complimentary testing purposes. Let me know if you like any Shiseido products or if you'll be trying any of the ones I reviewed!
SaveSave
SaveSave
SaveSave
SaveSave
SaveSave