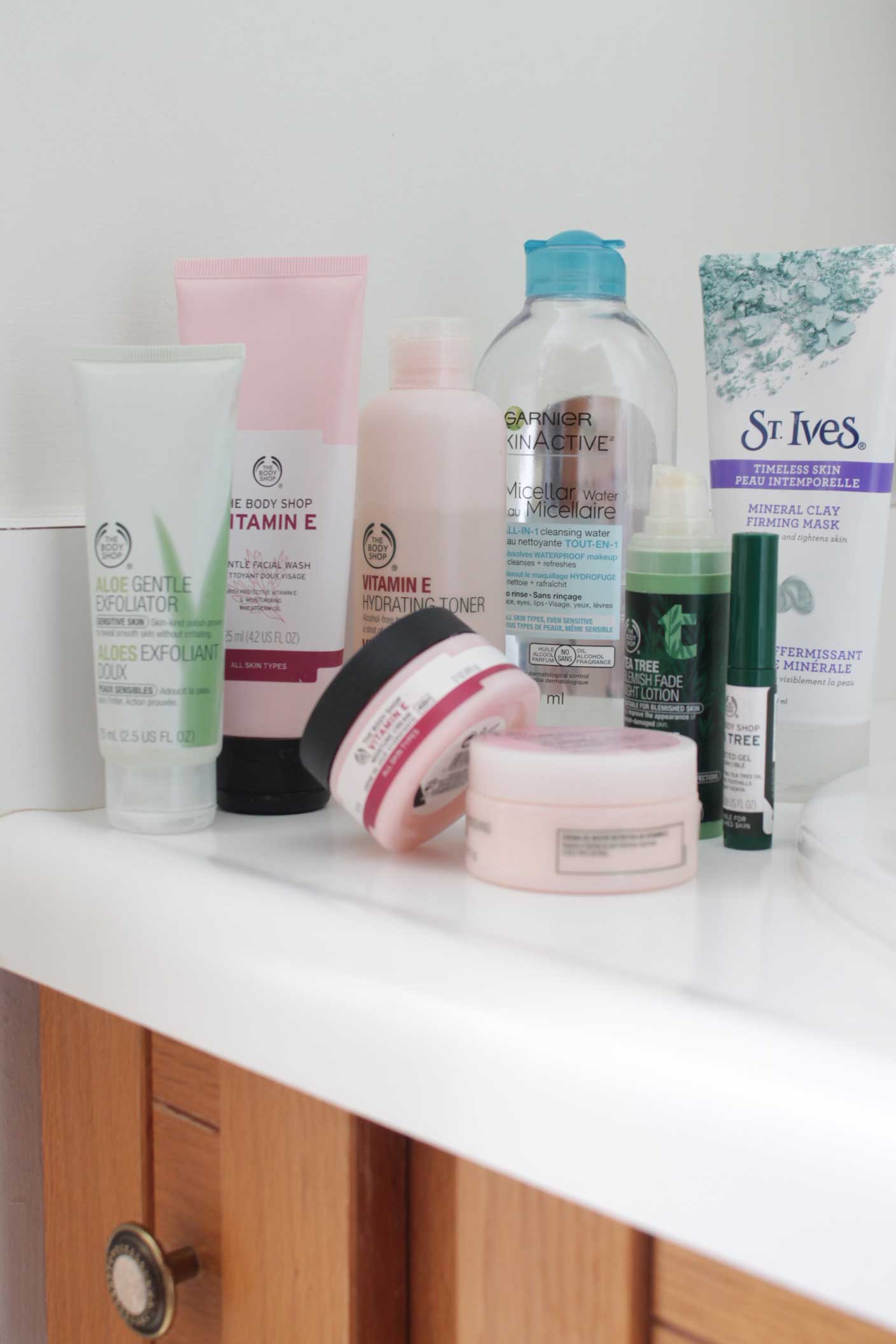 "What skin care products do you use on your face?"
This is one of the most frequently asked questions I get from friends, family and from the Internet. I did a post similar to this a few years back, but I've removed it from my blog and have decided to give you guys an updated and more complete skin care overview of the products I use the most on my face, and products that target specific problems. I picked out most items from The Body Shop, but there are two that come from the drugstore. All the items are all under $25 CDN, with most in the $10-$15 dollar range and useable on most sensitive, dry, or normal skin types.

One of the products I like to use from The Body Shop is the Aloe Gentle Exfoliator. Using just a tiny bit of this product, gets rid of dead, flaky skin, and leaves you with deep clean feel. Sadly, the exfoliator no longer exists in The Body Shop, but they did keep a few other ones, and they have a large selection of body scrubs (which is something that I'll probably talk about in another post). As much as I love exfoliator, this is a step I only do once or twice a week because I don't want to overdo it. Which leads me to my #1 skin care item that I do use on a daily basis….
I like to use the Vitamin E moisturizing Face Wash from The Body Shop. It's been my secret weapon for years. It lathers quite nicely, and it leaves my face feeling so soft. It does well to keep my skin hydrated in the winter and helps clear off the extra sweat in the summer. This is something that I will rarely skip…but if I do skip washing my face with this, I'll use the Garnier Skin Active Micellar Water.
Beauty bloggers, your friends, your mom and your grandma probably know about the Garnier Micellar Water products. They have been a really hot beauty item since last year, and like everyone else, I only needed to try it a few times to understand why every beauty guru fawned over it. Sometime in the summer, I picked up the All-in-One Garnier Micellar Water, which aims to cleanse and refresh skin while dissolving waterproof makeup. I was skeptical at first, but the Micellar Water works magic! It definitely dissolves makeup, and it leaves your skin feeling fresh after the initial minute or so where it feels dewy. When you're cleansing your eye makeup, be sure to soak up a cotton pad and wipe gently. You don't have to put in much effort to get your makeup off. And if you use the Micellar Water, you don't need to worry about washing your face off after. The magical formula just dries up (or at least that's how I think it works, but I'm not a scientist so don't quote me on that). Micellar Water costs just under $10 CDN, and it lasts quite a while.
If my skin is feeling particularly drab and dull, I'll use the Vitamin E Toner from The Body Shop once I'm done removing makeup or washing my face. Again, using a cotton ball and gently wiping the product in areas that need more of the dirt removed and pores tightened up, are the ones I will focus on. I rarely use toner in the winter, but I do like the option of having it around for the hotter months. Unlike a lot of other toners at drugstores, the Vitamin E Toner doesn't make your skin sting or itch like crazy—trust me, I've been there and it isn't pretty!

Before I go to bed (after washing my face) and after I come out of the shower in the morning, I will moisturize the heck out of my face. I am a strong believer in moisturizer. Every woman in my family either uses Oil of Olay products, or Body Shop products for this. I am a fan of both, but I like the hydration that the Vitamin E moisturizers from The Body Shop give my skin. I'll always use a decent amount, making sure there is enough to sink into my skin without needing to tug and pull my face around. I like to use the Vitamin E Nourishing night cream before bed, which is a bit thicker of a formula compared to the Vitamin E Moisture Cream that I use in the mornings. The people asking how my skin gets so soft…well, moisturizers are the answer you've been looking for!

So the last few products I want to share with you guys, are ones that target problem areas. While my skin is fairly calm and rarely do I have severe breakouts, I do always get larger spots around the time Mother Nature is set to visit, or if my eating habits have been insane, then I'll get little spots that appear and disappear in a day. What I like to use to combat the "problem zones", are the Tea Tree products from The Body Shop.
My favourite quick fix is the Tea Tree Targeted Gel Stick…and I hardly ever call it by its full name because, damn, it's a mouthful. I like to use the Tea Tree Stick much like a concealer, except it's clear and doesn't conceal. Basically, dab it onto the problematic spot, and let it sink in. I usually use the stick at night so that it has time to absorb into the zit (okay maybe that's TMI) and by morning, the spot is either gone or very dried out and does not resemble a volcano anymore. That, my friends, is a win!
The other Tea Tree product I use is the Tea Tree Night Blemish Fade Night Lotion. As the name says, this product helps to get rid of blemishes on your face from acne, and goes on at night. I should add here, that Tea Tree products do not smell good…at all, which is not a Body Shop flaw. It's just the way Tea Tree Oil smells. Putting the Night Blemish Fade Lotion on your face isn't going to be the most pleasant to smell, but it is very effective in getting rid of acne and its minor scars.

And finally, if I have particularly difficult skin (usually on weeks where Mother Nature hits, I eat terribly, and I'm super stressed) , I'll use the St Ives Timeless Skin, Mineral Clay Mask. As much as I love Lush Face Masks, I find that the St. Ives Mineral Clay Mask is much more effective at getting a deep clean. If I use the face mask, I'll skip all my other facial products except for moisturizer. You can pick up the bottle at any drugstore or Walmart, and from what I remember, it is under $15 CDN.
And there you have it! These are pretty much all my skincare items that I like to use on my face. I do have a few more items that I'll share in a later blog post targeted towards eye care and body care. I also want to add, I do really like The Body Shop for their products and their ethics, but in no way am I sponsored by them to write this ( I wish I was because that would be amazing)
Let me know which products you like to use on your face, and if you have any suggestions for new products to try!