Is it really Fall if you don't take photos of leaves?
Are you really a blogger if you don't take Fall outfit photos in a forest?
Who knows! But I just really wanted to show how easy it is to make a Fall Outfit and a Transitional Wardrobe for the ENTIRE year.
And being in a really pretty forest, doesn't hurt!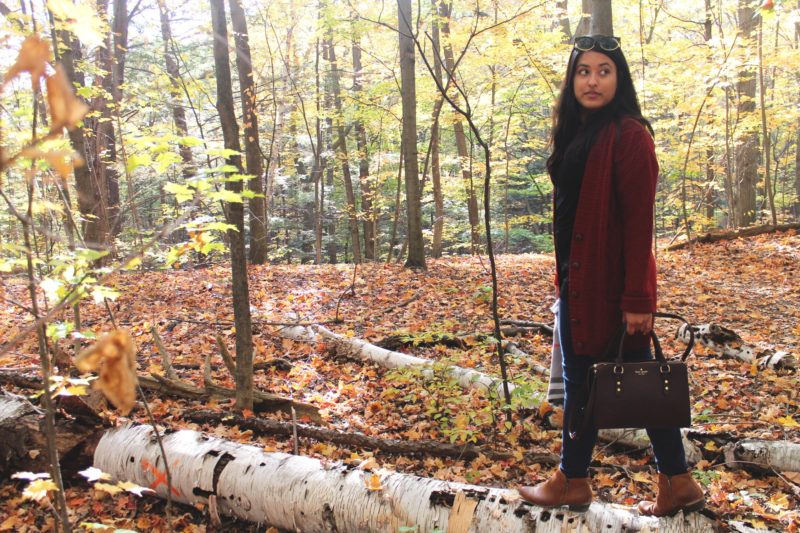 Behind My Transitional Fall Outfit
Fall and Winter are easily my favourite seasons for fashion. Layers, dark colours, and knits are three of my favourite things when it comes to my personal style. But what about people who love their summer clothes and just can't bear to think about colder temps just yet? Well the good news is, the outfit I've picked can work in the warmer Fall temperatures and can be changed when the colder Fall temperatures, and dare I say, Winter temperatures, hit.
(Note: Take this style guide with a bit of common sense. Some places are already getting oodles of snow and cold weather, while others are "balmy", as my Dad would put it).
Making a Fall outfit doesn't need to be hard! You can easily take pieces from your summer wardrobe and pop them in, or pieces from your Winter wardrobe and pop them in. My "wardrobe" is fairly tiny–I like to call it an all-season wardrobe. That's because 75% of my wardrobe can be worn year round, and I only purchase a few items throughout the year to add to it.
Want to know the secret behind it? Let me introduce you to…
The Girl, The Capsule and Transitional Wardrobe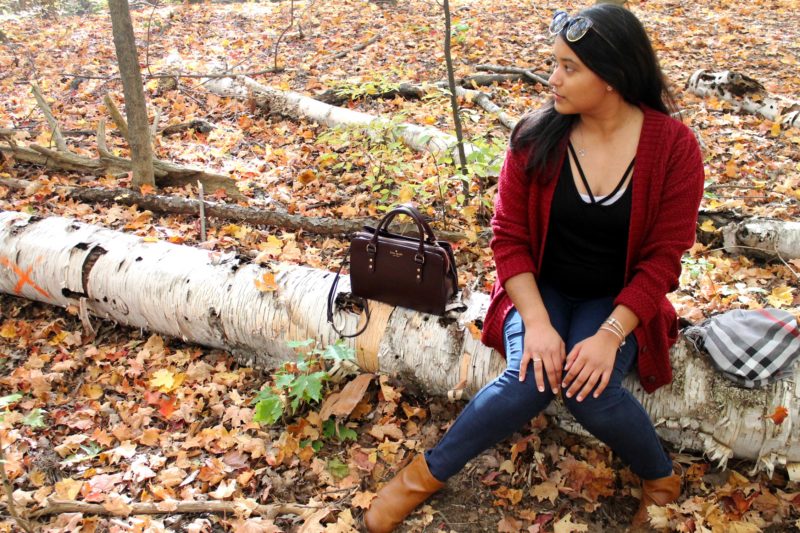 The concept is similar to a capsule wardrobe. For anyone who doesn't know what a capsule wardrobe is, the idea is that you only have a set number of items in your closet, and each of the items can work to create an outfit. The original capsule wardrobe was an idea that started in the 1970s, but became popular a few years ago when Caroline Rector from Un-Fancy, downsized her wardrobe to just 37 pieces. Now, I'm not saying I can go this far, and you definitely don't have to either. But because I live in Canada, I think it's easier to have a wardrobe of items I can transition between seasons, rather than having a "new wardrobe" for each season. It also is easier this way because then I can buy a few items that I love throughout the year and work them into what I already own (which you'll see with in my Fall outfit)
I can't imagine myself overhauling my closet with each seasonal change. For any international readers, Canadians get all four seasons, and sometimes, it can be unpredictable depending on where you live. We're not like people who live in California and have "chilly" days, where popping a sweater overtop a T-Shirt will save your body. In Canada, our "chilly" days involve putting on a sweater, a scarf, a hat, mittens, and a jacket. Chilly, being relative of course…
Buying and Maintaining a Transitional Wardrobe 
So that brings me back to having a Transitional Wardrobe. I try to pick clothes for my wardrobe with these ideas in mind:
Can I layer pieces to make them wearable year-round, like a T-Shirt and a chunky sweater?
Can I wear colours that reflect the season, like deep reds for Fall and Winter?
Can I easily grab three items and make them into an outfit?
and of course, can I wear most of the clothes all year round with some layering and craftiness?
Can I practically use this item, or wear it enough that it makes sense to have?
Now when I'm shopping, I refer back to these five questions.
And that, is how I created my Fall outfit. Take a look at it, and then I'll explain how I mix in older pieces I already own, with newer pieces.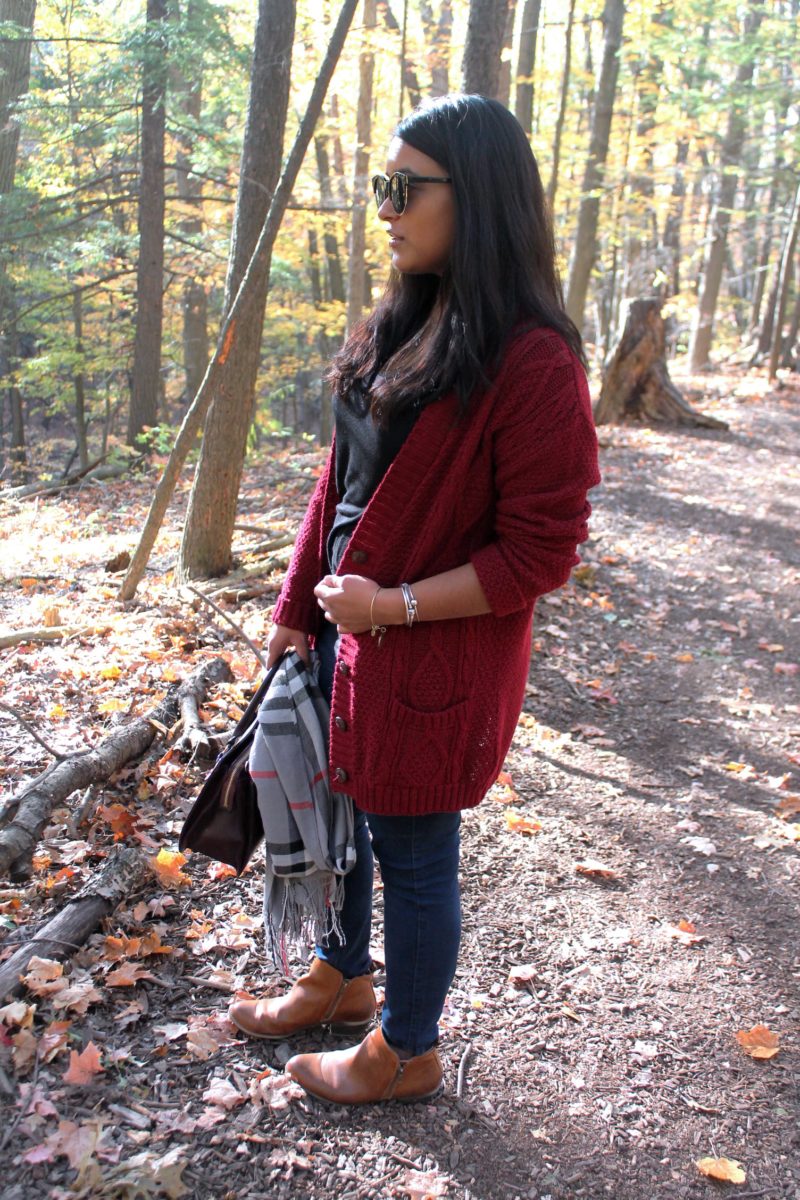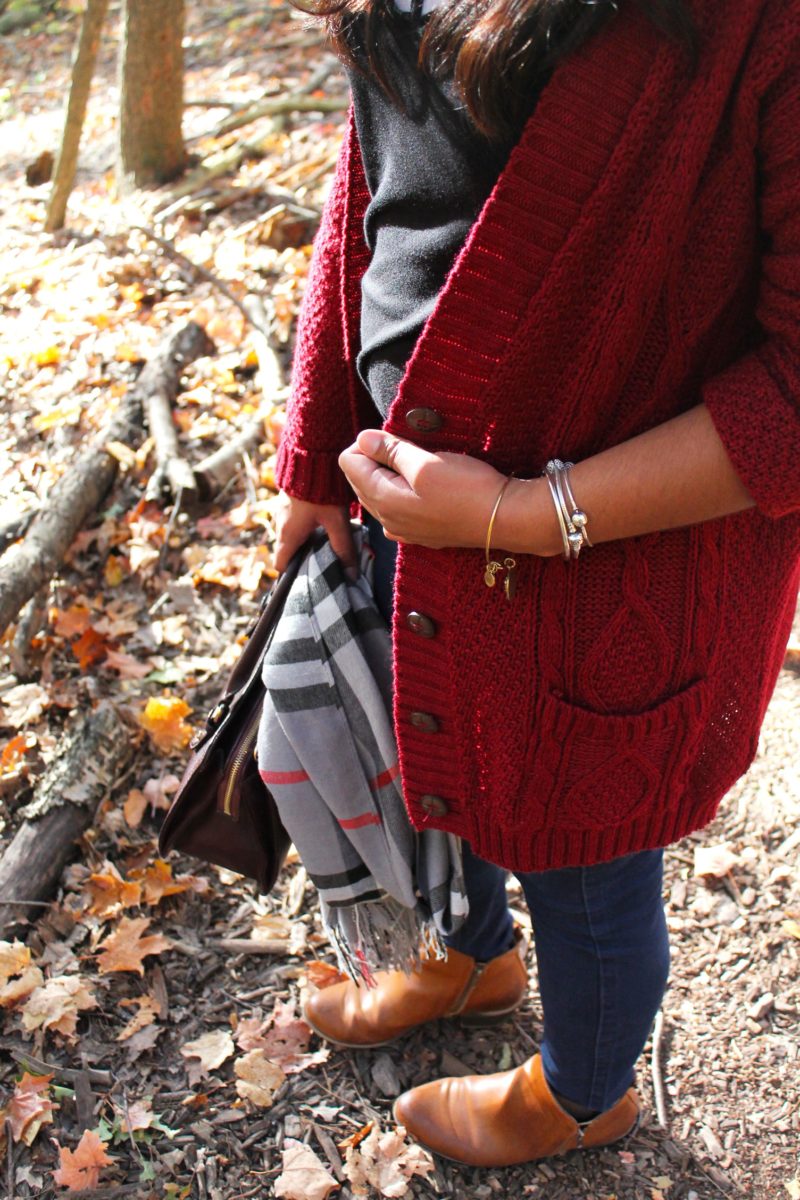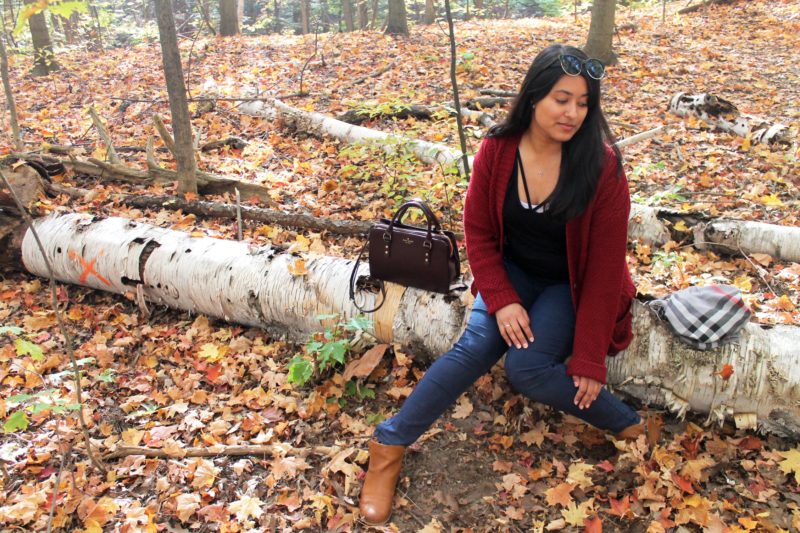 The pieces in my outfit are a mix of newer items from Boohoo, and ranges to items that I've been wearing for a few years. Here's a breakdown of the items (and accessories) and how long I've owned them:
Brown Booties from Tender Tootsies: 1 year
Jeans from Reitmans: Over 1 year
Black Cage-Front T-Shirt from Boohoo: 3 months
Wine Boyfriend Knit Sweater from Boohoo: 3 months
Sunglasses from #Sunglasses *: 4 months
Purse from Kate Spade: 3 months
Scarf from flea market: Over 2 years
Bracelets: Between 1 and 3 years
So really, the only "recent" items are: the T-Shirt, the sweater, the purse (which was a long time coming) and the sunglasses*. Now, will I only wear the new items and long-time favourites in the Fall? Absolutely NOT!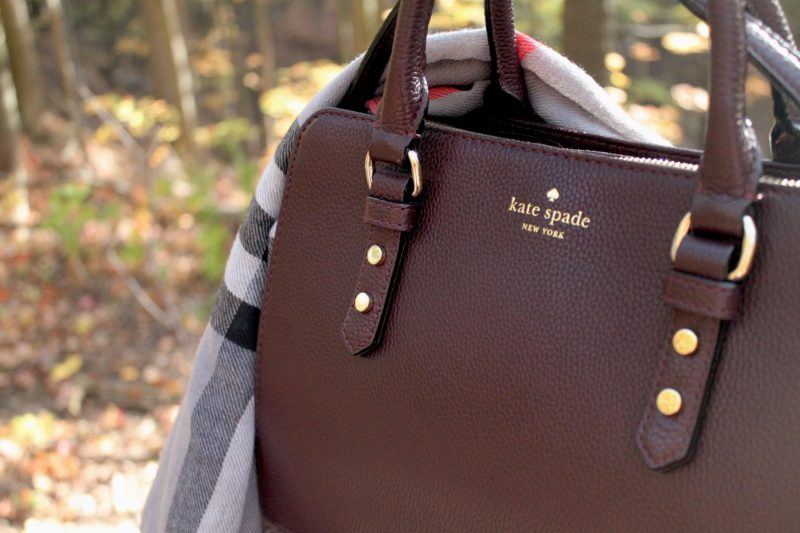 Using Your Clothing Year-Round
I plan on wearing the T-Shirt year round, whether that means putting it under a chunky knit sweater during the Winter, pairing it with a jean jacket in the Spring, or wearing it with a bralette in the Summer. The sweater is also a transitional piece because while it is a tight-knit, it is light enough to be worn on cooler summer nights, but it is warm enough to button up and wear with a T-Shirt or Long-Sleeved shirt underneath.
And I feel like this goes without saying, but jeans are a year-round staple. Having a few pairs of jeans can serve as the basis for many outfits.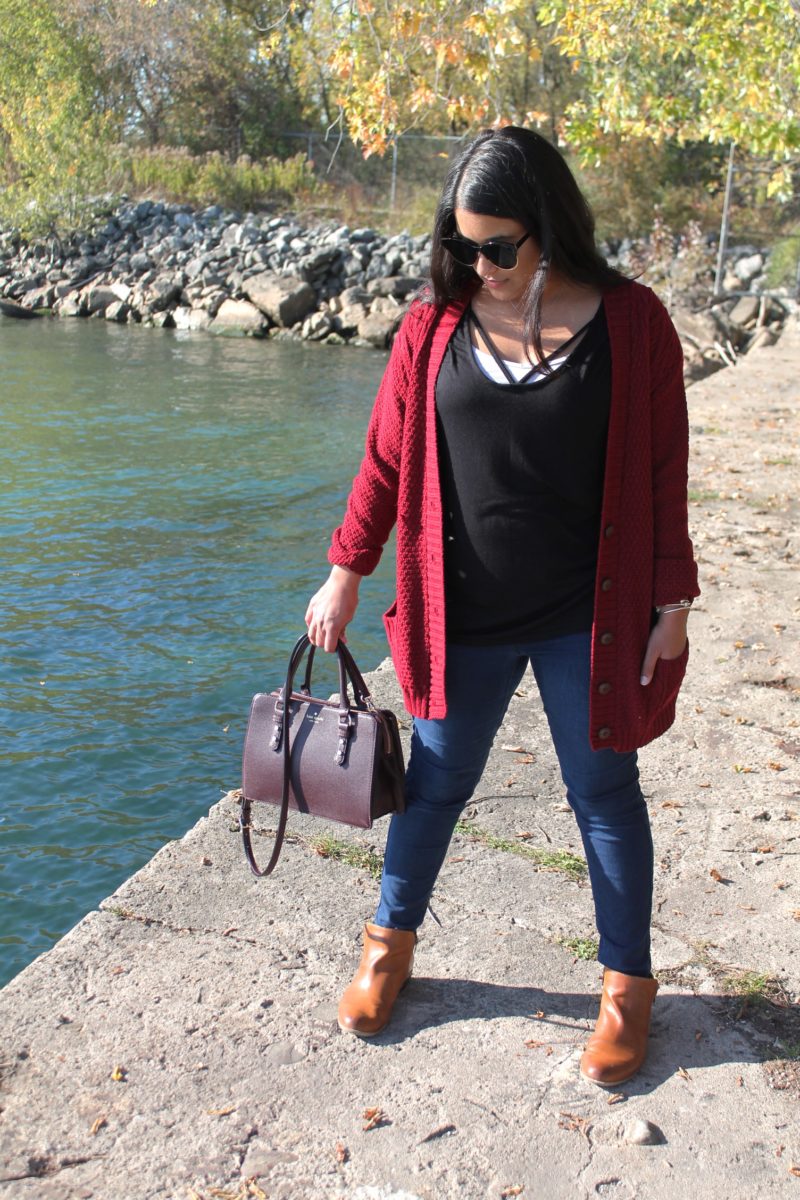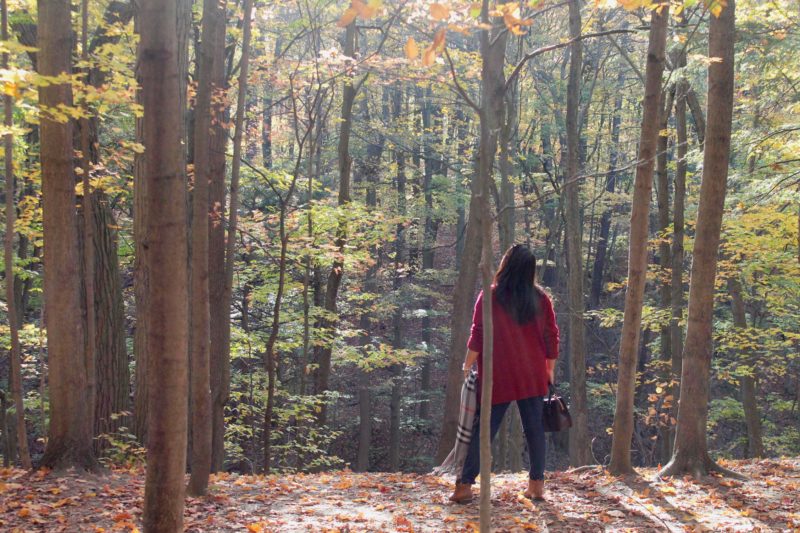 As for the accessories, I think purses and sunglasses don't necessarily need to change with the season. I know some people who change their purses out to match the season, or people who don't wear sunglasses in the Winter. But I'm a big believer in making my purses and sunglasses work with me all year round. I picked a burgundy-wine colour for my Kate Spade purse, knowing that I would wear it not only in the Fall, when people typically wear "wine", but also year round because it is neutral enough to go with most other colours. And as far as sunglasses go…you REALLY should be wearing those puppies whether it's snowing, raining, or sunny. Protect your eyes friends! If you do pick sunglasses based on how they can be worn year round, traditional styles such as the cat-eye or an aviator style will work the best, especially in a colour like black or brown.
And lastly, bracelets and scarves are the pieces that I like to have a few of. I solidly love the scarves and bracelets I own, and I plan on keeping them for quite some time.
Curate Your Own Transitional Wardrobe
I can't tell you what your personal style is, because we all have our own looks and things we like wearing…but I can tell you that your personal style plays a factor in how you curate your transitional wardrobe. Remember how I said I like layers, dark colours, and knits? Well, you should also know that I dislike wearing dresses and skirts unless it's necessary.
What does that mean for my transitional wardrobe? That means there may be a few dresses and skirts in there for the times that they are "necessary" but my personal style and comfort means that they won't be making more than a guest appearance. But I'm definitely in a minority on this one because I know soooo many people who love dresses and skirts year-round and make them work by pairing them with tights and thick sweaters.
So if your personal style seems geared more to one season than it is for another, you just need to get a little bit creative on wearing what you love no matter the season! Just a heads up, the Long-Sleeved Shirt under a dress trend is back for the Fall and Winter, so it's a good way to transition those much loved summer dresses into the colder months.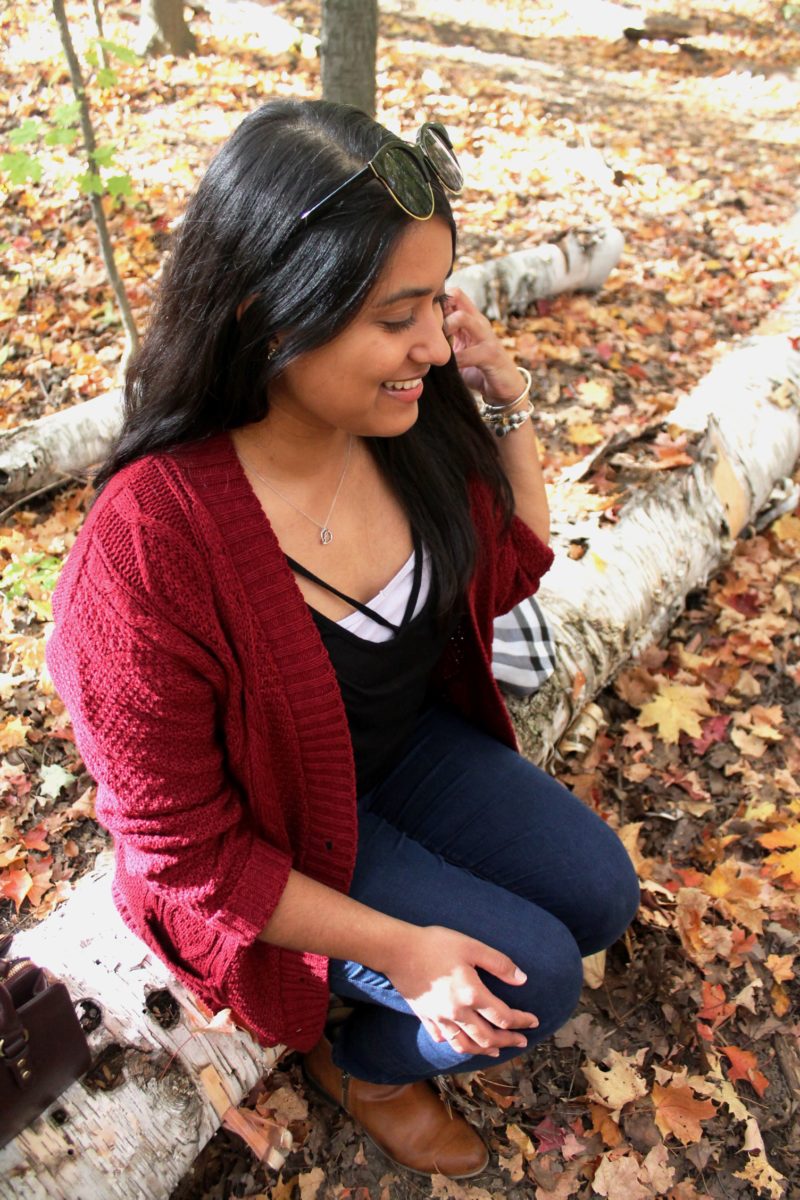 When It's Time To Make a Change
If you've read through the post and are thinking, "This is what I need to do!" then I'll leave you with a few major takeaway tips from this piece:
Pick items that you can wear year-round through layers
Choose items that reflect your personal style and can be altered for the season
Pick items that are practical and that you will get use from
Intermix items that you already own with few new items you see in a season
Pick colours that you can wear confidently regardless of the hype of "seasonal colours"
And of course, if you feel like you are no longer getting use out of clothes you currently own, donating them to charity will make a difference in someone else's life!
If you think the Transitional Wardrobe is something you will try, let me know in the comments!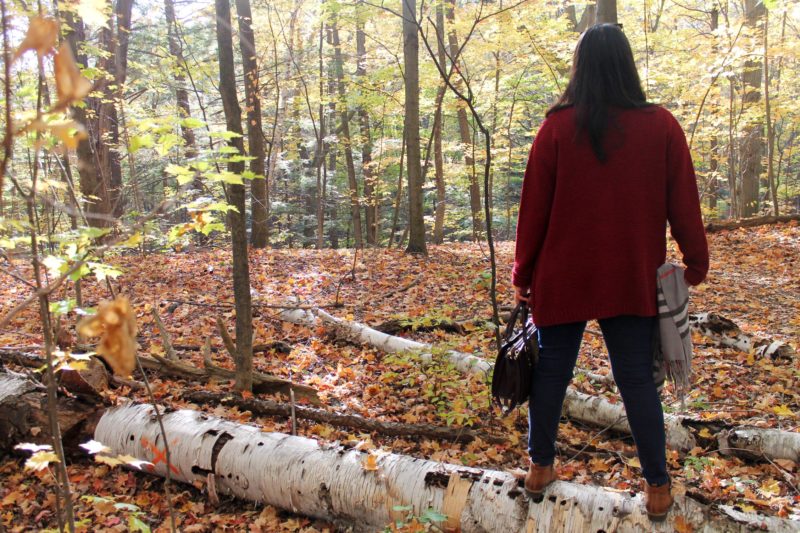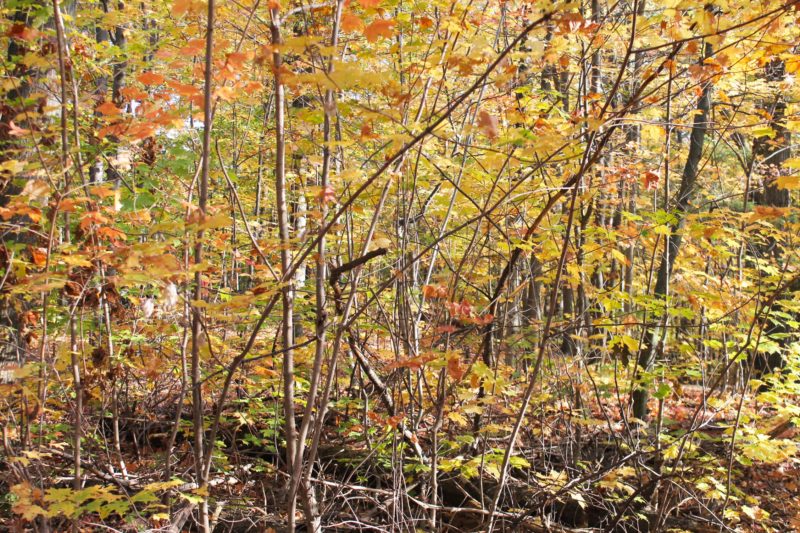 *The sunglasses were purchased at a discount as an affiliate marketing product, however, they never followed through with providing me a code to give to you guys…Hence, no link to their site in this post!
**So now for real talk: I don't wear them as much as I'd like to because they are non-prescription, and in my opinion, they are a little on the cheap side. With that saide, if you don't need prescription glasses and want to play around with a few sunglasses looks, then #Sunglasses has you covered! Be warned, shipping takes forever!