Calling all Makeup lovers and Art History lovers! You're going to want to get your hands on the new Urban Decay x Jean Michel Basquiat Collection.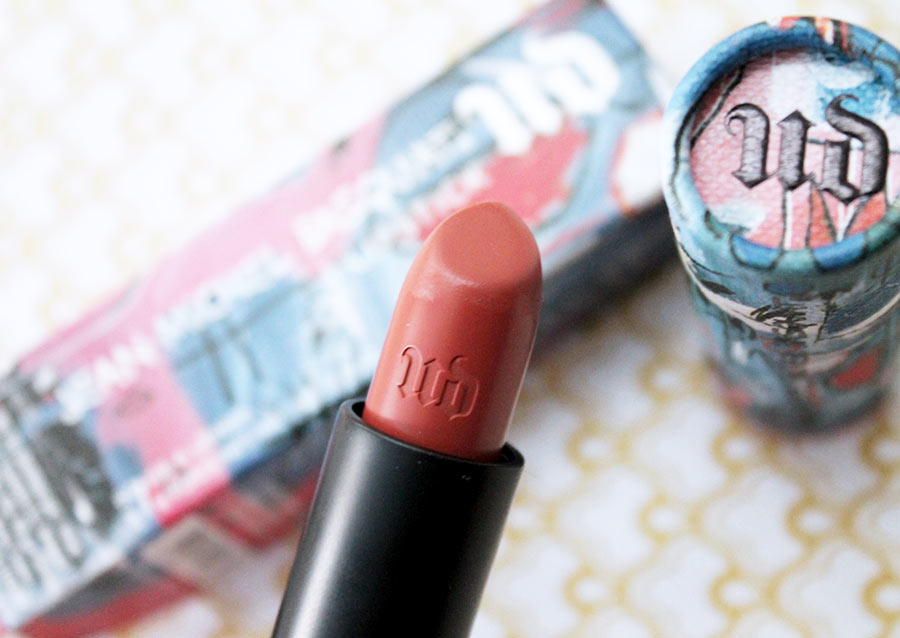 Although artist Jean Michel Basquiat passed away in the late 80's from a heroin overdose, his art has made an impact in art history, giving street art and politically charged art a new perspective and message. Basquiat's art challenged the notion of what art is, taking his graffiti style and displaying it in galleries– which was not a common practice.
Basquiat's art pushed the boundaries of what people considered art and remains popular in modern day imagery.
So it seems like a logical step to have Basquiat's work, which pushed artistic boundaries, in collaboration with a makeup brand like Urban Decay. Urban Decay takes the familiar basics of makeup and steps up the products to the next level with experimentation.
Combining two boundary pushers is what has given The Urban Decay x Jean Michel Basquiat Collection a unique spot in recent beauty launches for summer Late Spring 2017 / Early Summer 2017. The collection consists of two eyeshadow palettes, one blusher palette, three eyeliners and three lipsticks. When I was in Sephora swatching the eyeshadows and the blushes, bronzer and highlight, I was quite surprised to see how pigmented all the formulas are.
Each of the products have Basquiat art on their packaging and are made with a canvas paper material, giving you the same feeling and vibrant colour as if you were touching an actual artists' canvas. All of the products, including the individual shades of eyeshadow, are named after pieces of Basquiat work or elements of the work's title.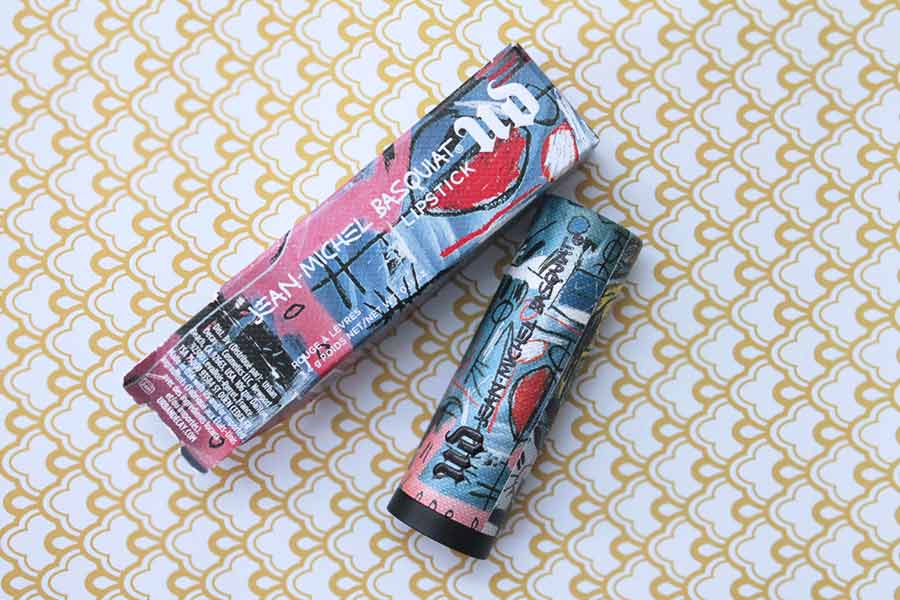 Urban Decay x Jean Michel Basquiat Eyeshadow Palettes
Gold Griot Eyeshadow Palette
Of the two palettes that were released, I lean more to the side of the Gold Griot Eyeshadow Palette. The palette has a mix of matte neutrals, shimmery darker neutrals, and a few stand out shades in navy blue and yellowish/gold. I really love the mix of matte, shimmer and daring shades because it gives you a lot to work with whether you're going for a simple daytime look or a nighttime, smokey eye. My only concern was that the neutrals wouldn't stand out enough on my skin tone (brown girls, ya feel me on this one?) but I really like the colours overall because I think they'll work well for most people. But if you like to experiment more with colour, I'd recommend the Tenant Eyeshadow Palette.
Tenant Eyeshadow Palette
In the Tenant Eyeshadow Palette there are a few more daring, perhaps even shocking colours to choose from. If you want to experiment with your makeup as much as Basquiat experimented with his art, you're going to want this palette. There are pinks, purples, greens, and blues in this palette, which are great on their own or as accent colours if you do want to experiment with your look. I think my personal favourite colour in the palette is the light blue (Boom) which swatched really nicely on my skin.
Keep in mind, most of the eyeshadows in this palette have a shimmer to them, so if shimmer and colour are your thing, definitely get this palette. Adding these colours into the palette is quite smart because it matches Basquiat's personal message—to add a little bit of shock and "can't look away" factor. I had fun swatching them, but for my everyday life they weren't too practical.
I also should add that the palettes have a unique way of opening up. They aren't the flip tops that most people expect when opening their eyeshadow palettes. These are actually magnetic tops that lift off to the side.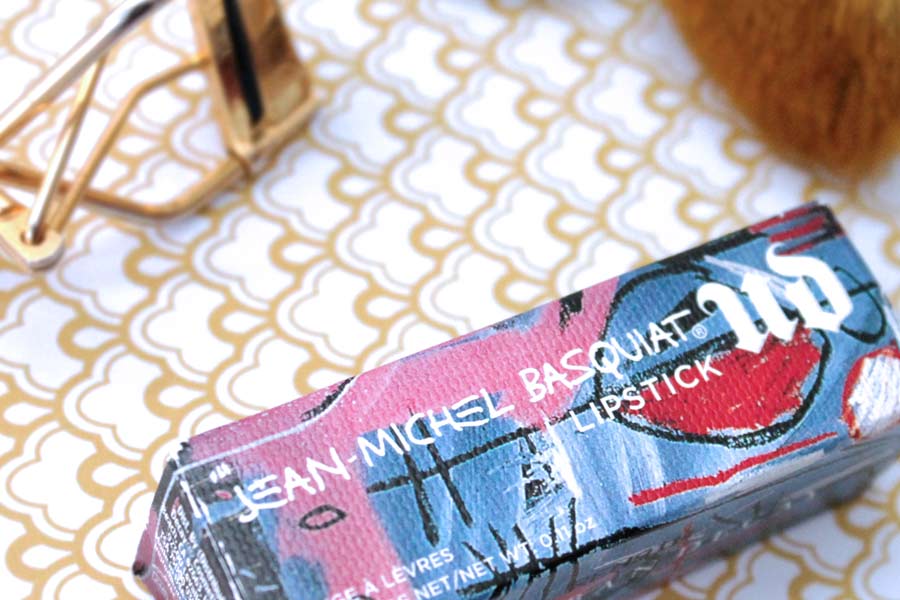 Urban Decay x Jean Michel Basquiat Eyeliners
The eyeliners also follow the notion of shock factor because they come in three very bold colours—bright blue (Vivid), a reddish brown (Anatomy) and a bright yellow (Post Punk). Blue, red and yellow are the primary colours that are in every artist's palette, but may not be the most conventional colours for the every day makeup palette. I'd recommend only going for these eyeliners if you are committed to the colours and can work them into your everyday look. They are definitely some gorgeous shades, and if I were to get one, I'd go for the blue because it would best compliment my skin tone and my eyes.
Urban Decay x Jean Michel Basquiat Gallery Blush Palette
This may have been the only thing about the entire collection that I wasn't overly drawn to. The Gallery Blush Palette has two blushes, one bronzer (which is cleverly called jawbone), and one highlight colour. Again, the pigmentation was great, but the colours would not work well with my skintone. They felt a bit too muted and like they would wash me out a bit. I would recommend checking out the palette in stores before buying it so you can decide for yourself.
But a really great thing about this palette is that it is an all-in-one solution for getting your blush-bronzer-highlight game on point!

Urban Decay X Jean Michel Basquiat Lipsticks
The first person I saw who talked about these lipsticks was Fabulous Hannah (Fabulous Hannah on Youtube). She was kindly gifted a single lipstick along with eyeliners and an eyeshadow palette from Urban Decay. As soon as I saw her opening up the lipstick tube, I was set on getting one for myself.
When I was in Sephora, they did have all three that are available in the collection. There is one that is a very light nude tone (Abstract). One is a bright pink (Exhibition) that for some reason, reminds me of Nicki Minaj. And finally, there's the one I purchased (Epigram), which is a neutral in a burnt orangey/brown colour.
I'm a bit lost in the way the lipstick looks on me with my current skin tone. Right now, my skin's in the weird transition mode where I'm still a really light brown from the winter and I don't quite have a darker summary brown tone. So right now, while the lipstick does look quite nice and fresh, I think I either need to be a few shades darker or a few shades lighter for it to look its best.

The only negative thing I have to say about the lipstick is that it takes a bit of effort to put on. It doesn't glide very well so if you have dry lips you definitely need to exfoliate. Although it takes effort to get on, it definitely stays on for quite some time no matter how much iced coffee you're drinking (I may have tested this out)!
Let me know your thoughts on the Urban Decay x Jean Michel Basquiat Collection.  Have you swatched any of the colours in store? Will you be buying any of the collection?
Keep in mind, not every Sephora location is carrying the collection, so be sure to check in with your favourite one to see if they have it, or locate the next closest one. You can also shop on the Urban Decay website for the collection!
If you want to see any of my past beauty favourites and reviews, be sure to hit up the beauty section of my blog too!