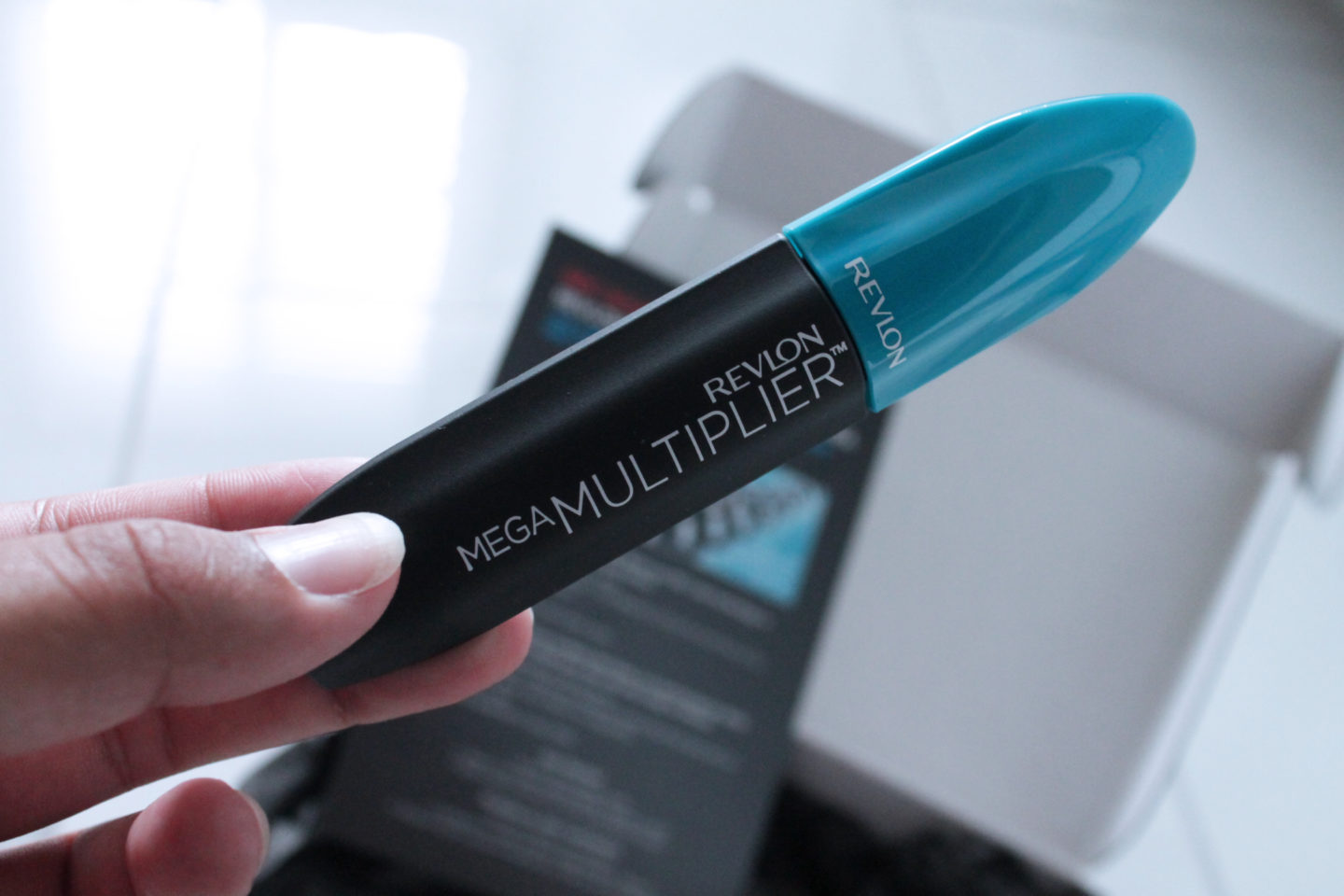 It's another Voxbox from Influenster–this time it's to test out th Mega Multiplier mascara from Revlon. The Revlon brand is pretty well-known around the world and is a staple at local drugstores. Revlon products are inexpensive which is great for anyone looking to try out new products or build an entire makeup collection with the brand. I tend to just use Revlon nail polishes when it's necessary, but I have to say, it's one of the drugstore brands that I actually don't love. Also, they test on animals which isn't helping my efforts to go cruelty-free for makeup within the next year!
Nevertheless, I was pretty stoked to try out the Mega Multiplier mascara. As someone who is always on the hunt for a good mascara I was hoping for the best with this one. I mean, Gwen Stefani (the Revlon model for the Mega Multiplier mascara) had me pretty convinced that the mascara would give me wonderfully oversized, super full lashes.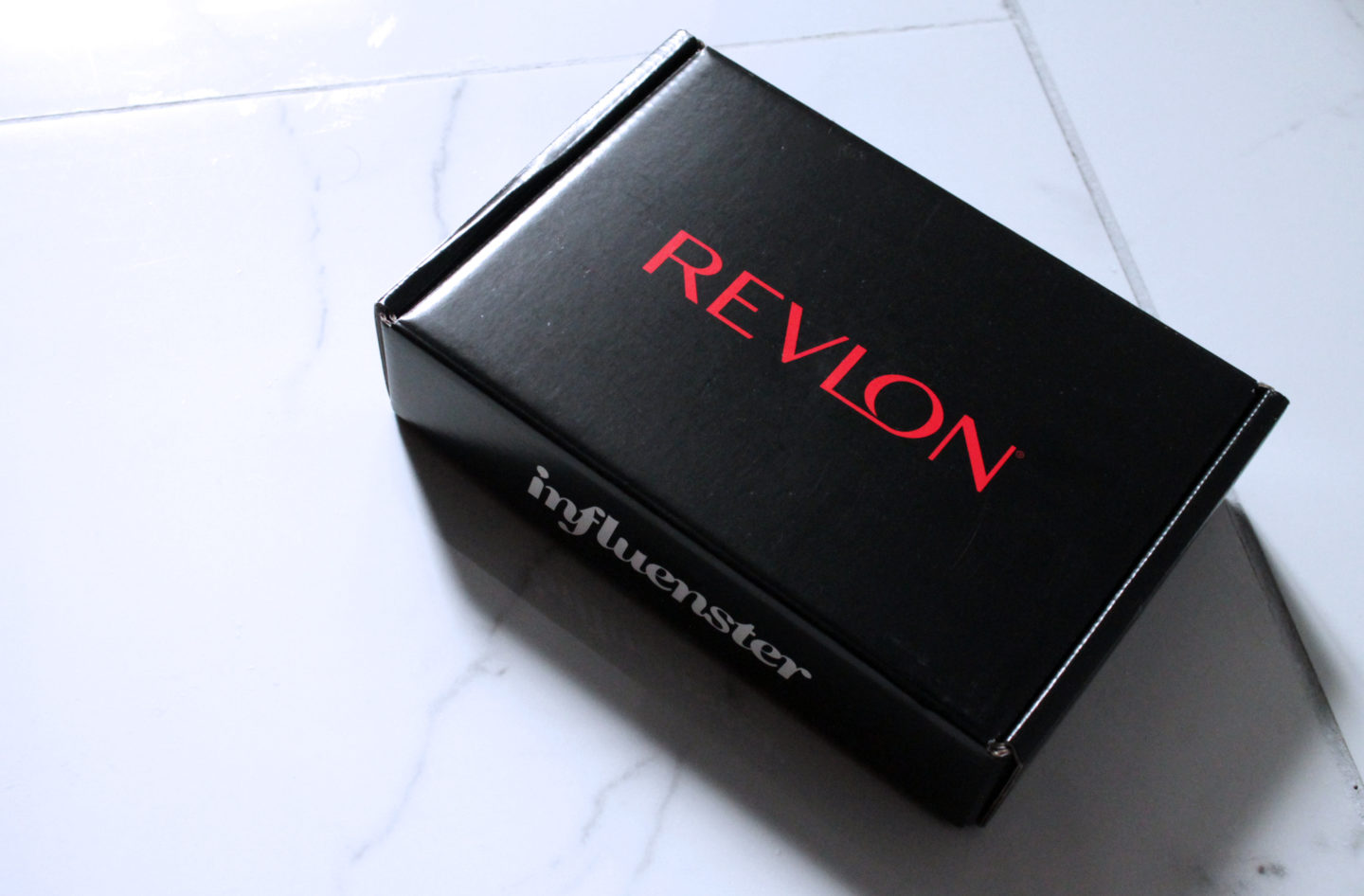 Inside the Mega Multiplier Voxbox 
Upon opening the Voxbox, I immediately grabbed the info card that comes with the box to read a bit about the mascara. What I didn't realize was that the mascara was one of the fiber mascaras. For anyone who doesn't know what a fiber mascara is, it's a mascara that has little fibers that attach to the lashes with a single swipe, and kind of encapsulate the lash. More about that later on!
The packaging of the mascara looks like the other Revlon mascaras with the black cardboard, white printing and a specific colour block for each mascara type. The Mega Multiplier Mascara has a teal accent colour, which is not only on the packaging but also on the mascara tube on the wand/cap side.
I was quite impressed with the design of the mascara tube. It's slim but also has small indents to help the user hold onto the container while they unscrew the wand/cap. The small indents are also on the wand/cap side which also helps the user to solidly hold the wand and reduce the chance of dropping it.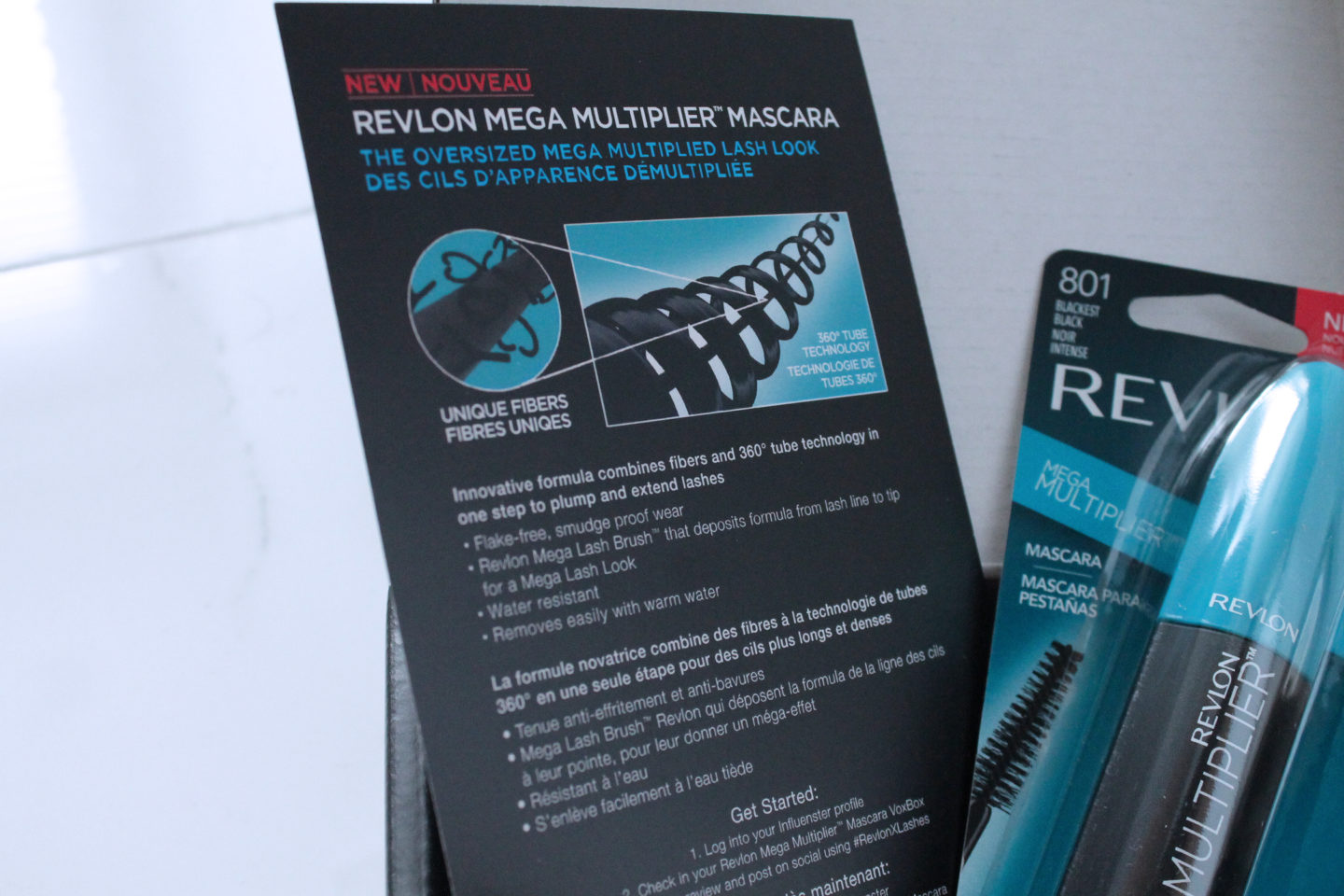 Trying on the Mega Multiplier Mascara
With my eyelashes, I have to use an eyelash curler before I put on mascara. My eyelashes are long and full, but they're also stick straight and stubborn ( I know, what a hard life) . So, eyelash curling is an essential step before any mascara, no matter the curling power the mascara claims to have.
Like I mentioned above, the Mega Multiplier Mascara is a fiber mascara, so I only did one or two "wiggle-swipes" up my lashes after they were curled.
Fibers are strange. As. Hell.
They almost look like little dandelion bits or very tiny spider legs (sorry for that image, but it's true). And if you attempt to layer up the mascara, you're headed into disaster territory. Just go with one or two swipes up, otherwise those little fiber bits will start flaking off your lashes.
My main issue with the mascara was that it felt absolutely awful once it was on. It felt like my eyelashes were coated with plastic, which is maybe just what fibers feel like. But then my eyes became incredibly dry, red and itchy. As someone who wears mascara on the regular, I've only had this happen to me with a few drugstore brands, and I immediately stopped using them. For some reason, I totally thought I could rock the Mega Multiplier throughout the day…which just made things worse.
My eyes were so red and painful by the end of that day that I could not wait to wipe off the mascara. That is, until I realized that the mascara had already started the removal process for me. The tiny fibers had started flaking off, leaving little black bits under my eye. Not quite cute, but it made removing the mascara easier. According to the package, all it takes to remove the Mega Multiplier mascara is warm water. I did this, but it wasn't enough to get rid of the formula. I had to go in with some Garnier Micellar water to get the mascara fully removed, which took some time!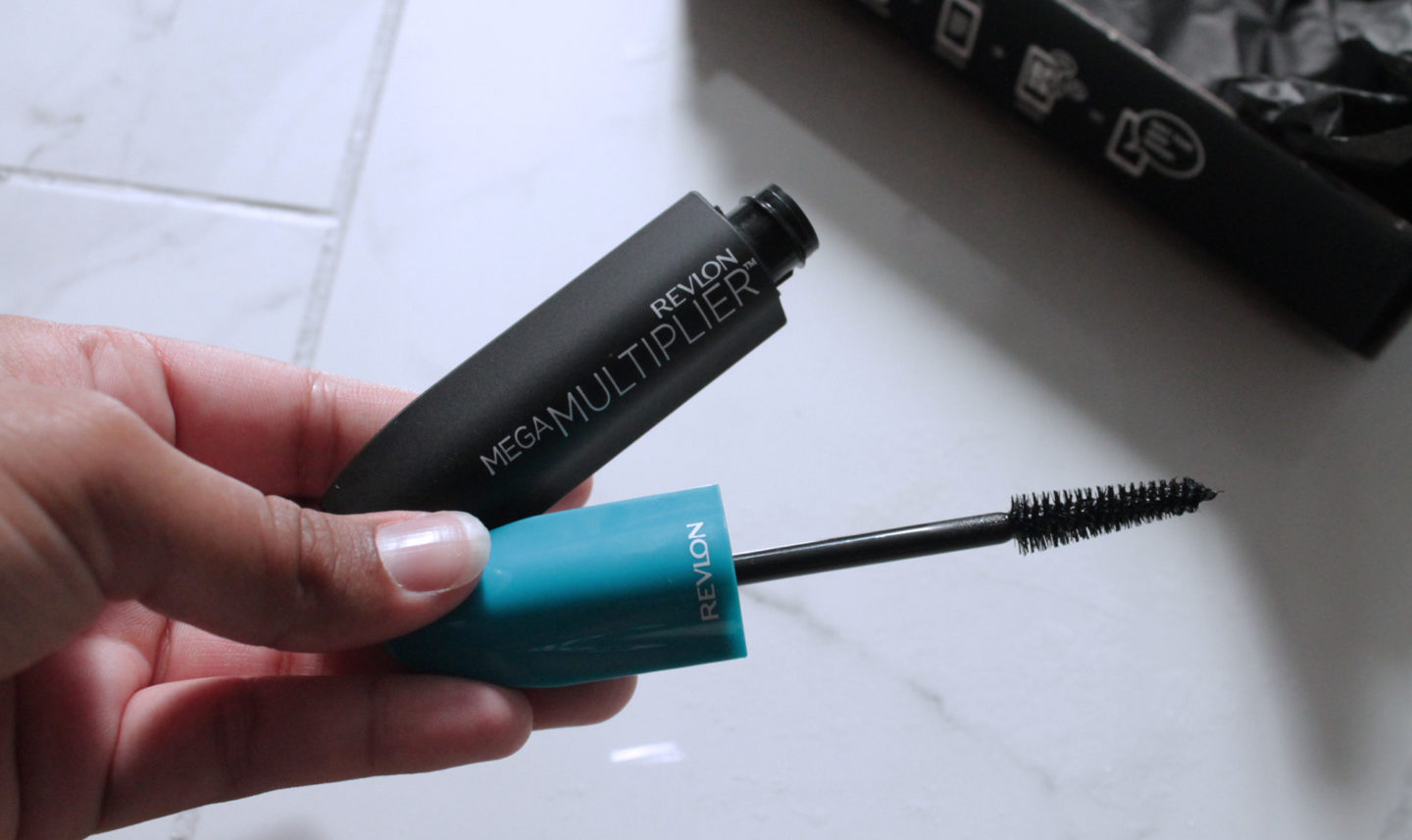 Would I purchase the Mega Multiplier Mascara?
Although I told myself not to test it out again, I thought it was necessary for the sake of Influenster. A day or two later, I popped on the Mega Multiplier mascara again and dealt with the exact same problems. Red painful eyes. Flaking Fibers. The look of a less than sexy racoon.
I think you probably get where I'm heading with this. I wouldn't recommend that anyone purchases the Mega Multiplier Mascara. Unless you have eyeballs of steel, plan on sitting in one place the whole day to avoid flakage, and enjoy scrubbing off mascara, then this mascara isn't for you. If you are a brave soul and want to try out the Revlon Mega Multiplier Mascara, it's easy to find at Shoppers Drug Mart, Walmart or other drugstores.
I had much higher hopes for this product, but my Benefit Roller Lash Mini Mascara is still my go-to mascara at the moment. Sorry Revlon. I think I'll just stick to the occasional nail polish use if anything! What is your go-to mascara? Let me know in the comments!
*products were given for complimentary testing purposes from Influenster
SaveSave
SaveSave